Knowing your laptop's model number might come in handy in a variety of situations. For instance, if you're looking to troubleshoot a specific problem related to your laptop, or if you'd like to replace a component from your laptop, and you'd like to find the right parts to match the machine. This post will guide you on how you can easily find your laptop model on a computer running Windows 11/10.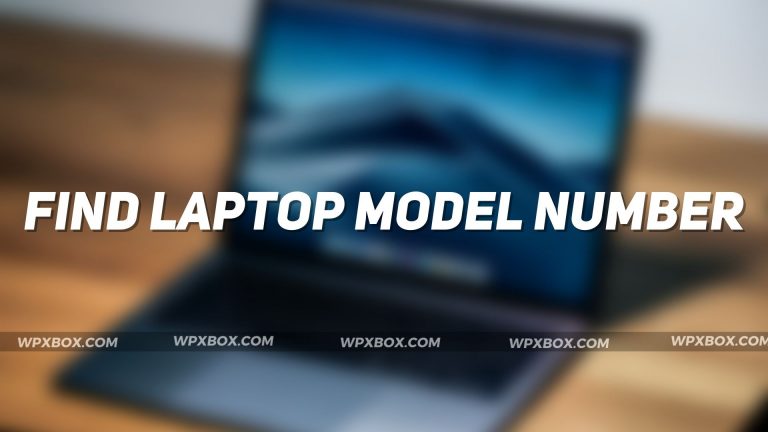 How to Find Your Laptop Model in Windows 11/10
On a Windows laptop, there are several options for ending your search for the laptop model number. Here's a quick rundown of the situation.
System Information
Windows Terminal
Prroduct Label
BIOS or UEFI
Before we move forward, here's a quick tip: Manufacturers normally place a label containing the model number or the service tag on your laptop or desktop and give methods to locate this information.
1] Find Laptop Model using System Information
Regardless of whether your laptop runs Windows 11 or Windows 10, the System Information tool may provide a wealth of information about your software and hardware components. Here's how you can use the same, to yield results.
Open the Start Search Box, and key in System Information. Next, choose the main listed result.
Now, navigate to the System Summary section from the left navigation pane.
Here, scroll down and find the address for System Model.
That's it, you should notice your laptop's model number placed right next to the label. In our case, you can notice that it's the Dell XPS 15 9570.
2] Find Laptop Model Information via Windows Terminal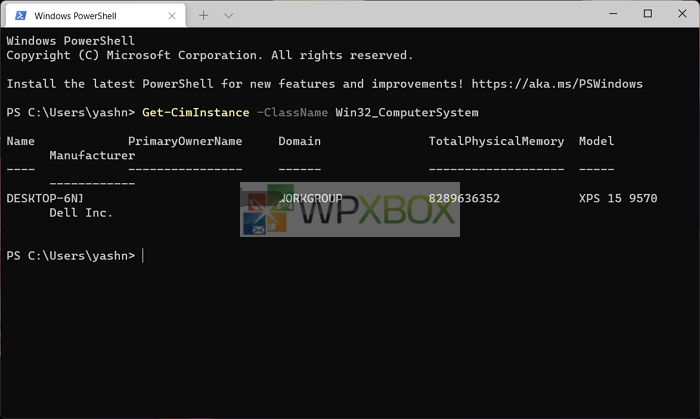 If you're a power user and prefer operating the computer much with commands, the Windows Terminal could be used to access information regarding the PC. Here's how to do so.
Pull up the Start Search Box, search for the term Windows Terminal and choose the best match.
Next, key in the following command and press Enter to execute. Quick tip, you could also copy and paste the command to save time.
Get-CimInstance -ClassName Win32_ComputerSystem
You should now be able to spot your model number under the column for the same.
Additionally, you could also try out the following command "Get-CimInstance -ClassName Win32_bios" (without the quotes) to take a look at your laptop's serial number and some other information. If you're on an older version of Windows you could execute the same commands in the Windows Powershell terminal.
3] Locating The Model Number Of Your Laptop/Desktop Using Product Label
The model number of a laptop can also be found on the product's bottom cover, base, or back, as well as the battery compartment, screen, keyboard trim, or palm rest. This is normally found on a sticker called the Product label, which describes the model number of your computer as well as the serial number.
That said, how late did you realize the need for the laptop model number? Do let us know by dropping a comment down below.
4] Find Model Number using BIOS or UEFI
For some laptops, the model number is also available in the UEFI and BIOS. It is read-only information that is displayed on the home screen i.e. as soon as you open the BIOS it will be available on the left or right.
How Do I Find My Laptop's Serial Number?
To find your laptop's serial number, open a new Terminal window, type WMIC BIOS GET SERIALNUMBER, and press Enter. With this, Windows will retrieve the information you just requested and display it on your computer screen.
What's One Other Way to Find My Laptop's Other Hardware Components?
Now, to get a hold of your hardware component information, one good way could be accessing the Device Manager. Device Manager shows you a graphical representation of your computer's hardware. When you need to see and handle hardware devices and their drivers, use this tool.
What do Model Number/Serial Numbers mean?
A serial number is a unique number used for identification and inventory reasons. A model number is a unique number assigned to each product manufactured by computer hardware manufacturers. Manufacturers use model numbers to keep track of each hardware device and identify or replace the appropriate part when it fails.