Whether you have lost your phone or misplaced it or someone stole, it is always a cause of worry. your phone might contain your personal files including documents, photos and videos. If you are using a Windows Phone 8 and lost or misplaced your phone, there are various options available to find it. Find My Phone is a service from Microsoft which allows you to track your lost or stolen phone.
This free service in the My Phone section of windowsphone.com can ring, lock, erase, or show your phone on a map from any Internet-connected computer. Find My Phone makes it easier to recover your phone—or to prevent someone from using it without your permission. When you visit the My Phone section (http://www.windowsphone.com/en-us/my), you can see the option to trace it.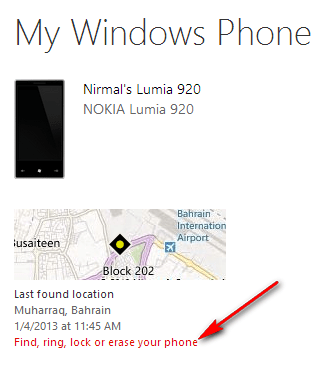 When you open this link, you can see your phone shown in the map if it is connected to Internet. Now here you have three options- Lock the phone, Ring the phone and finally Erase the phone.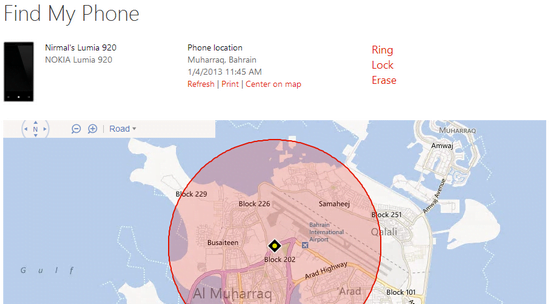 Lock the phone service will lock the phone with a password. If you have not set the password, you will be prompted to enter it and when you find your phone, you will have to enter it. You can also type a message on the lock screen.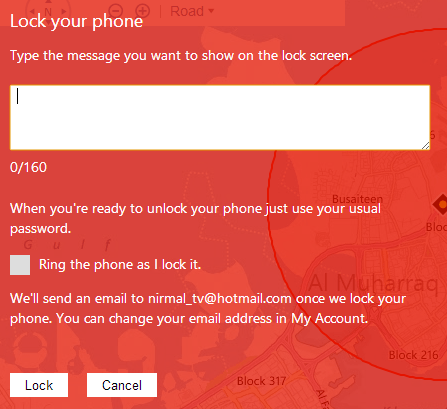 Your phone screen will have this when you remotely lock it.
Ring the phone as it says will make your phone ring remotely. This is useful if you have misplaced it somewhere in the house or office. The final option is Erase the phone. This will factory reset your phone deleting all your files and apps.
Erasing the phone is the last step as it will lose the contact with Lost my phone as well as delete all your files. Apart from this, you can also configure the settings for Find my Phone from your phone.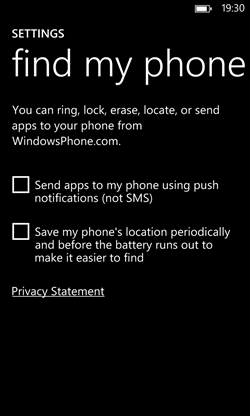 It's a good idea to let your mobile operator know that you've lost your phone.