Printer issues on Windows computers are nothing new. You get to encounter random errors from time to time. One such error is the printer driver is unavailable on Windows. The error might appear when you are trying to print something, but your printer is not responding. It surely can be a frustrating issue. However, getting rid of the error is not complicated as it has to do something with the printer driver. So running a few troubleshooting steps might help your printer get back online.
Why Am I Getting Printer Driver Is Unavailable on Windows Error?
The error occurs to a completely working printer for which drivers are already available. Then all of a sudden, it stops working.
There are many reasons behind the printer driver unavailable error on Windows. In this state, your printer will not print anything and won't respond to any commands. And here are a few common reasons why you usually get to see the error:
Your computer is using an outdated printer driver.
You did not install the printer driver, or the installation didn't complete.
Your printer's driver is corrupted.
You are using an incompatible printer driver.
Windows bug.
Luckily, all of these issues are easy to fix and should not take much time to resolve.
What Is a Printer Driver?
The printer driver is nothing but software that has a bunch of instructions for your Windows to communicate with the printer. It translates instructions from your operating system like Windows into the language your printer can understand and respond to.
A printer driver is an essential tool that all systems require to print something. Also, printers from different manufacturers have different printer drivers. So you have to install a printer driver that is compatible with your printer and your operating system.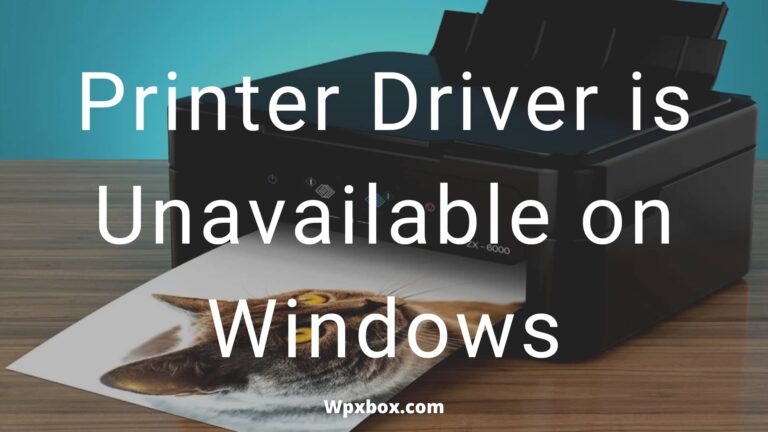 How to Fix Printer Driver is Unavailable on Windows?
The printer driver is unavailable is one of the common issues we get to see. And these below fixes should help you get rid of the error right away:
Reconnect Printer
Run Printer Troubleshooter
Reinstall your printer (Remove and add again)
Update Windows
Install the Printer driver manually (OEM or Third Party)
Install the generic printer driver (From Microsoft)
Now let me talk about these methods one by one in brief below:
1] Reconnect Printer
Sometimes reconnecting your printer does the job, and there is no need to get into any complicated fixing mode.
For this, all you have to do is remove your printer from your computer by unplugging it and then reconnect your printer again to your computer and see if it works.
Also, you can try removing the printer device from your Windows PC and then reconnecting it again. For this, unplug your printer from the PC and then follow the below steps:
Go to Windows search (Win + S) and type printer and launch Printers & scanners.
Now you will get to see a list of all the installed printers on your Windows PC. Click on the printer with which you are having issues.
Click on Remove > Yes.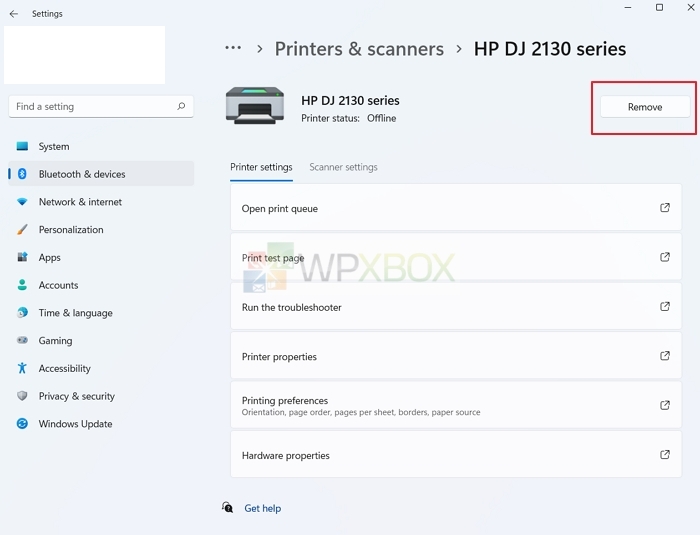 Once done, reboot your computer.
Finally, plug in your printer after a couple of minutes to your Windows PC and see if it solves the issue.
2] Run Printer Troubleshooter
I know not many are optimistic about the Windows Troubleshooter, but it can give hints about the error. So you can look for solutions further. So there is nothing wrong is running the printer troubleshooter, and to do so, you have to follow these steps:
Go to Windows Settings using Win + I
Navigate to System > Troubleshoot > Other Troubleshooters.
Look for the Printer and click on the Run button next to it.
Let Windows run the troubleshoot and follow the onscreen steps.
Finally, see if it returns with any solutions or hints to look further.
3] Reinstall your printer (Remove and add again)
You can also try reinstalling your printer. First, remove your printer from your computer and add it again. So go ahead and follow the below steps:
Press Windows Key + R to launch Run.
Type printmanagement.msc and press enter.
From the sidebar, expand the Printer Server.
Click on the User name and select Drivers.
Then right-click on your printer name and select Remove driver package.
Click on Delete > Ok.
Finally, reboot your Windows PC.
After that, reconnect your printer and go to the Printers & scanners setting. Add your printer and follow the onscreen steps.
4] Update Windows
Another thing you can do is update your Windows. Since Microsoft now ships driver updates along with Windows updates only. Hence, keeping your Windows up to date is pretty crucial.
However, there is no need to update your Windows unless there is no printer driver available. To check so, you have to follow the below steps:
Go to Windows settings > Windows Update.
Then navigate to Advanced options > Optional Updates.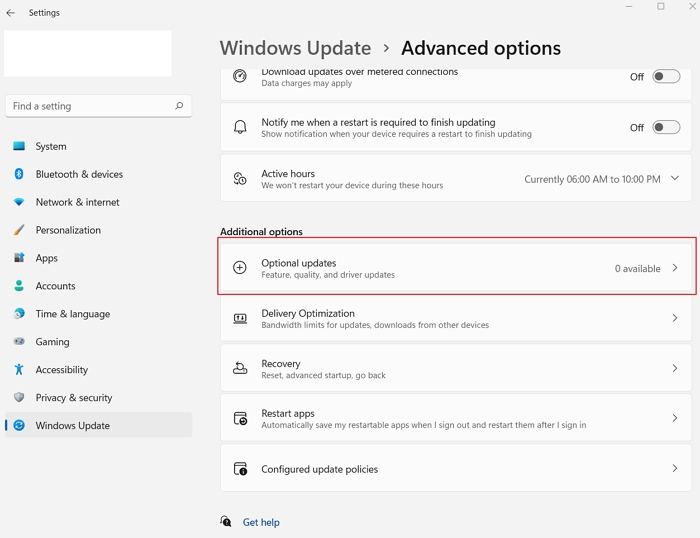 Over here, look if you see anything related to printer drivers. If you do, make sure to download and install it on your PC and see if it fixes the issue.
In case you don't see any updates related to printer drivers. Then you can skip this step and move to the below fixes.
5] Install the Printer Driver Manually (OEM or Third Party)
There is a good chance you have missing or corrupted printer drivers. Hence, installing the printer driver manually would override the existing printer driver or install it.
There are two ways to download and install the printer driver.
First, you can download the driver from your printer's manufacturer's websites. For instance, if you have an HP printer, you can go to https://support.hp.com/us-en/drivers/printers and enter your printer model number to find available drivers. Similarly, other printer manufacturers have a similar process.
If you don't find the driver on your manufacturer's website, you use third-party software to install the driver.
6] Install the Generic Printer Driver (From Microsoft)
Some printer manufacturing companies are slow to release updates for their printers. It might make your printer unstable or unusable. To solve this, you can add a generic printer driver. For this, first, disconnect your printer from your Windows PC and then follow the below steps:
Go to Windows search and type Printers & scanners and launch it.
Click on Add device and let Windows perform a search.
After a few seconds, you must see an Add manually option. Click on it.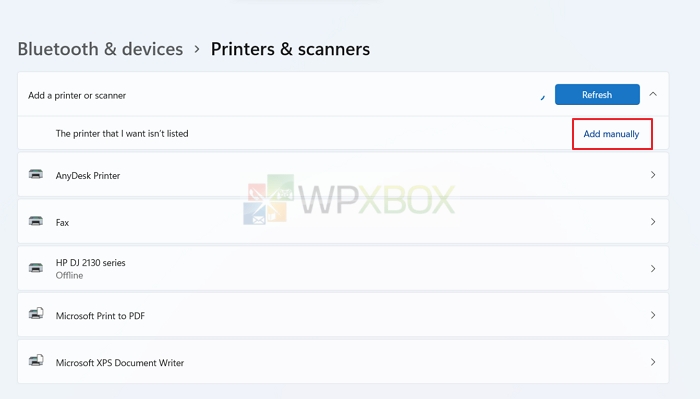 Next select, Add a local printer or network printer with manual settings > Next.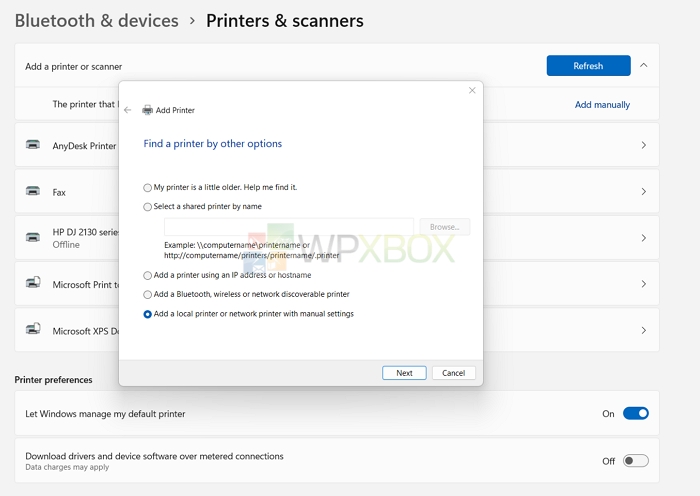 Select LPT1: (Printer Port) from using an existing port > Next.
Next, select Generic > Generic/Text Only and click on Next.
Then enter a printer name or leave it as it is and click on Next.
Finally, select Do not share this printer > Next > Finally.
Conclusion
So all the fixes for the printer driver are unavailable on Windows. Now go ahead and try out the above fixes and see if they help you. Overall, by reinstalling the printer driver, you should be able to resolve the error. But if you encounter any other issues, feel free to let us know through the comments.
Why Is My Printer Not Available?
If your printer is unavailable, there can be many reasons behind it. In most cases, your PC does not have proper printer drivers, the printer driver is corrupted, or your computer is not recognizing your printer. To solve this, you can try uninstalling the current driver and installing the latest printer driver.
What Is a Generic Printer Driver?
A generic printer driver is just a printer driver with the basic functionalities that can help your PC communicate with your printer. Primarily, generic driver contains PCL drivers for your printer model.