Microsoft Teams is great for storing, sharing, and collaborating on files. However, to do so, one needs to log in, so if you log out accidentally, and now you cannot sign in back and face the issue "We couldn't sign you in",  how do you get back in? Here's how to fix sign-in issues with Microsoft Teams: We couldn't sign you in.
We recommend trying to log on to Microsoft Teams through the website to ensure the error is related to the desktop application. It will iron out any issue which is related to your Microsoft account credentials.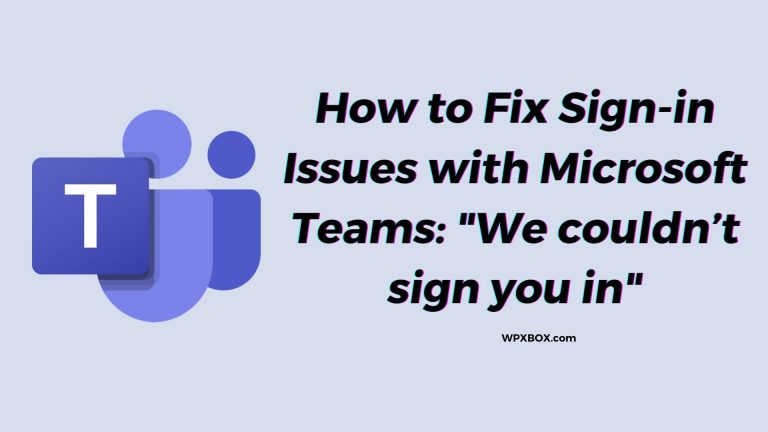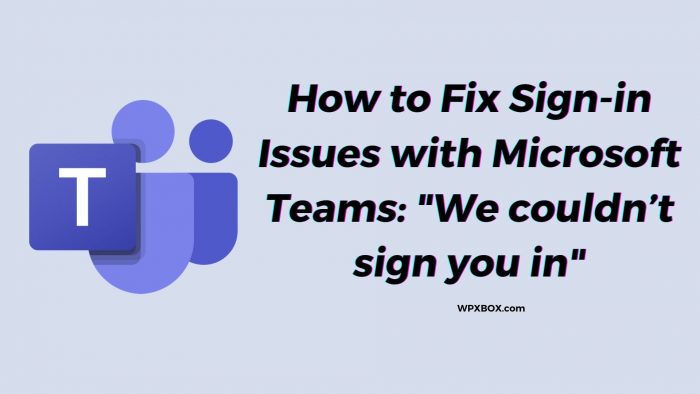 How to Fix Sign-in Issues with Microsoft Teams: We couldn't sign you in
This error is attributed to several factors and is coded as CAA2000B. As part of today's discussion, we will address the issue encountered whilst trying to sign in to Microsoft Teams and what all could have caused it to occur.
Check System Date and Time
Clear Cache of the Microsoft Teams
Remove Password from Credential Manager
Reinstall Microsoft Teams
1] Check System Date and Time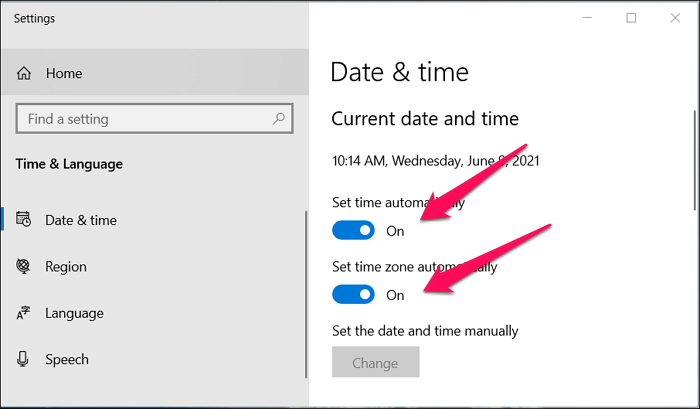 Having a wrong date and time set can result in Microsoft Teams generating issue codes. Here's how you can check and change the Date and Time on your Windows 10 computer.
Open the Settings panel on your computer (Win + I)
Navigate to Time & Language > Date & Time.
Now, make sure that the toggles for Set time automatically and Set time zone automatically are ON.
If that option doesn't help, you can also manually set the date and time by turning the options OFF and then clicking on the Change button.
2] Clear Microsoft Teams' Cache
Even a single corrupted cache file can cause a ton of troubles, including causing sign-in issues. Here's how you can clear the cache of Microsoft Teams.
Open a Run dialog window by either searching for the same in the Start Search Box or keying in Windows + R on the keyboard.
Next, type in %appdata% in the Run Dialog's text box and press Enter.
Now, Navigate to the following path:
 C:\Users\UserName\AppData\Roaming\Microsoft\Teams
Under this, select and delete the files within the following folders: TMP folder, blob_storage, cache, GPUcache, databases, and local storage. (Note: make sure only to delete the .db file in the IndexedDB folder)
Once cleared, restart your computer and try signing in to check whether the issue has been resolved.
3] Remove Password from Credential Manager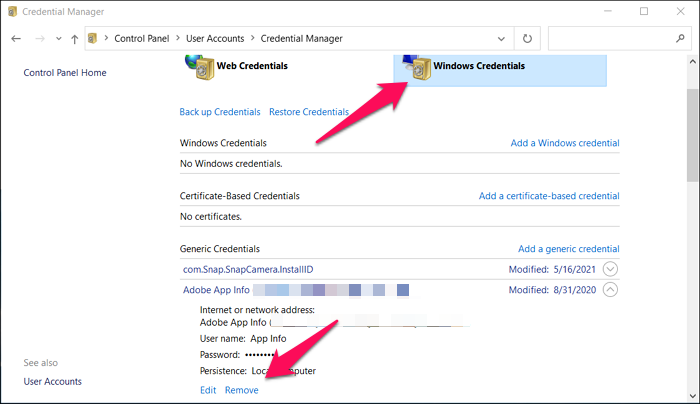 Windows offers a feature called Credential Manager, and as the name suggests, it stores your passwords, which a user can access and manage easily. Previously saved passwords with Windows might be the reason you cannot log in to Microsoft Teams. Here's how one can remove the saved credentials from the Credential Manager.
Pull up the Start Search Box, search for Credential Manager and choose the main listed result.
Next, choose Windows Credentials and find the one related to Microsoft Teams.
Choose the credential to expand it, and then click on Remove.
Restart your computer and now try logging into Microsoft Teams.
4] Reinstall Microsoft Teams
Finally, if none of the above-mentioned methods end up working for you, we recommend you try uninstalling and reinstalling Microsoft Teams and begin with a fresh start.
That being said, Microsoft Teams is headed towards replacing Skype for Business as the premier collaboration platform for large and small businesses. I hope this tutorial was able to help you fix issues with signing into Microsoft Teams.