Windows 10 comes with many useful features preinstalled for the users. One of them is the powerful in-built Search, which indexes multiple locations such as Start Menu, user Folder, and offline files in One Drive folder. Although the Search provides advanced functionality, at times, it doesn't work as it is expected to be. Users might see broken search results or even deleted files while searching for any content. If your default Search option of Windows 10 is not working appropriately, then there could be multiple reasons behind it. If the same thing happens with you, then follow these tips to fix Windows 10 Search indexing issues.
How To Fix Windows 10 Search indexing issues
Change Windows Search Service Status
Enhanced Search
Rebuild the Search Index
Windows Search Troubleshooter
Use the Indexer Diagnostics App
1] Change Windows Search Service Status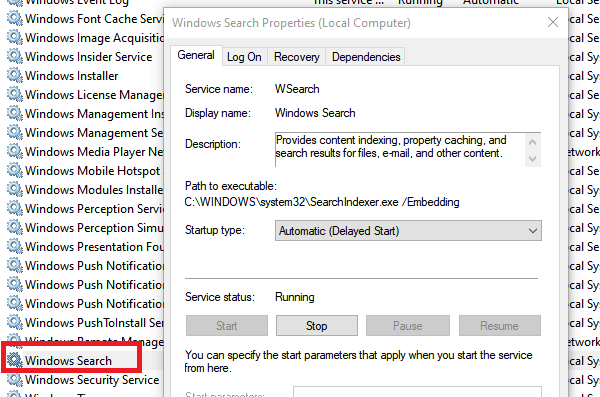 First of all, it is essential to find out that the Indexing Option is enabled or not. Though Windows 10 doesn't stop the service automatically still, we should go ahead and check-in services. To do so,
Hold the Windows key and press R to open Run box
Type services.msc and click on OK
The Services windows will open up with the list of all services, scroll down and look for Windows Search
Check the status of Windows Search under the Status column, if it Running is then press OK
If Windows Search is not running, then click on Restart the Service to enable it.
You should also Double Click on the Windows Search service and see the service properties. Please ensure that the Startup Type is either Automatic or Automatic (Delayed Start). Most of the time, this issue related to the Search Index gets resolved by Stopping and Restarting the service. In case if they don't, you can follow the further steps given below.
2] Enhanced Search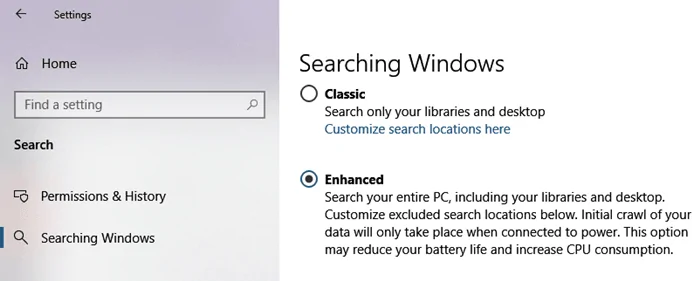 Enhanced Search in Windows 10 PC will make sure the search is done across the computer, including desktop and libraries. You can configure to exclude some folders, and choose to reduce indexing activity when on battery.
Open Windows Settings (Win + I)
Go to Search > Searching Windows
Switch Find My Files to Enhanced
Turn on Index performance when on battery
If you are unable to find files in Search, then switching to this mode will expand the search index to find files into other drives as well.
2] Rebuild the Search Index in Windows 10
Rebuilding the search index is a simple yet time-consuming process. It may take a few hours, depending on the various factors. It is advisable to use this method on a day when you are free and don't have any other important task scheduled.
First of all, you need to launch the indexing option, the easiest way to do so is by typing Indexing Option in the Start Menu Search Bar and choose the result. However, if the search option is not working correctly, then you can use the alternative option.
Right-click on the Start Button and select Control Panel from the list
On Control Panel Window, change the view by Category to Small icon.
Find and click on Indexing Option from the list of all items.
The Indexing Option Window will open up, click on Advanced Button at the bottom.
On Advance Option Window select Index Settings tab
Click on the Rebuild button, which is located under the Troubleshooting section.
A confirmation message stating, "Rebuilding the index might take a long time to complete. Some views and search results might be incomplete until rebuilding is finished message" will pop up, click OK.
After this, the rebuild process will be started, which may eventually take a few hours. However, we have seen on several occasions that in personal computers at home, it doesn't take much time to complete the process.
3] Utilize the search Troubleshooter to Repair Windows Search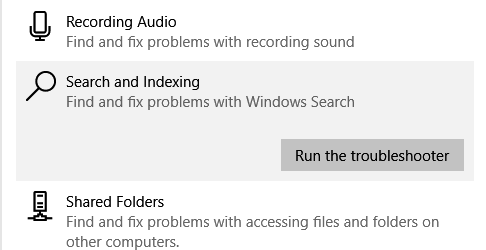 Alike the previous versions, Windows 10 also comes with many in-built troubleshooters that can rectify and fix the problem automatically. One of these is the Search and Indexing troubleshooter that can be accessed and used from the Control Panel.
Open Windows Settings using Win + I
Navigate to Update & Security > Troubleshoot
Locate Search and Indexing troubleshooter.
Click on the button and follow the instructions to fix the problem.
The troubleshooter will detect and fix the issue automatically.
4] Use Indexer Diagnostics App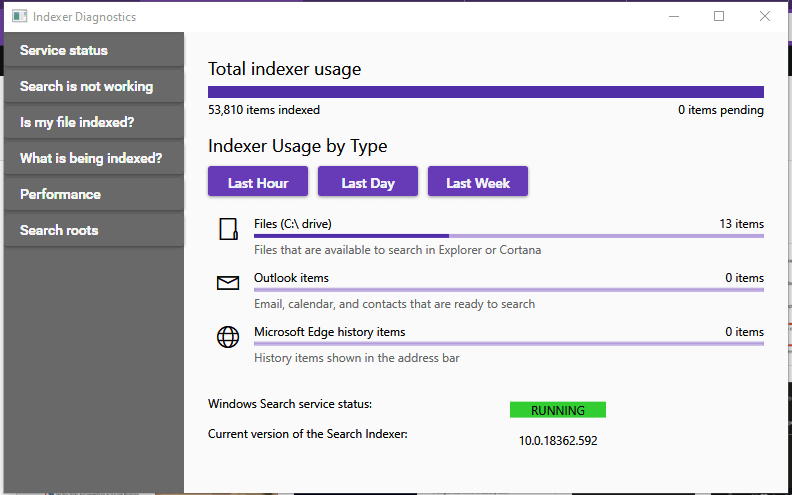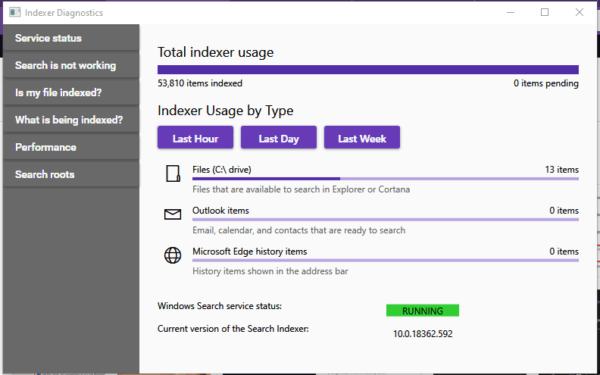 Microsoft has rolled out an incredible app for Windows 10 users. Indexer Diagnostics App can help you find out the issue with indexing on Windows 10. It also offers solutions to restart services, checks the status of the file in the index, and more. Here is the list of features:
Service Status with the option to sort index usage by last hour, last day, or last week
If the Search is not working, you can restart, reset,  and also file a bug
Check file index status
Included and excluded paths
Performance measurement
Search roots
It offers many tools to check for problems that Windows Search faces often. If the CPU usage is high because of it or if it is not working, then the tool can help fix it. Download from Microsoft Store
I hope these tips helped you to fix Windows 10 Search indexing issues, and you were able to find the file on the computer.