Microsoft has improved its Windows Update delivery system, but if Windows 10 Update is stuck, its no surprise. It can happen for many reasons. In this post, I will share how you can fix Windows 10 Update when it is stuck.
How to Fix Windows 10 Update when it is stuck
There are two ways of fixing the Windows 10 update issue—Windows Update Troubleshooter, Manual deletion of files, or restarting Windows Modules Installer. You will need admin privileges to perform manual methods as we plan to delete files, and restart services.
1] Windows Update Troubleshooter
The inbuilt Windows Update troubleshooter performs these actions.
It turns off Windows update service
Changes the name of C:\Windows\SoftwareDistribution folder to C:\Windows\SoftwareDistribution.old to clear the cache of Windows update download
Turns Windows update service back to start over.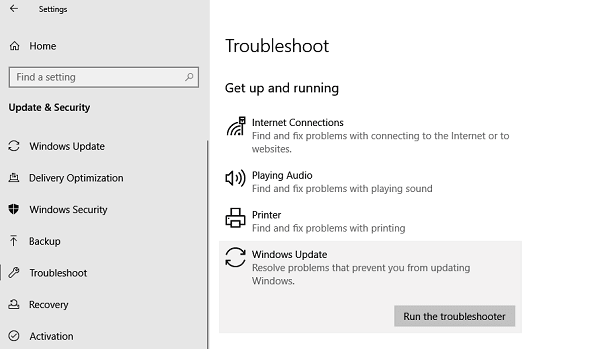 Here is how you can run it manually if Windows is not able to figure it out on its own.
Open Windows Settings using Win + I
Navigate to Update and Security >Troubleshoot and click on Windows Update
It will give you option—Run the troubleshooter
Click on it, and let it complete.
Once done, you can then go back to Window update, and check if the download started again.
2] Manually Delete SoftwareDistribution files
The troubleshooter will begin working to identify and fix the problem. Most of the time, it successfully resolves the issue by eliminating the stuck update from the list. After that, you can start the Windows update again, and it should cause any problem. At times the troubleshooter tells that it couldn't fix the problem in that situation. You can use the manual method to delete the cache.
First of all click on the Start button
Now click on the Power Button to get three options, Shut Down, restart and Sleep
Hold the Shift key and click on Restart to reboot the system in Safe Mode
Once the system gets restarted, Press Windows key + X
Select Command Prompt (Admin) from the list
Type net stop wuauserv in the command prompt to stop Windows update service

Leave the command prompt open and open file explorer from the start menu
Click on This PC > Windows (C:) > Windows > SoftwareDistribution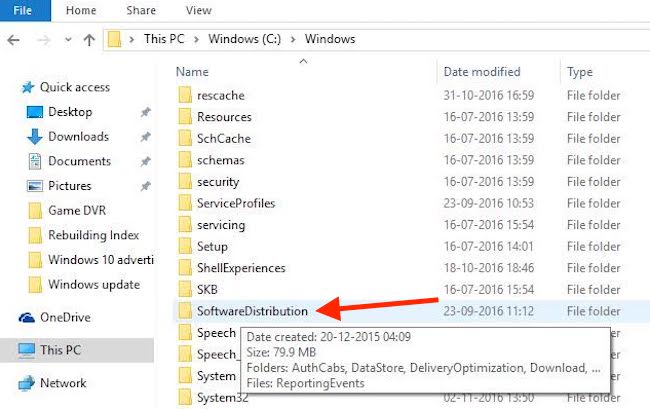 Press Control key + A to select all files and delete them
Now go back to the Command Prompt screen and type net start wuauserv to restart the Windows update service.

When you see the message, Windows update service was restarted successfully, then close the command prompt and reboot the system into normal mode (restart it). Once the system gets rebooted, run windows update once again by going to Settings > Update and security > Check for updates, and there shouldn't be any problem.
3] Windows Modules Installer
It is a service in Windows 10 that manages to install, modifying, and removing Windows updates and other optional Windows components. The user account TrustedInstalle is used by the Windows Modules Installer service to execute what it plans to do.
What we recommend here is to set this to start automatically with Windows or at least a Delay Start. Once in the background, it will be able to manage Windows updates.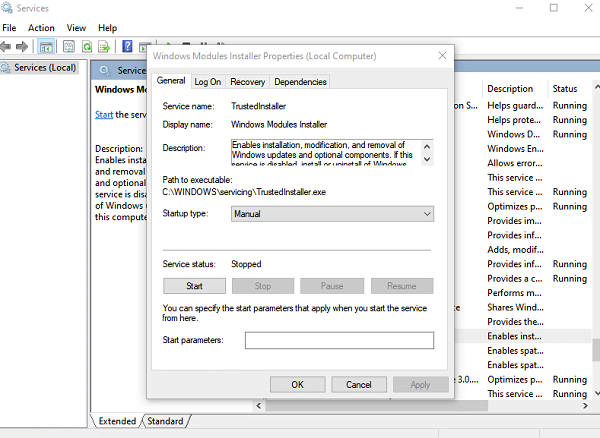 Open Windows Services (type services.msc in the Run Prompt)
Find the Windows Modules Installer service and double click to open the configuration.
Choose teh Startup type from manual to Automatic
Apply and restart the computer.
So, this is how you will solve the Windows 10 update stuck problem. If you face any problem, do let us know in the comments section below, and we will try to fix it.