Ever wanted your Windows 10 PC to look like Mac? Like the theme/UI of Mac (say OSX or Mojave or Big Sur) but can't leave Windows because of its productivity? Well, you don't have to let go of Windows to enjoy Mac's User Interface. You can do it right on your Windows 10 Laptop or Desktop with the help of the El Capitan Transformation theme pack. Here is how to get Mac Theme on Windows 10.
El Capitan Transformation Pack 2.0 will transform your Windows 10/8.1/8/7/Vista/XP user interface to OS X El Capitan, including Login Screen, Themes, Wallpapers, Cursors, Fonts, Sounds, Icons, Dock, Finderbar, Dashboard, Spaces, Launchpad and more.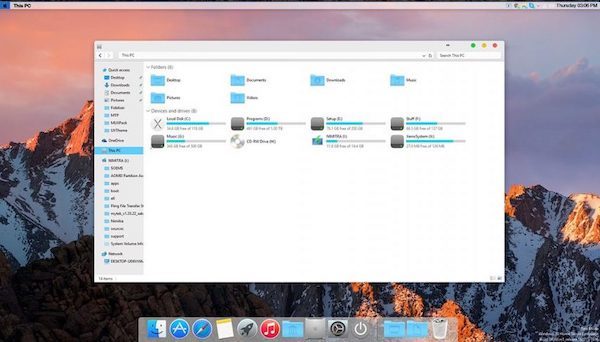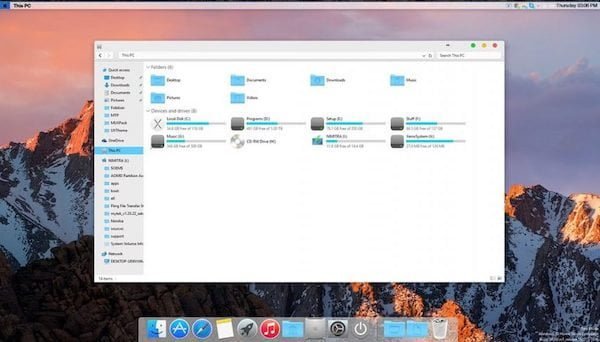 Note: It is advised to create a System Restore Point before installing this theme pack. Find out how.
How to get Mac Theme on Windows 10 PC or Laptop
It's effortless to install this theme pack on your Windows 10 desktop or laptop. I'll still be giving you the detailed step-by-step tutorial of how to install this theme pack on your Windows 10.
Download the El Capitan Transformation Pack 2.0 or macOS Transformation Pack from here.
Extract the zip file
Now, double click the El Capitan Transformation Pack 2.0 application file and wait for around 10-15 minutes.
After the theme pack is installed, it will ask you to restart your system; click on Restart and Boom!
After your PC restarts, it will look similar to macOS.
Just like installing, uninstalling the theme pack from your system is also very easy. Go to Control Panel> Uninstall a program> El Capitan Transformation Pack/ macOS Transformation Pack > Right-click on that and select Uninstall. 
The transformation pack also supports High Sierra and Mojave. You can get the macOS themes, wallpapers, user pictures, and logon screen.
In case you cannot uninstall it directly, use their uninstaller available on their website.
Features of Transformation Pack
Easy installation and uninstallation
Single-click configuration
Uses original macOS System resources.
Auto-repair resources
 macOS Finderbar emulation
 OS X Dock emulation
Pre-configured shortcut keys
Launchpad access from D

esktop

 corner and Dock configured
Changelog in the new version:
Includes new High Sierra and Mojave wallpapers
Windows 10 theme can use the default Aero theme
Updated Resource Hacker
Added checksum correction after modifying system files
Added disabling Spaces feature (VirtuaWin) on Windows 10
Added ViFind, the perfect FinderBar emulation software developed by Windows X & Lee Matthew Chantrey
Fixed losing a pnidui.dll backup file on Windows 8/8.1/10
Fixed Windows 10 November Update incompatibilities
Fixed system files modification that may modify x86 program files instead of x64 ones.
Fixed system files version detection bug on Windows 10
Improved font rendering on Dock
Included uxworker.exe file into uninstaller software in case of deletion by antivirus
Updated cursors with Mac Os X El Capitan Cursor Pack For Win by Spysees
Updated OldNewExplorer configuration for Windows 10 compatibility
Updated Windows 10 visual style with Yosemite Theme For Windows 10 November Update by cu88
Editors note: Installing the theme pack might slow down your system a bit. But after you uninstall, your order will work like before. So, I would personally recommend you to give it a try. It's worth a try.
Do share your experience in the comments below.