Windows 10 has Mac OS X like gesture for trackpad and touchpad. However, it seems like Apple's Bootcamp doesn't support them out of the box, and, its very confusing to use different gesture for different OS when using the same machine. While I use Mac mostly for rendering videos using FCP, I also have Windows 10 installed on the same machine.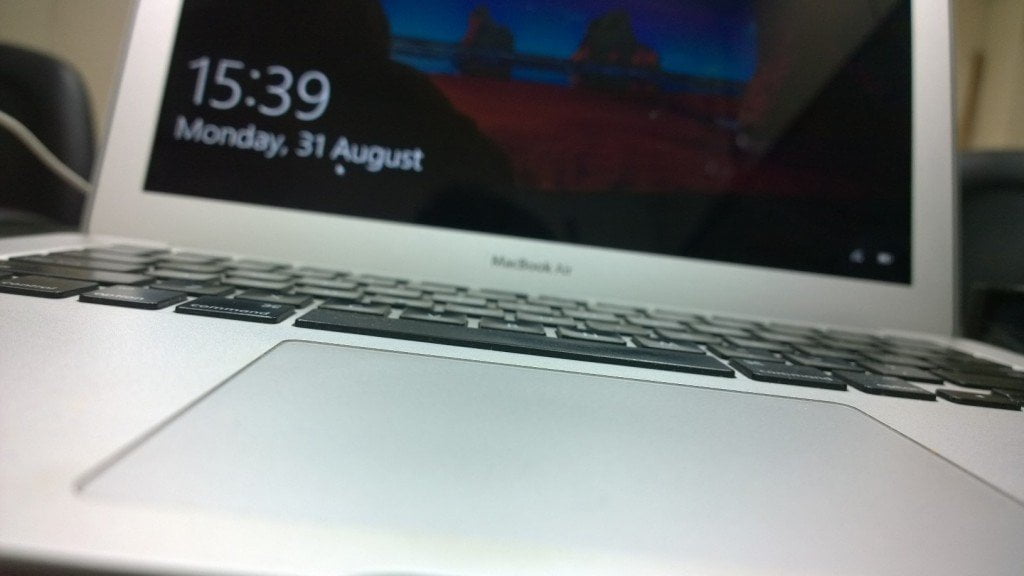 This is where the legendary software Trackpad++ comes into picture. This utility supports Windows 7 to Windows 10 for Apple's multi-touch and force touch feature usually available on Macbook. It supports :
2-, 3- and 4-finger gestures, such as pinch-to-zoom, back / forward, middle mouse button emulation, new Windows® 8 gestures and much more;
Dramatically improved 2-finger scrolling experience: Mac® OS X Mavericks-similar (accelerated / natural) scrolling model implemented;
Improved pointer ballistics (i.e. how the pointer speed depends on the finger speed; comes with 6 built-in optimal presets);
Mac® OS X-like 3-finger dragging and classic '2-fingers with click' dragging, option to increase the pointer speed when dragging;
User-customizable option to ignore the accidental trackpad input when typing, and many more useful tweaks / enhancements;
Trackpad++ Control Module for adjusting the trackpad settings
Full, native support of Windows® 7 (32-bit / 64-bit), Windows® 8 / 8.1 (32-bit / 64-bit), and Windows® 10 (64-bit).
Now before you download and install it, you should know that Windows 10 is very strict on signed driver need to install any third party drivers. For Trackpad++, the developer has specifically asked to install it's another application, Power Plan Assistant, which does this job. Once installed, you will have the following settings right away for you to configure: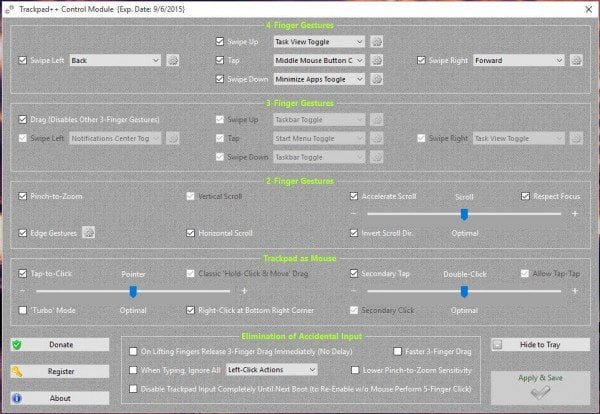 Download the software:
First

Download

and install Power Plan Assistant.
Then

Download

& install Trackpad++
Installing Trackpad++ in Detail:
Click on launch it. Here it will ask you if you are using Macbook Air or Macbook Pro. Select one you are on. I use a Macbook Air. After this, the installer will ask which year your MacBook belongs to. So make sure to choose the right version.
One thing you need to be careful when installing the driver, that two warning popups up. One asks you reboot the computer, while second to install the driver. The second warning shows up when you say yes to reboot, and there is only 2 second between them. Make sure to act fast, and say yes to red looking dialogue box before reboot.
The software once installed, will get listed under Recently Added on Windows 10 Start menu.
 Configure Trackpad++
Here you can configure four finger gesture, three finger gesture and the usually 2 fingers gesture as well. You can configure to use trackpad as mouse as well. Make sure to Apply & save when you change anything.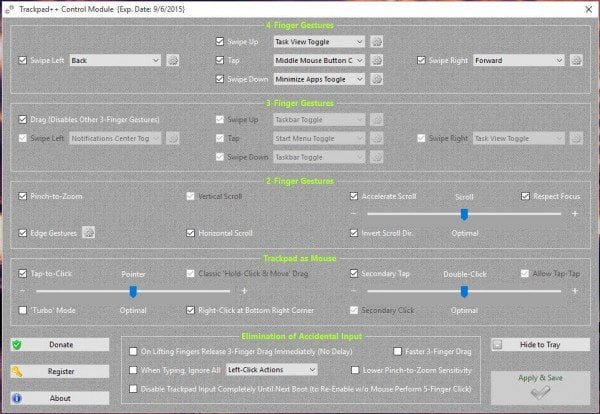 The application is free to use, and the thing the developer needs is to keep the software updated. You can also donate to grab a key, which is more like donation for the work done.