Technology has come a long way. It is so advanced that sometimes you wonder how humans survived just thirty years ago. Back then, people used to make calls via landlines and send written messages through the post office. Enter smartphones, and one can simply make a voice call or video from almost anywhere inhabited by people.
Smartphones have taken over most jobs that other inventions were meant to do, and rightfully so. Smartphones have taken over the work of alarm clocks, calendars, watches, music players, and so on. The functions of all these gadgets have been condensed and put in one, the smartphone.
Did I mention the camera? The camera in today's smartphones is so advanced that rarely you will need the services of a professional photographer or visit a studio, for that matter. I dare say that today's smartphones are mainly designed to attract customers with their cool camera features.
We all have that loved one who loves taking pictures on their phone all the time. You almost tell what they did or where they are just by going through their gallery. In some cases, you wish you could go through their gallery. Well, according to information online, you now can! You can hack into someone's camera and see their photos and videos.
Spyier – The Best Spy App for Hacking Phone Camera
I introduce you to Spyier.
Spyier is the best Spy App the Spy App world has to offer. It is a phone monitoring app for iPhone and Android and works stealthily. It cannot be detected by the target person.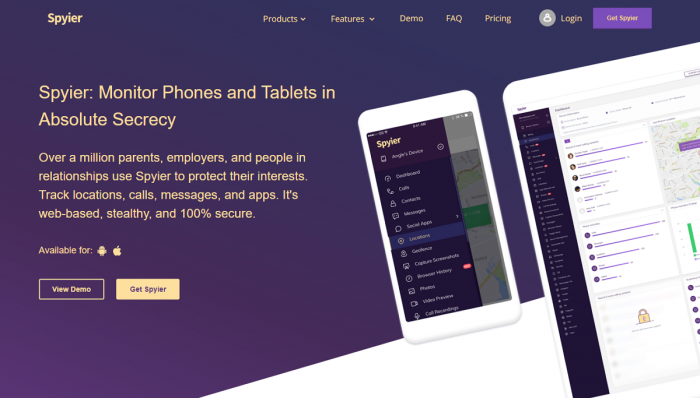 Spyier offers solutions to tracking activities on Messenger, Snapchat, WhatsApp, and other social media platforms. It also monitors calls and messages of a target device. All these happen without having physical access to the target device. These are just a few of the tens of features that Spyier has to offer. Among these features is Camera Hacking.
Let us look at how to hack someone's phone camera remotely using Spyier.
How to get Spyier
First things first, you need to sign up for a Spyier account online.
Spyier is available for both Android and IOS operating systems. For the Android version, Spyier is available in the Basic, Premium, and Family packages. For the iOS version, Spyier comes in the Family, Premium, and Business packages.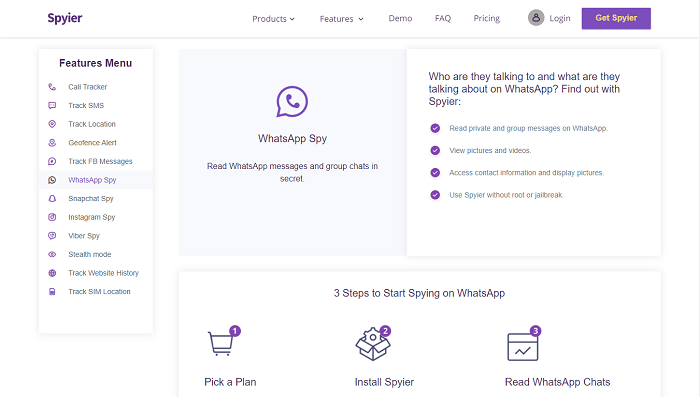 Once you have selected your preferred package, select Buy Now. A dialogue window will appear for you to enter your payment options. Payment can be done through PayPal or card. This process is safe and secure to use.

You will receive an email with details to log in to your Spyier account when you complete your purchase.
With your account now in place, let's now delve into how to get to those pictures. The process is different for both Android and iOS.
First, enter the nickname of the person you want to keep an eye on. Select the operating system the person is using on their phone. For the Android Operating system, you will need to have access to the target device for a few minutes to set up the Spyier app.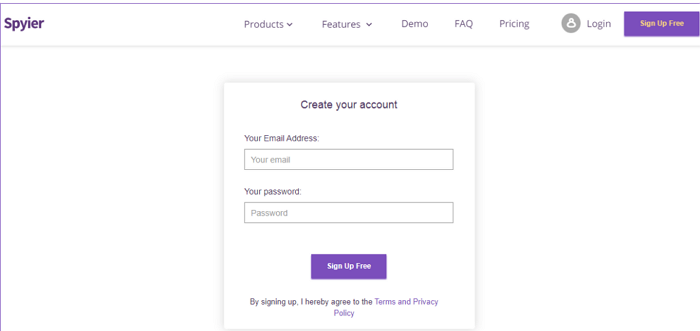 For the iOS operating system, you will only need the target device iCloud login details. Access to the iOS device might, however, be necessary if the iCloud backup is not activated or two-factor authentication is enabled.
Installing Spyier for Android
As mentioned, installing Spyier in the Android operating system will require you to have access to the target device for a few minutes. Once you have the target device, you need to change a few things in the settings for the device to allow the installation of the Spyier app.
Go to Settings on the target device. Select Lock Screen and Security, and then on the enable "Unknown Sources" tap OK.
Once that is done, it is now time to disable Google Play Protect. Go to Settings, select Google, and the Security. Under Security, tap on Google Play Protect. Now disable "Improve harmful app detection" & "Scan device for security threats".
The target device is now ready to install the Spyier app. Use any browser on the phone to visit the download page. Download the app from the Set-up Wizard page and click on "Install" once downloaded so that it runs on the target phone.
Once the app is installed, tap on "Open" and then read and agree to the Spyier terms and conditions. The next screen will ask you to sign in. Use your paid Spyier account details to sign in.
Next, follow the simple instructions on the app and allow the requested permissions to have the app Spyier working perfectly. Once done, you will be required to choose either to hide or not to hide the application. Choose to hide the application. This will remove the application icon from the application list.
Finally! You are done with the installation and do not need physical access to the target device anymore. All you need now is any browser from any internet-enabled device, and you are good to go! You can always disable the app through the dashboard on your end.
Spyier for iOS
If your target device is running on the iOS operating system, all you need is to enter the iCloud details for the target device and allow Spyier to sync with the account and you are all set!
Now all you need is to log in to your Spyier account, and from the dashboard, you can access the phone camera and gallery of the target phone.
In Conclusion
While there are so many spy apps out there, we should beware of apps that come with malware and are not secure to use. Spyier has a safety guarantee, is super-stealthy and reliable.
Spy apps have now become a norm and are no longer used just for underhand dealings.
Whether you are using Spyier to check what kind of photos your partner or kids have been taking or use it to take pictures of their surroundings by hacking their phone camera, always remember not to go too far.