Since the very first days of the Internet, users are recommended to install Antivirus programs to protect their system files and devices from malicious virus injections and attacks. However, today we need protection more than ever. While back in time, we were using the Internet to learn some information or play some games, today, our payments, shopping, business operations, and almost all critical information processed through the Internet. A day cannot be survived without connecting.
Antivirus programs are essential for protecting your system's security against well-known virus attacks such as trojans or computer worms. Antivirus programs monitor your downloads and track your system activity constantly to detect any kind of abnormality and suspicious software activities.
For the case of Windows 10, Microsoft has provided a free and default virus protection programs, namely the Windows Defender in their PCs. This is a built-in service, and this can be a good starting point to ensure your security.
But is Windows Defender enough for protection? Or any kind of antivirus program can be enough for complete protection.
In this article, while we are answering questions, we will also provide information about how to install antivirus programs alongside with VPN. Because this is one of the topics argued among information security professionals to ensure full protection. If you are looking for a good VPN for Windows 10 to intensify your protection, we encourage you to continue reading.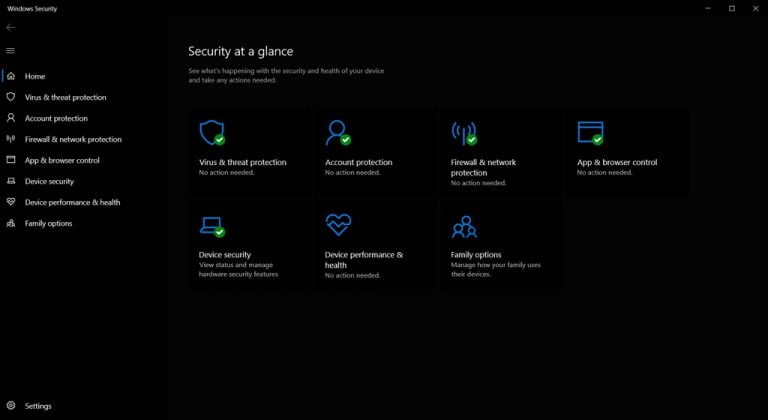 Anti-Virus Programs for Windows 10
In the sector, there are several antivirus software for years. Unlike Windows XP, 98, or older versions, Microsoft provided a ready-to-use virus protection program on Windows 10. On the other hand, research has shown that Windows Defender may fall behind against its competitors, especially in zero-day attacks. A zero-day attack means that hackers are taking advantage of a newly discovered vulnerability in a software or already they exploited the vulnerability until the developer provides a solution for it. Only using Defender makes your device and your identity slightly more open to ransomware attacks.
Also, Windows Defender is a more basic software and does not provide additional features such as password managers and integrated VPN tools compared to the other well-known anti-virus programs.
So, why bother to pay extra besides Windows Defender on Windows 10?
To ensure high-level security on Windows 10, you should set up a more complex anti-virus software than Windows Defender. The Antivirus programs that are compatible with VPN clients will be the best choice. An antivirus program is a necessity; they protect your device by always keeping an eye on the files and recording any malfunction. Basically, it is your security force against any kind of malicious program/document.
Why should we use a VPN with an Antivirus program?
While VPN clients protect your computer by encrypting your data and identity, such as masking your IP address and your location, they enable an extra layer of protection while you are using the internet against third-party surveillance.
The online system enables hackers to distribute malicious threats to users worldwide. VPN software, in this case, can act as a barrier to these online threats without even reach your local computer. Virtual Private Network creates a secure tunnel by turning you into an anonymous presence during your actions on the web thanks to its encryption tools. This why a local anti-virus program, and especially a default program like Windows defender, cannot guarantee your network and device security.
While protecting your computer against possible attacks, one of the most important gifts of a VPN is the ability to secure data transmissions. Document transfers, downloads, and uploads are the commonly preferred ways of spreading ransomware software and plan an attack. If you use a VPN with an antivirus program, the VPN client initially will secure your data transmission.
A combination of reliable and comprehensive anti-virus package programs that include built-in VPN clients or the ones compatible with usage of VPN can be regarded as the strongest formula for data protection in this highly-challenged digital age.
How to Install an Antivirus Program on Windows 10?
You should first determine the best antivirus program for your needs.  If you decided on this matter, download the software package over the internet for Windows 10 and find the downloaded file on your computer.  It can be in the form of .zip, setup.exe, or install.exe format along with the name of the program. Generally, all of these package programs have a configuration wizard, so you do not need to take manual actions besides following the step on the screen by clicking yes and accepting some terms and conditions.
Follow the process defined and wait for the process to complete, and restart your computer. In this way, all changes will be saved and updated, and your antivirus program will launch without a problem.
We suggest you check updates assigned to your program regularly. Indeed, enabling the automatic update system would be beneficial in terms of avoiding doing extra work and as well as keeping your software up-to-date as much as possible so that any detected vulnerability can be solved by updates.
Most of the anti-virus software work with Windows Defender without any problem. However, in case of experiencing any problem, such as blocking of download or unable to proceed for the installation of your Antivirus program, you can apply the following steps.
Click on the search tab.
Go to the control panel and open it.
Find Windows Defender or any additional anti-virus program that may affect your current download.
Right-click to its name and click Uninstall.
Uninstall the program you wish to remove.
To catch up, not using an antivirus program on a computer is not an option today. Although Microsoft is providing Windows 10 users security to a certain extent, a more advanced antivirus program accompanied by a VPN client seems like the most proper choice for a conscious user.