Window 8 comes with an app called as Smartglass, recently released by Microsoft, which is a companion app for Xbox. This application can do tons of stuff depending if the game makers implemented it. Looking at Maps, Players Position, Weapons location etc are few such examples.
So lets say you are sitting along with your friend in your room, and you all planned to play Xbox. So instead of waiting for the game to start, you can just do it from your computer running Windows 8 and start playing the game without any wait.
Steps to launch game from Xbox :
Launch Games App on Window 8 and sign in.
Once done, you should list of games you recently played.
Select the game which you want to play and then select Play on Xbox 360.
Now when you do it for the first time, the Games App will check for the Smartglass App and if it is not found, it will ask you to download by providing you a direct link in the App store.
Once downloaded, All you need is make sure you are signed in to your Xbox and enabled the Xbox Companion Settings. To do this, visit Settings > System > Console Settings > Xbox Companion on your Xbox 360. Once the smart glass app finds your console and connects, you will get a message on your Xbox about that.
This application also lets your performance,  your friends who recently played it and when in connected mode with the game you are playing, you get game specific theme with information about the game.
Settings up the Beacon :
Becon was introduced in the Modern Dashboard Update, and it allows you to setup a headlight on your avatar which your friends can see. So if you set a beacon of Gears3 which any of your  friend  get to see when they see your avatar, and know what you want to play. As a return, you also get notified about any of your friend who starts playing the same game.
There are two ways of doing it. One is from the Companion App, and the other from the games app.
Go to Games App.
Select the game for which you want to setup the beacon.
On the right hand side, you should see the list of friends who recently played that game.
Right above that you should see the option which allows you to set beacon or remove any existing ones.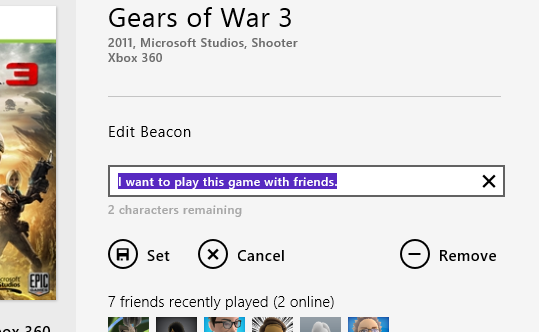 Video Demo