Windows 11 now comes with a widget feature located at the left corner of your screen. This section gives you information about weather, news, and other similar updates. However, there are a lot of users who did not like the feature and wished to remove it from the taskbar. So the question is, how to permanently disable Windows 11 widgets?
Are Windows Widgets useful? Why Uninstall it?
Many users may find Windows widgets pretty helpful as it fetches updates about the weather, sports, and news from the web and put them in front of you. You can see the recent news, your to-do list, photos, traffic updates, Outlook calendar, and more with just a click.
However, many users didn't like the feature. On top of that, many users reported that Windows Widgets is using system resources in the background. As a result, it can impact your computer's performance, and you might want to disable it.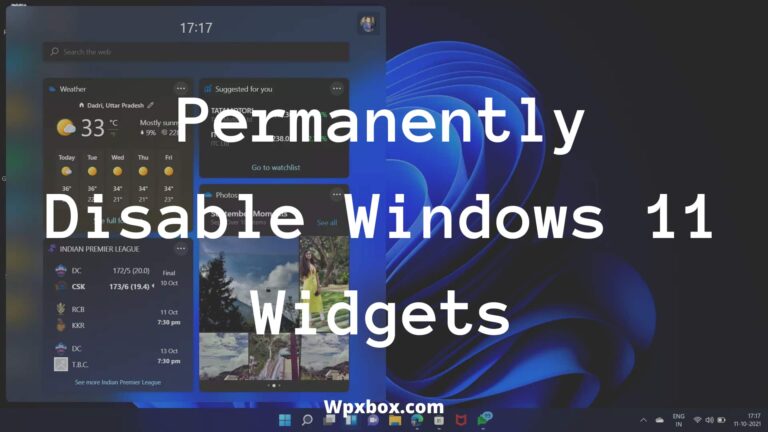 How to Permanently Disable Windows 11 Widgets?
You can permanently get rid of Windows 11 widgets and disable them temporarily from Windows settings. No matter what you wish to do, the following methods should help you out:
Uninstall using PowerShell
Reinstall Using Microsoft Store
Now let me talk about all of these methods briefly below:
1] Uninstall using PowerShell
Go to Windows search and type PowerShell.
Right-click on Windows PowerShell and select Run as Administrator.
Over here, type down this following command and press enter
winget uninstall "windows web experience pack"
Next, confirm your action by typing Y to accept and press Enter. Also, you can press N to cancel widget uninstallation.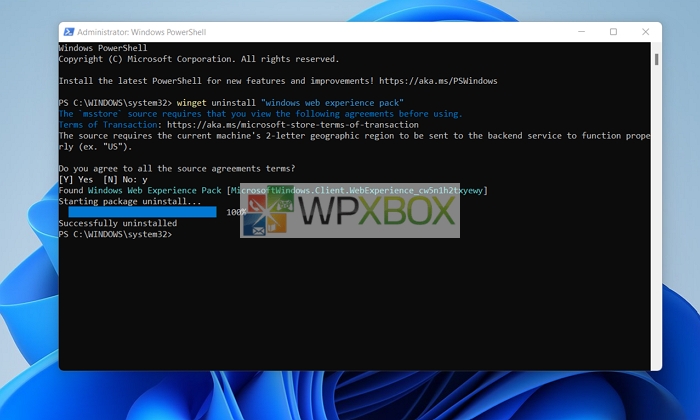 2] Reinstall Using Microsoft Store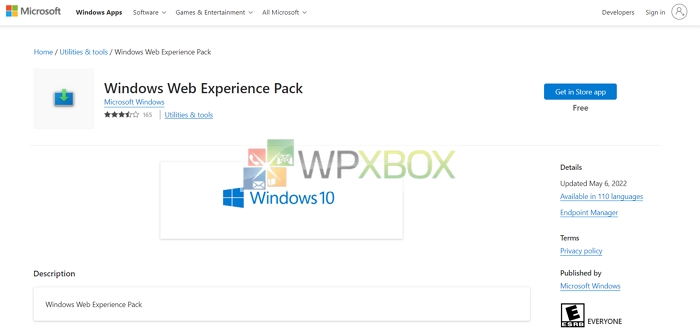 Click on Get in Store app > Open Microsoft Store.
Next, follow the steps and download the app to your Windows 11 computer.
Once downloaded and installed, reboot your computer, and you should see it in the settings menu.
How to Temporarily Disable Windows 11 Widgets?
If you don't want to uninstall it completely, but turn it off for the time being, then follow these methods.
Taskbar
Windows Settings
Registry
When using the Registry method, ensure to create a system restore point.
1. Taskbar
Right-click on your Taskbar and go to Taskbar settings.
Now a new window will pop up where you will see many settings.
From here, toggle off Widgets, and you are good to go.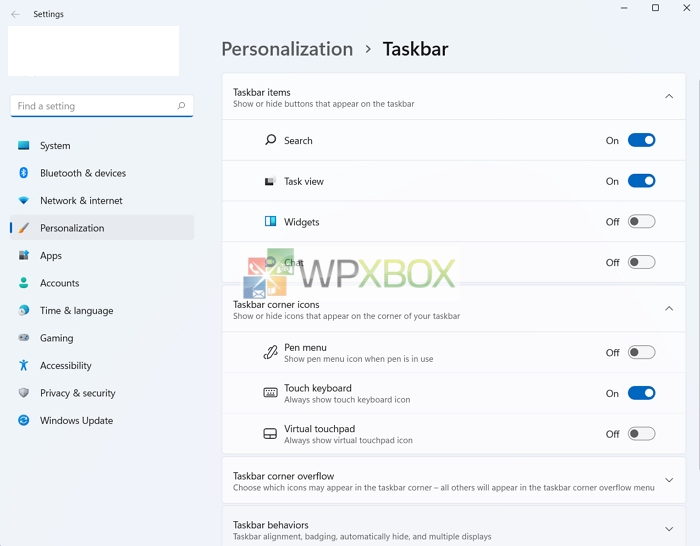 2. Windows Settings
You can also temporarily disable Windows widgets by going to the Windows 11 menu. For this, follow these steps:
Go to Start Menu > Settings.
Head over to the Personalization option from the sidebar menu.
Please scroll down to Taskbar and click on it.
Finally, toggle off Taskbar, and you are good to go.
3. Registry
The above methods are two easy ways to disable Windows Widget temporarily. However, if you want to try out Registry Editor for the same purpose, then you can follow the below steps:
Press Windows key + R to launch the Run dialog.
Type down regedit and press enter.
Go to the following path:
 HKEY_CURRENT_USER\Software\Microsoft\Windows\CurrentVersion\Explorer\Advanced
Over here, search for TaskbarDa and double-click on it.
From the list of entries, look for TaskbarDa and double-click on it.
A new window will now pop up. Over here, change the value from 1 to 0 and press enter.
Finally, reboot your computer, and it should disable Windows Widget.
Also, to enable it back, change the value from 0 to 1, and you are good to go.
How to Create Custom Widgets in Windows 11?
Windows 11 does not allow you to create custom widgets by default. Instead, you need to use a third-party Windows app called BeWidgets.
Download BeWidgets using the following link

Once the app is installed, launch it.

Click on New Layout.

Then use the dropdown menu to select what type of widget you want to create and use the customize button to change its settings.

Also, you can click on the layout and drag it anywhere on your screen.
You can add as many widgets as you wish to on your desktop using BeWidgets.
So that was all for how to permanently disable Windows 11 widgets. I hope the above methods will help you get rid of Windows Widgets. Also, I would recommend you temporarily disable widgets, and if you need additional widgets, BeWidgets is a great app that you can check out.
How To Get Windows 11 Widgets on Windows 10?
Widgets are part of Windows 11 new framework and hence native to them. So you can install the same widget into Windows 10, but you can check out some third-party apps that can add widgets to the OS. Widgets are not new. Windows XP and Windows Vista used to have them.
Can I End Task on Windows Widgets?
Yes, you can end Task on the Windows Widgets using the Task Manager. However, pinpointing a particular widget will be difficult. So if you need to end, you need to end all of them and relaunch.