When it comes to Controller for any console, there is a huge market for custom controller which allows any gamer to customise buttons it according to their need. So if you think Right Bumper is better mapped to A, it could be done with a custom controller.  Seeing the popularity if this, Microsoft has rolled out an update along with New Xbox One Experience which lets you manage both the standard controller and the elite controller to suit our need. This takes away the need to customise it on individual game basis. Below is  quick video
Like you can see in the sheet below, the Elite controller has more options which even allows you to map multiple buttons mapped to the same functions.
To map your standard controller, go to Settings > Kinect & Devices > Devices and Accessories > Select your Xbox One Controller and then choose configure. This opens up options like Map Buttons, Invert Y Axis etc. Select Map Buttons and you can select the button you want to map and then the button you want to map to.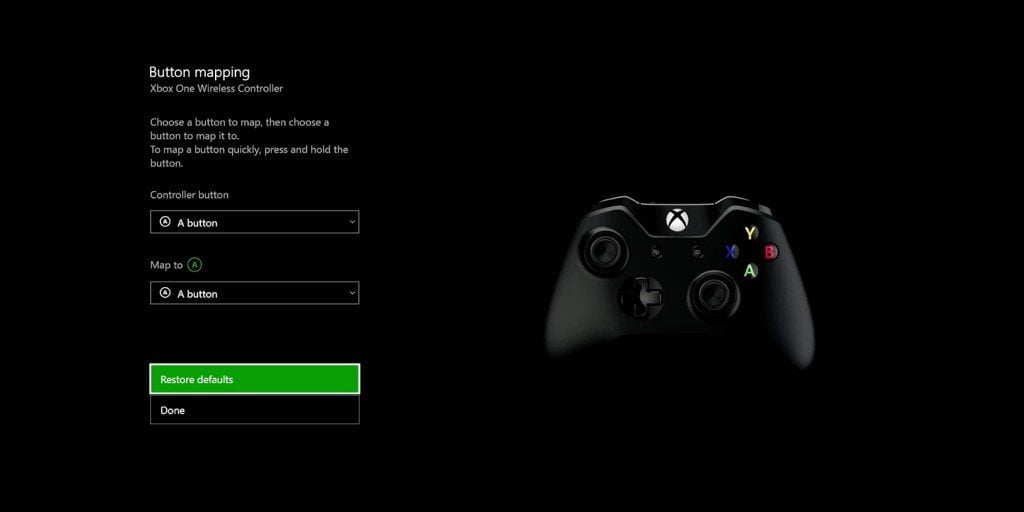 One thing you should know that if you move to another console, the remapping process needs to be re-done. This gives you an idea that it's not being handled from the controller but its done by the Xbox. It remembers your settings for every controller and manages accordingly. Also Remapping is available for both first party wireless and third-party wired controllers.
Related : How to Update Xbox One Controller
When it comes to Elite controller, Major Nelson shares that the settings are stored on the controller itself making it independent of Console. This is typically useful if you play with your friends and you take turn.