It is a bit of pain to get the apps bought and downloaded back to Windows Phone because of no proper restore and backup method available via Zune.  That makes things manual but if you do follow a procedure this hassle can be reduced a bit.
Restoring Apps Over The Air :
Signin to Windows Phone Market Place
Make sure your phone is connected to Internet.
Now go to https://www.windowsphone.com/en-US/account
Here you will see list of all the app purchase history.
For each app you will see Reinstall as an option.
Click on that and confirm in next step and it will start downloading apps on your phone immediately.
In case it cannot connect with your phone, it will send an email.
Restoring Apps / Games using Zune :
Though Zune does not have a restore app UI, but
if you had used the same phone before on the same computer and had used Zune to sync
and Bought Apps from Zune not from Windows Phone Market Place App
Follow the steps below :
Sign in to Windows Phone and Zune using the same Windows Live ID.
Let the phone sync and you will see all the apps after sometime.
Now I have seen two things happening :
Either you will see the apps which you had bought using Zune, it will be available in your phone after sync completes. This happens when you keep the phone plugged in for a long time.
Or You just unplug your phone, Try downloading a new app and go to Download Section of the phone where you see the list of all the apps getting downloaded and in queue.
[styled_box title="Video Tutorial" color="black"]

[/styled_box]
Restoring Apps / Games from Windows Phone Market Place App
Windows Phone does not download apps automatically but if you have already bought apps once, you will not be charged when you go to the app and click buy or try.
It will give you a message that you have already purchased and downloaded once and if you would like to download it again. Click to Download and it will soon be installed.
Now in case you aren't sure which apps you had installed then follow the steps below :
Sign in to Zune using the same Live ID as in Phone
Go to Settings > Account > Purchase History > Apps
You will see a list of all the apps here.
Now you can either download from Zune after connecting your phone or search and download from Windows Phone Market Place App
[lightbox type="image" title="Zune App Buy List" link="http://img.wpxbox.com/Zune-App-Buy-List.png"]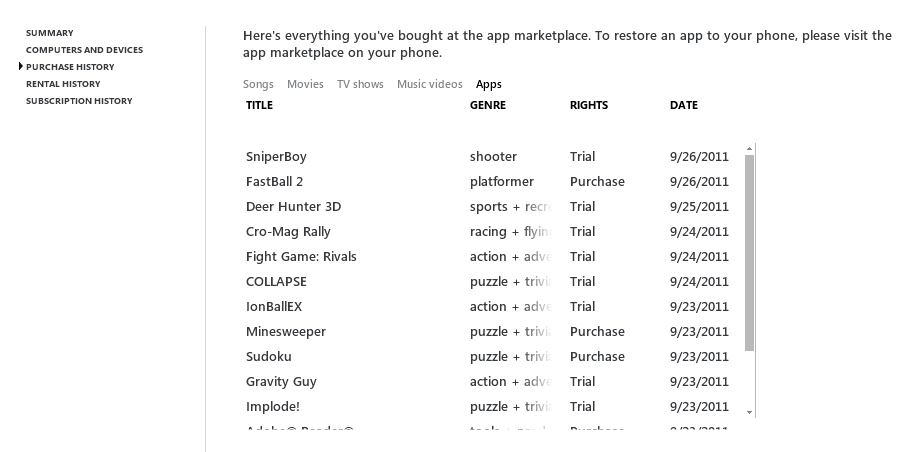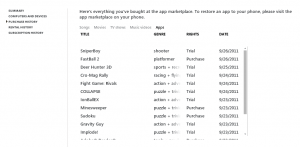 [/lightbox]
Troubleshooting :
In case you are signing in to Zune on a computer which is in a different region than your Windows Live Id,Learn how you can change that.
In case a download is stuck, you can cancel and start the download again by repeating the same steps.