Thanks to the web browser's built-in password manager tool, there is no need for you to remember your passwords. And you can enjoy a seamless login experience to your favorite websites. The built-in password manager is available in almost every browser. However, if you use Microsoft Edge and want to save your passwords, I will help you out.
In this article, I will be talking about how to remember passwords in Microsoft Edge or how you can manage your passwords. So let's jump into the topic right away.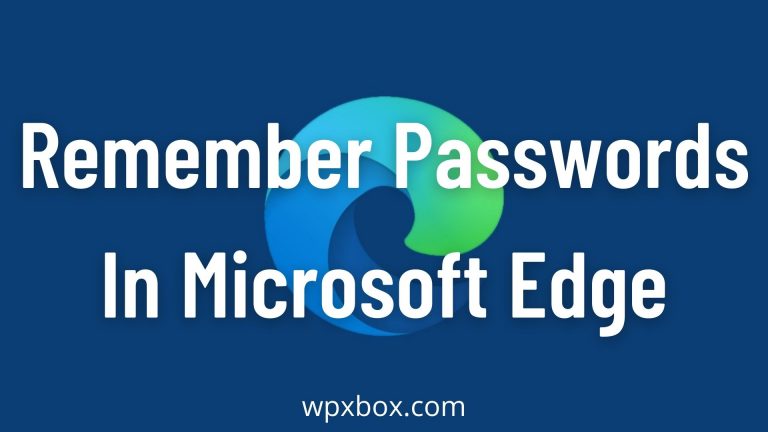 How To Remember Passwords in Microsoft Edge?
Microsoft Edge doesn't offer you an option to enter your login details and save them. Instead, it can detect whenever you are entering a password on a website and offer you the option to remember it.
For example, if you are login into your favorite website for the first time, then Edge will ask you to save your username and password. And if you click on the save button, then Edge will remember the login credentials.
So the next time you try to login to the same website, it will offer you the option to enter the login credentials automatically.
But the feature might not appear on your Microsoft Edge browser. That is because you probably have it disabled. So go ahead and follow the below steps to allow Edge to save your passwords: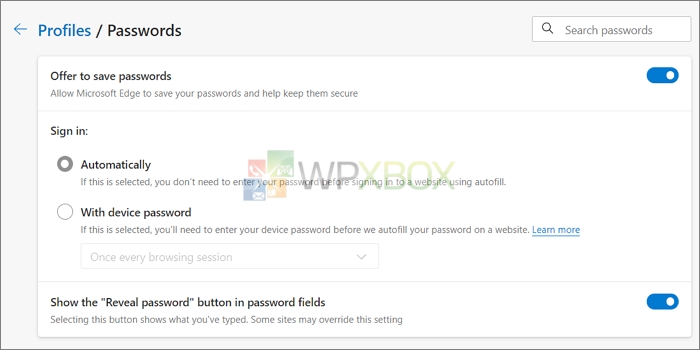 Launch Microsoft Edge and click on the three dots icon from the top-right corner and select Settings.
From the sidebar, select Profiles if not selected already.
Go to Passwords.
Finally, enable the Offer to save passwords option if not enabled already.
Now, whenever you log in to a new website, it will give you the option to save passwords. Just click on the save button to remember your login credentials.
In case if you don't see a password save option. Then click on the key icon in the URL field of your browser, and the option will appear.
How to Edit Saved Passwords On Microsoft Edge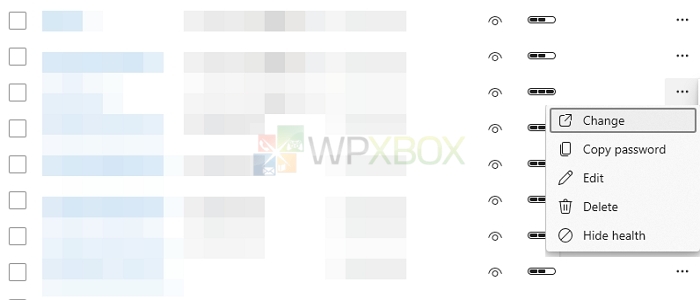 We often change the passwords of our online accounts. So you want to ensure that your Microsoft edge of having the updated passwords. To do so, you can follow the below steps:
At first, go to Microsoft Edge Settings > Profile > Passwords.
Scroll down, and you should see the saved passwords of your account, or you can search.
Click on the three dots icon next to the saved password and select Edit.
It will then prompt you to enter PIN or Microsoft Password, or Account Password.
Finally, in the password field, enter your updated password and click on done.
Also, by following the same steps, you can delete your saved passwords. Instead of clicking on Edit, click on the Delete button.
How to Delete Ignored Websites
In case if you have previously ignored websites for saving your passwords. Then you can also delete those sites. So Microsoft Edge will again prompt you to save passwords for such sites.
For this, you will need to go to Settings > Profiles > Passwords, and at the bottom, you will find the ignored websites. Click on the cross button next to them. A prompt will appear to verify your PC account.
After that, when you revisit those websites and enter your password, Edge will ask you to save passwords.
Are the Passwords in Microsoft Edge Encrypted?
Yes, passwords saved in Microsoft Edge are encrypted. Edge uses the Windows Credential Locker or Windows Hello service to store your passwords, as a result, your passwords are safe from attackers.
How Do You Get Password Breach Alerts in Microsoft Edge?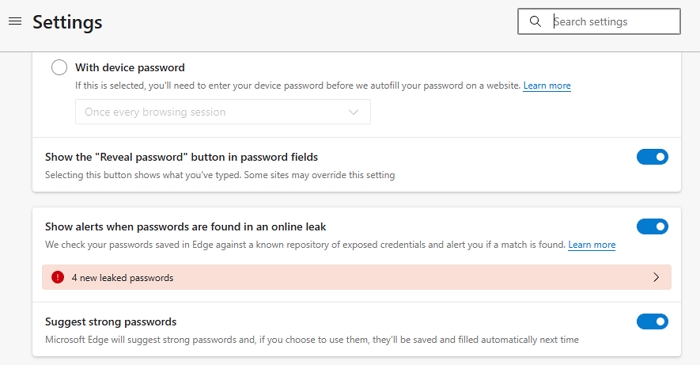 First, make sure you have Microsoft Edge on your PC. If you do have it, then open it and click on the menu button. Next, go to Settings > Passwords and then look for the Show alerts when passwords are found in an online leak option. Finally, enable the feature, and you are good to go.
Is it safe to save passwords on Google or Microsoft Edge?
Cyber experts say it is not safe to save passwords on any browser integrated passwords managers as they are the first line of attack in vulnerability exploits. However, stealing password from browsers have gotten complicated. Even if you want to read the password, you will have to authenticate yourself. So at this age and time, you can save the password in the browser. But if you do not indeed check out the Password Manager for Windows.
So that was the answer to your how-to remember passwords in the Microsoft Edge question. I hope this has helped you with your query. Also, if you have any more questions to ask, then drop a comment below.