Our world is highly digitalized, which means that we can do anything and everything (well, almost) just sitting at home with a good internet connection. But with this advantage, there is also the disadvantage of having to remember the passwords of so many accounts that come with the digital life.
Ever wonder what will happen if you forgot the password on your Windows 10 PC? I'm sure you must be wondering what will I do if I forgot my Windows 10 login password. Don't you worry, we have covered this and bring you the easiest way to reset your Windows 10 login password if you forgot it?
Here's how you can reset your Windows 10 login password that too in the matter of minutes.
1. Download PCUnlocker on your computer. It will be extracted by itself. You can extract the zip file into a desired location on your computer. Once that has been done, you will get a PCUnlocker.iso file available at the folder where you have stored the extracted file.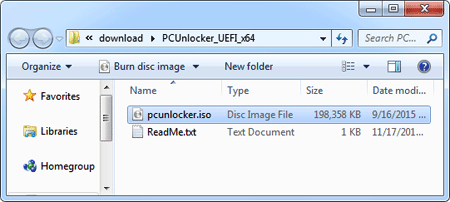 2. Once the extraction is done, you need to insert a minimum of 1 GB of USB disk into the device you are working on.
3. On doing so, you now need to download the ISO2Disc Program and install it into your device. You will be provided with on screen instructions on how to install the program.
4. Once you have completed the installation of the ISO2Disc program on your device, you can now launch ISO2Disk program on your computer and browse it to find the .iso file. Once it has been located, click the Start Burn button available on the window in order to make a bootable CD of the file on the USB you had inserted in an earlier step. The USB will allow you to use the file, even on your laptop in case it doesn't have a CD drive.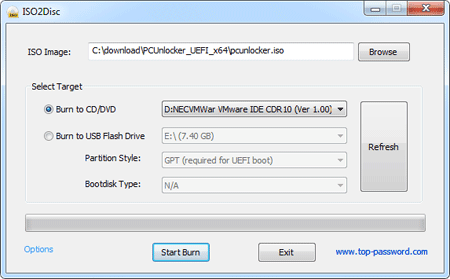 5. Insert the USB containing the .iso file onto the locked computer.
6. Now you need to turn on your computer or reboot it. You now need to check the boot screen to locate the set-up key which can be any of the following, Delete key, F8 key, F2 key for BIOS Setup Utility. You can now select the arrow keys to select the Boot tab.
7. Now you need to change the priority for your boot device in order to make your USB useful. In case you are using a bootable CD or USB then you have to select External Device for your Boot Priority. But before that you have to go to your Boot Configuration and enable External Device.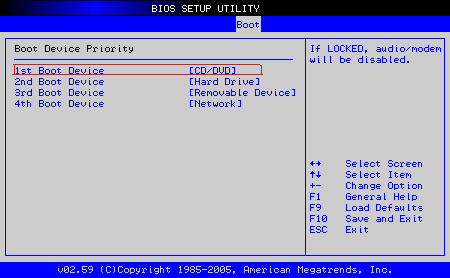 8. You will now have to save the changes you have made by pressing the F10 key. Your device will now install the WinPE and PCUnlocker from the bootable USB.
9. Now you will have to select the Windows SAM Registry. However, it will automatically choose the SAM Registry on itw own. Once done, PCUnlocker will show you a number of options, you need to choose Reset Active Directory Password from the available options.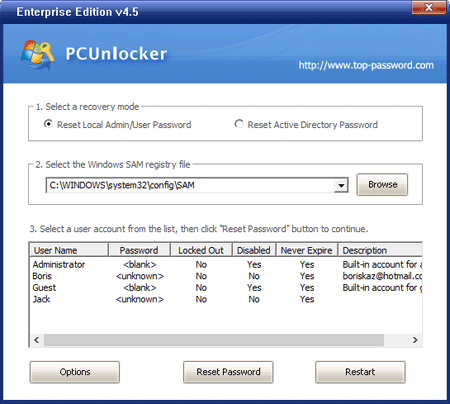 10. A new dialog box opens, type your New Password or leave it black if you don't want a password at login screen.
10. Once you have inserted the desired password, you now need to click the Reset Password option which is at bottom centre. Once done, restart your device and you can now unlock it with the new password.
That is how simply you can change the login password for your Windows 10 device in case you have forgotten it. If you find any problem in resetting your Windows 10 login password, do let us know in the comments section below and we will help you out.