As of now there is no official solution available in Zune which allows you to backup and restore your Windows Phone ( WP / WP 7.5 Mango )  phone to a state where it was working.  But good thing is because of support from XDA-Forums members,  hx4700 Killer has developed a custom hack which uses the Zune to backup.
Disclaimer : I will not take any gurantee if something happens to your phone, It worked for me and should work for every one else but then we have something called as Luck, So use it at your own risk
PS: If you are looking for Backup and Restore in Windows Phone 8, Read this and also view the video.
How these tools basically works ?
Zune only takes backup when a new update is available.  So in case the update fails, it can use the backup to restore your phone. This custom hack makes Zune think that there is an update available and forces it to take a backup.Same thing happens when it comes to restoring. So everything is getting done by Zune we are just making it think different.
Before using any of these tools make sure you previous update if any is saved. It can be found at C:\Users\<username>\AppData\Local\Microsoft\Windows Phone Update. Whatever is there, copy and paste it anywhere you want.
There are three tools here :
The first two tools skip anything which syncs with Zune i.e. picture, music video etc. The last tool backups everything. So depending on what you want choose wisely.
WP7 Easy Backup Beta by MarcHoover
This tool is a complete solution and very easy to use because it comes with one package. All you need is run the Wp7EasyBackup.exe and choose backup. Download from here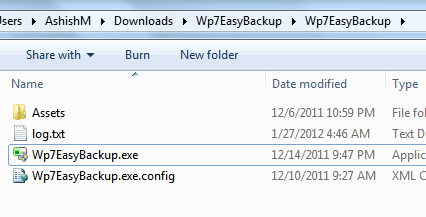 Backup 
When you see Backup Complete on the App Screen as 100%, the backup is done. Wait for the phone to reboot
In case t is stuck you will need to pull the battery out.
You will also get a message from phone that update was unsuccessful, just ignore it.
Go to C:\Users\<username>\AppData\Local\Microsoft\Windows Phone Update and see if you find a folder
Then then launch Zune  > Phone Settings > Update and check  if you have option from their to restore
Restore :
You can very well restore using zune, no hamr done but if you prefer this application, then choose Backup Option.
Your phone will reboot and get into update mode and just restore your phone using the last update.
WP7 Update Cab Sender by XBOXMOD-YUKI
This is no fancy UI but does the job nicely. You get command prompt like screen here which will do restore and backup both.
Download the file from here, unzip and run WP7 Update Cab Sender.bat file
Choose B  Send Cabs to device with Backup
Choose R to restore.
Possible that your phone will be stuck for couple of minutes after it says installing update and your phone shows the progress bar is complete. So just wait for few minutes and your phone should reboot automatically.
Backup Tool by hx4700 Killer
The only reason to create this tutorial is because the thread were the software was released has a lot of confusion on how to configure dll, PKS etc required files. So I have brought them all together and given a clear explanation on how it works and that it WORKS. In case you have questions drop in your questions at this thread.
Advantage of using this tool is that it also backsup your files like music, video synced with zune which makes backup very large.
Download the following Tools  and Files :
Windows Phone Support Tools:  32 Bit | 64 Bit 
Windows Phone 7 Zune Backup  v1.9 | Link
PKS File :  Download
updateWP.exe : Download ( extract to find the file ) and use it if it is not there in your computer.
It is suggested to use Zune 4.7 version with this. Though I did everything with 4.8 and it was of no issue.
Video Demo : ( Watch on YouTube )
Setting up 
First Install the Windows Phone Support Tools.
Next extract rest of the files in a folder, Call it as WP Backup Tools.
In the same Folder create another folder called as Archive.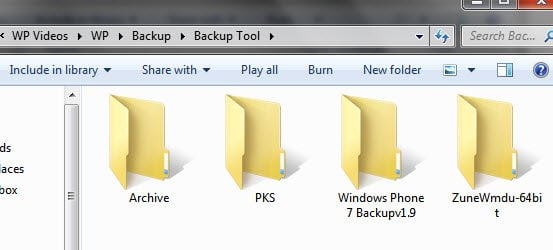 How to Backup using this tool
By Default Zune Backups are stored at %LOCALAPPDATA%\Microsoft\Windows Phone Update. So visit that first and copy whatever is there to somewhere. In case something goes wrong we will bring it back.
Launch the Windows Phone 7 Zune Backup tools
Uncheck option which says use the default PKS file.
Click on Path Settings and set paths for PKS File Location, Archive Folder Location, And ZuneWmdu.dll 4.7 Path by browsing to locations which we did in Step 1.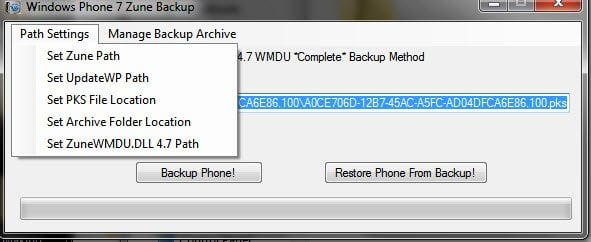 Next Connect your Windows Phone and then click on Backup Phone.
This will then restart the phone and you would get to see the same picture on the phone which you see in regular update. Basically this app makes Zune feel like there is an update and makes it to take a backup.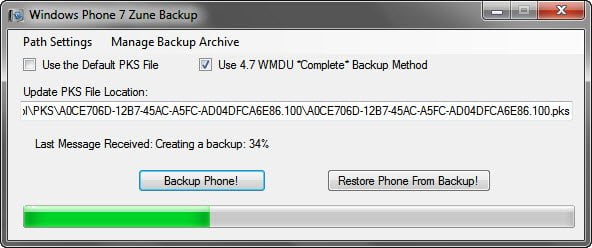 Once backup is complete, you need to unplug your phone from USB cable. Also on your phone the progress bar will be full. In case it does not reboot itself, shut it down manually and start again. In case you get warning message which says backup was not complete ignore it.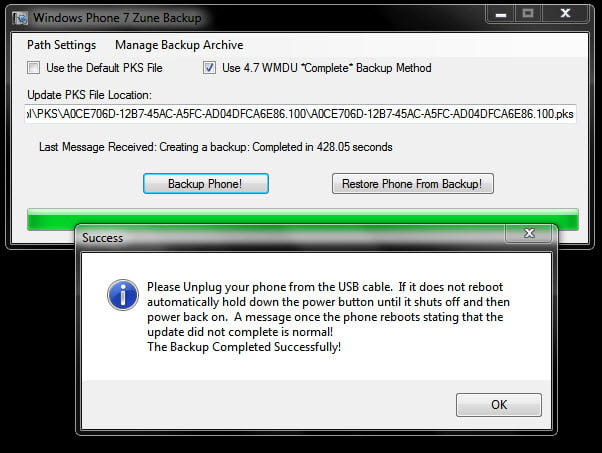 Now if you go to %LOCALAPPDATA%\Microsoft\Windows Phone Update you will see you have a folder  with name as Restore Point, get inside and you will have a folder with number. Check the size of it, if it matches with the total space occupied in Zune, you are done.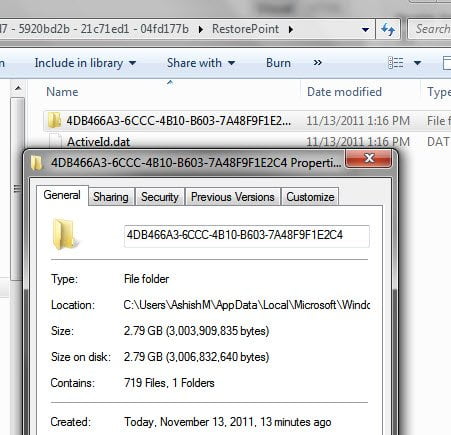 Manage Backup :
This tool also comes along with a Management tool which allows you to move your archived files to a set location which you have already done.
You can click on Archive Current Back to move from the default backup location to choice of yours and you can also move an archived backup to default location.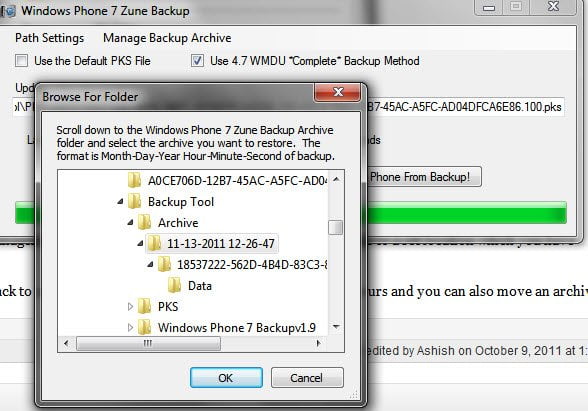 Restoring your Windows Phone
Now there are two ways here. Either you can restore your phone using this same tool or you can launch Zune and under update you can see that a restore point is available. However this tool lets you backup any number of such restore points which is a very big advantage. So what I did was tried both the methods and they worked nicely. I had to reset twice but that's another story.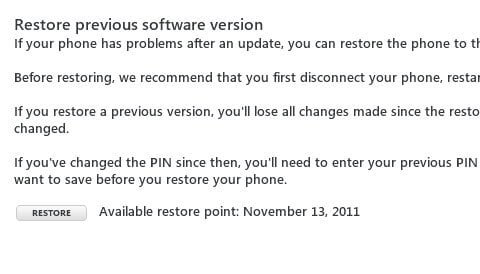 One thing to remember here is that Zune will be of no use if you hard reset your phone and then try to recover your phone. It can only be useful if you want to restore some big size apps or restore yourself to certain period because when you do a hard reset, the Zune will forget you.
But using this custom backup tool, you can recover a phone which has gone through a hard reset. So if you are kind of person who needs to switch between two live id, this is the tool for you if you can spend 30 minutes for this.
Done this your phone will be in same state as it was before. All your apps, email configuration, wi-fi connections etc will be as it is.