Windows 10 Mobile will be able to run multiple apps in the background and these apps will use the 4G or Wi-Fi connection to connect to internet and download the latest updates or notifications (based on the app). If you have installed a lot of apps on your device, you might end up with almost all apps running in background and consuming battery life and also data.
But you can easily control the apps which are allowed to run in the background. To manage these options, go to Settings->Privacy.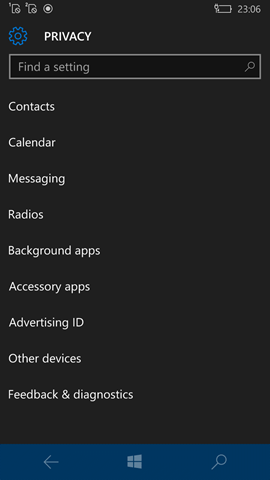 Here you will be able to see the background apps option. Click on this option and you can see the list of all the apps that can run in the background. If you feel some of the apps running in background are unnecessary, you can use the slider to disable them.
Once you have disabled them, these apps will no longer run in the background consuming more battery and data on your phone.
What you should know that all background activities of apps are restricted when the phone goes into battery saver mode. If you want some of the apps to run in the background even when the battery saver is on, you will have to use the battery saver app to get this done. Check out our detailed tutorial on this here, and video below:
Make sure to allow only those apps which are very important and needs your attention all the time. This will deliver longer battery life for sure.