If you are using Windows 10 then you might come across a small problem while accessing some of the apps using Command Prompt. This happens because, on Windows 10, apps can declare alias names on their own. Sometimes two different apps end up using the same alias names. When the execution takes place with the same name, there is the highest possibility of another app opening up in front of you. In this guide, we share how to set App Execution Aliases on Windows 10.
To avoid this clumsy situation, users can change the priority of the app to open. This means a user can allow one of the apps from those having the same aliases accordingly. But, the only limitation is, users should have Windows 10 April Update (Version 1803) installed on their PC.
Windows 10 1803 can overcome this limitation. In this update Settings, App allows users to specify which app should use the alias when more than one apps have the same name.
If you are one of those users who face the same difficulty while performing day to day tasks, then this article is for you. Go on further and follow the steps given below.
How to set App Execution Aliases on Windows 10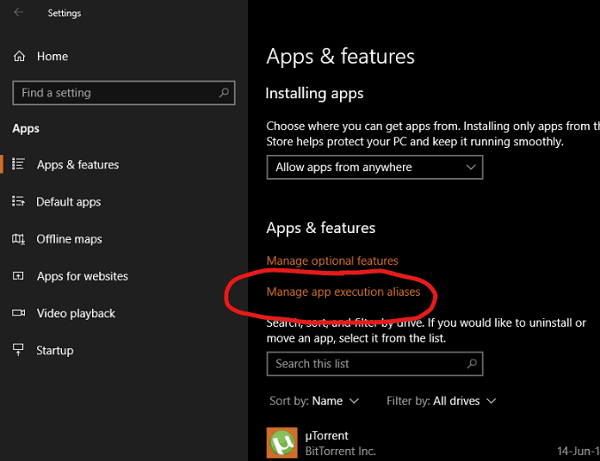 Press Windows key + I. Settings window will open up.
Click on Apps > Apps & Features > Manage app execution aliases.
Turn on or off the switch on the front of the app's name to enable or disable the alias mentioned.
Above steps will make sure that whenever an app is executed using Command Prompt by an alias name, the exact app will open up.
Make sure to enable the toggle switch of the app which you want to access. If you disable those apps whose names aren't conflicting with other app's alias, you will end up having "is not recognized as internal or external command, operable program or batch file".
This procedure is only for accessing the app from Command Prompt or Windows PowerShell. Changes done in the above steps won't affect accessing those apps from the start menu or desktop icon.