Game Defaults mean common preferences like Controller sensitivity, Mirror Lookups, Auto-aim, etc for all the games you are playing. It makes sure any game you play has this preferred choice and you don't manually go and change.  In this post, we will share how you can set Game defaults in Xbox 360 for all games before you start using them.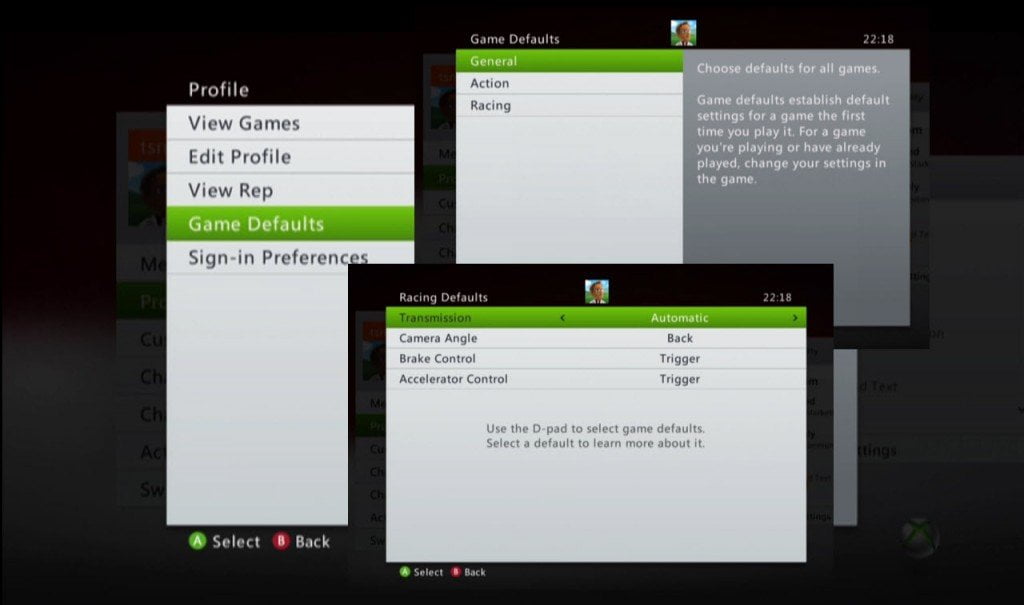 How to set Xbox 360 Game Defaults for all Games
This is again divided into categories like General, Action Racing. So for each category, you can have a different set of defaults. So let us learn how you can set game defaults for your Xbox profile :
Make sure you are signed in your profile.
Then select the profile and  choose Game Defaults
Here you get to see the three categories which I had mentioned above.
Now select a category and choose and set all the options.
So for instance, if you want Auto Aim to be on by default, set in on here and when you play the game, the preferences will be picked up from here.
Things that can be changed are Y-Axis, Movement, Auto-Aim, Auto-Center, Transmission, Camera Angle, Brake Control, Accelerator Control, Difficulty, Primary Color, Secondary Color, Controller Sensitivity
However one of the biggest drawbacks is if you change game defaults after you have already played the game then the game will not pick up the settings.  Also if you change any defaults from within the game, it will override the Game Defaults set in your profile.
Video Demo to Set Game Defaults ( Watch on YouTube )
I wish someday Xbox will have API which will allow creating Game Default settings in a centralized place for each game. This will make sure that every profile will have its own game defaults. Later on, any changes made there will be picked up by the game from there.