Windows 10 allows you to arrange multiple windows, i.e. Apps, Programs, Files, and Folders, in many ways. You can have them stacked or arranged in a way that you can view them all together. So you can play a movie on one side while working on the other, while the third part is just displaying live stats from the stock market.  Let's learn to Snap & Arrange Multiple Windows in Windows 10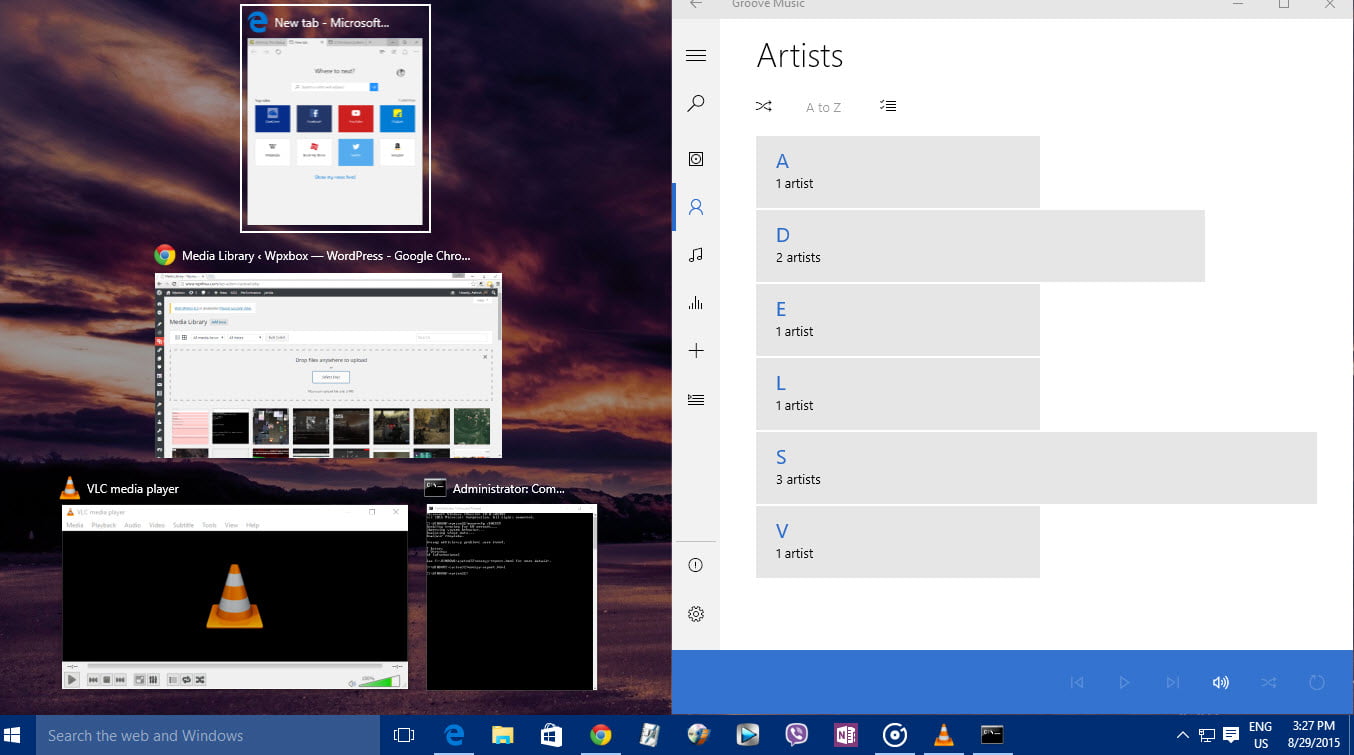 How to Snap & Arrange multiple windows in Windows 10
There are three ways to snap and arrange multiple windows in Windows 10. When you have a big screen, it makes sense to snap those windows and keep them open so you can work simultaneously with them. It gets even better when you have multiple monitors.
Using Win + Arrow keys
Cascade, Stack or Side by Side
Powertoys Flexizone
You can use any of them, but Powertoys offers extra flexibility.
1] Using Win + Arrow keys
In Windows 10, the screen is divided into four quadrants. In each, you can have one window arrange or windows can expand up to two quadrants.
To use this feature, Open a couple of apps and programs. Next, resize them instead of the full screen.
Now you have two choices here. Use Keyboard or Mouse.
Using Mouse or Touch, drag an open Window it extreme left, and you will see it getting snapped there, and on left thumbnails of all the windows will appear.  Select any of them, and it will occupy the right half. Now you can resize and add one more.
Using the keyboard is probably the best.

Fist, make one Windows go full screen.
Now press WIN + LEFT Arrow, and it will snap to the left and will show you snap assist.
Select the one you want.
To resize, press WIN + Down, and it will occupy less space and give you the option to add more windows.
2] Cascade, Stack or Side by Side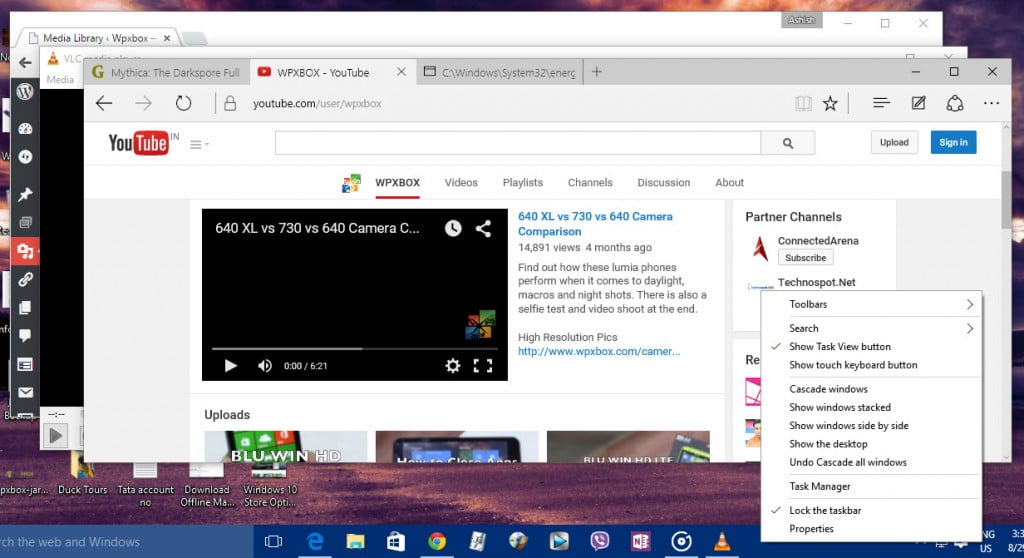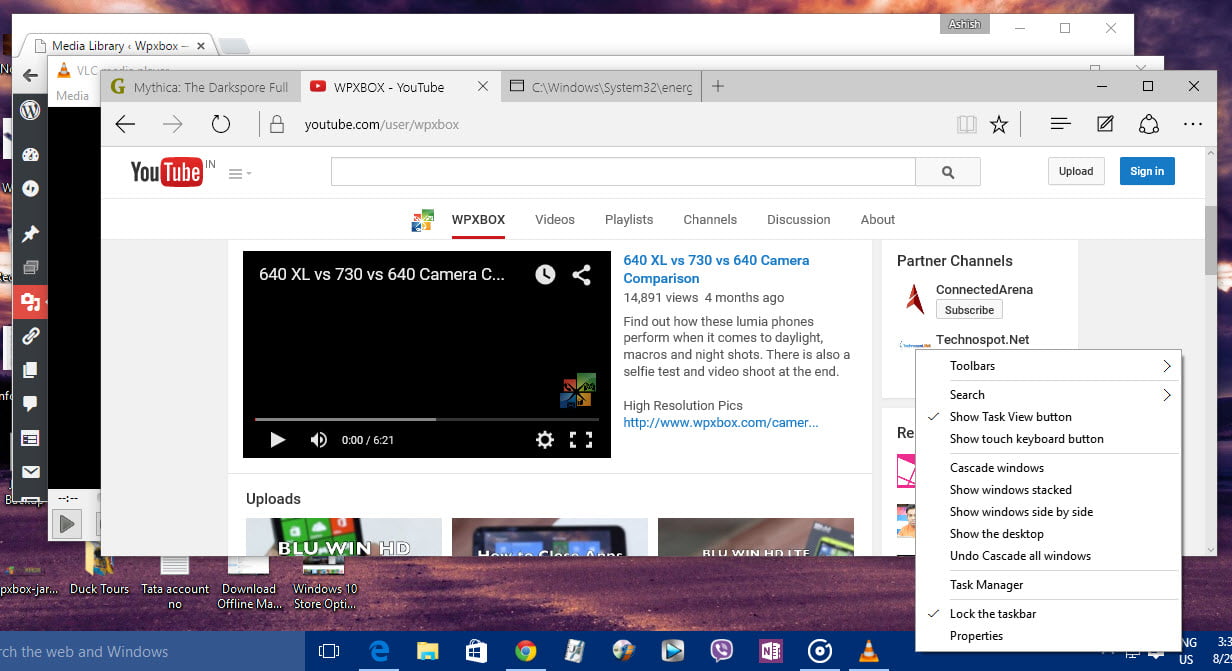 These are from the old school, and you mostly know it. For newcomers, this is less complicated than snap.
Have Lot of open Windows.
Right-click on the taskbar and look for options which say

"Cascade Windows"
"Show windows stacked."
and "show windows side by side."
3] PowerToys FancyZones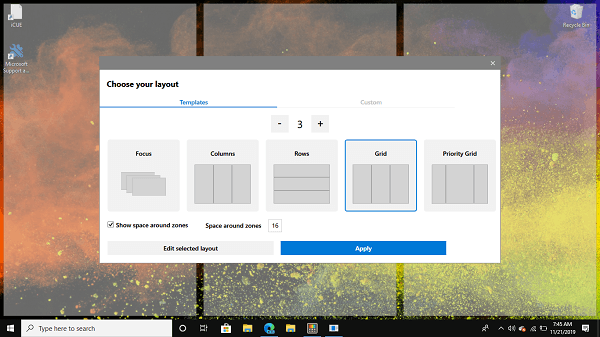 It is an open-source tool that can create a virtual grid for your windows. For example, if you regularly work with three open windows every day, you can split the screen into three panes. All you need to do next is drag a window in that area, and it will settle on it. Some of the monitors offer software that can help you do that, but if yours doesn't support, then you should install this.
Download PowerToys from GitHub, and install it.
Once installed, it will be available in the System tray. During installation, make sure to set it to start with Windows.
Launch the application, and switch to Fancy Zones > Edit Zones
Next, you can choose between the offered layout to create your own. For example, I usually have one area which is occupied with my editor, and two smaller areas where I research or read articles or watch a video and so on.
Switch to Custom Zone, and create your layout. Click on Add Zone, and you can resize, arrange it exactly where you want them to be.
To place the windows into these zones, use shift while dragging, and the zones will turn blue as you move the window on top of them.
The software also works with multiple displays and offers a setting for that; You can choose to keep windows pinned to multiple desktops in the same zone when the active desktop changes.
If you like to use Windows Snap hotkeys in Powertoys, you can override it bu turning on a setting.  The default shortcut is Win + ~
PowerToys also offers PowerRename, Shortcut guide, which I would highly recommend you to take a look at.
Honestly, Snap is what you should be using. Period.