Are you receiving an error— the NVIDIA installer cannot continue—whenever you want to run the NVIDIA install program? If yes, then this post will help you to fix this issue. Here in this post, we have provided an easy guide to help you solve this problem around GeForce Experience installer file issues. So, follow this post till the end for a better understanding.
What is the GeForce Experience installer from NVIDIA?
NVIDIA's GeForce Experience is a software application designed to enhance your graphics card experience when you use NVIDIA's GeForce GPU. With its range of features, users can optimize their gaming experience and get the most out of their graphics card. Users can upgrade their graphics card drivers and optimize the settings of their games using GeForce Experience once installed.
Possible Reasons Behind this Error
The reasons can be different, but mainly due to the incorrect entry of hardware ids in the INF file. Some other causes, like outdated or corrupted graphics card drivers, disabled GPU drivers, and unsupported legacy hardware, can also create this annoying error. So, what are the solutions? Let's find out some of the authentic solutions for the NVIDIA Installer cannot Continue Error issue on Windows in the next part.
Fix the NVIDIA Installer Cannot Continue Error in Windows
Nvidia Installer Cannot Continue Error usually prevent you from installing the graphics card driver. To fix this issue, we have listed the four best solutions for you.
Check if NVIDIA GPU is disabled.
Change the driver for the PCI Express root port.
Remove Legacy Hardware
Run inbuilt Hardware & Device troubleshooter
Make sure you use an administrator account to execute these suggestions.
1] Check if NVIDIA GPU Is Disabled 
NVIDIA Installer Cannot Continue error usually occurs when your CPU also has a GPU and Windows uses the CPU's GPU because your NVIDIA GPU is disabled. In such a case, you must manually enable your GPU and update your NVIDIA GPU driver. To do so, follow the below steps.
Right-click on the Windows main menu button and select Device Manager.
Now go for Display adaptors; click on it to expand it. In the expanded list, look for the NVIDIA Graphics Card driver. Right-click on it, and check whether it is enabled or disabled.
If enable option is available, your NVIDIA driver is disabled, so click on Enable and Restart your PC.
After restarting your PC, download the latest NVIDIA graphics driver from the official website of NVIDIA and manually install it and check whether your error is fixed.      
2] Change the Driver for the PCI Express Root Port
You can quickly fix the NVIDIA Installer Cannot Continue error issue by changing the driver for the PCI Express root port. You must search for the local drivers and select PCI-to-PCI bridge. According to a user in the forums, the PCIe express root port problem prevented the operating system from discovering PCIe devices such as the Nvidia video card.
To perform this process, follow the exact steps given below.
Right-click on the Windows main menu and click on Device Manager. Locate a listing with a yellow exclamation mark on the PCI express root port in Device Manager.
Now right-click on it and click on Properties. A new window will appear; here, you must click on the Driver option and click on the Update Driver option.
Now you will get a new window having two options. Here you must click on Browse my computer for drivers.
 Now on the new window, click on Let me pick from a list of available drivers on my computer.
Here you will see a new window having Select the device driver you want to install for this hardware with the compatible hardware option.
Choose the PCI-to-PCI Bridge option from the list and click on next. It will now install the driver. Restart your PC once and check whether your issue is fixed or not.
3] Remove Legacy Hardware
Removing legacy hardware can also effectively fix the NVIDIA Installer Cannot Continue error issue. Usually, some drive creates an incompatibility between NVIDIA and Windows, especially with old legacy hardware drivers. This could be an issue between PCI-to-PCI Express devices. In such cases, we recommend you remove the legacy hardware and check whether your issue is fixed.     
4] Run Inbuilt Hardware & Device Troubleshooter 
Inbuilt Hardware & Device troubleshooters can also fix the NVIDIA Installer error issue. By running a troubleshooter, your PC can quickly identify if there is any error or fault in any hardware or device and fix it quickly. So, we will recommend you run it to resolve your issue. To complete this process, follow the given steps below.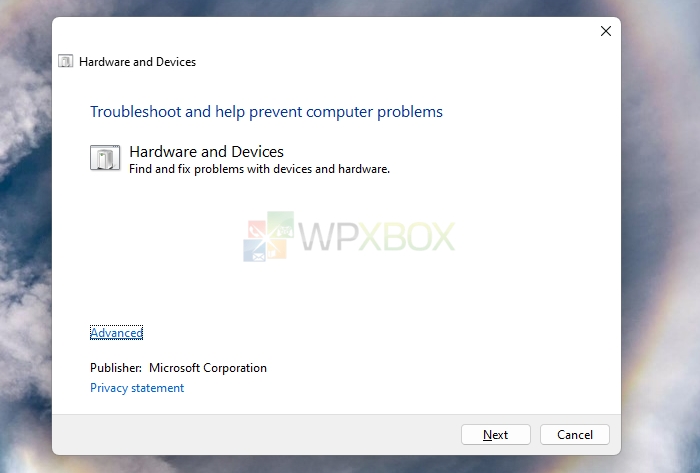 Right-click on the Windows main menu button and select the Run option.
Now on the Run window, type msdt.exe -id DeviceDiagnostic commands and press the Enter key to open the tool.
It will open a new window having the Hardware and Devices troubleshooter. Now click the Next button, and it will start detecting and fixing problems.
After fixing the issue, if there is any during the troubleshooting process. Restart your PC and check whether your issue is resolved or not.
Related: NVIDIA GeForce Experience Error Code 0x0001 on Windows
Conclusion
NVIDIA Installer Cannot Continue error is one of the common issues faced by many users, but we have given you the four best and working solutions. If you have any doubts, feel free to ask in the comment section.
How to Manually Install the NVIDIA Drivers?
You can Download the latest NVIDIA drivers from the NVIDIA website. Make sure to select the drivers that are compatible with your graphics card and operating system. You will need to select the Product Type, Product Series, Operating System, Download Type, and Language on the download page.
Once you have the installer, you must double-click and give it admin permission. Then follow the wizard to complete the process. Do not worry; if you download the incorrect version, the installer will eventually fail and warn you about it.