Windows 10 update delivery system, by default, works based on Peer to Peer delivery, which is similar to how torrent works. It makes it easy for Microsoft servers to lower the load on their servers, and speed up the update rollout. If one of your PC has been updated at home, the next PC can get an update from the local PC. Not only this, but the update can be pulled from a neighboring PC following the same procedure. In this post, we will share how you can speed up Windows 10 Update when on Local Network.
How to Speed up Windows 10 Update when on Local Network
While this method speeds up, it also attracts an increase in bandwidth consumption because an updated PC seeds the update, i.e., keeps uploading to other PC nearby.
Go to Settings > Update & Security > Delivery Optimization. You have two choices here when you chooser to Toggle on Allow downloads from Pcs
Download Update from PCs on Local Network
PCs from Internet and Local Network.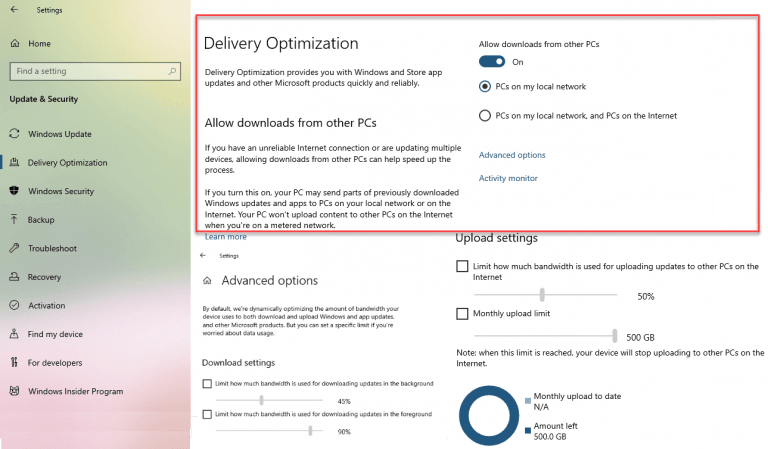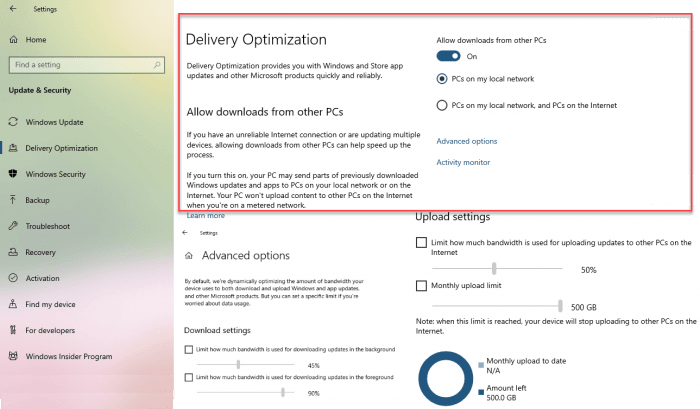 PCs from Local Network
If you have a bandwidth cap on your broadband, it's better to disable it. However, you can choose the send updates to PCs on Local Network, and keep off PCs on the internet. It will help you save a lot of data for home and small offices with multiple PCS.
It gets you into a regular update pattern. Remember, if you opt in to share with PCs worldwide, you also get an update from PCs around you, including app updates.
PCs from Internet and Local Network
Keep it turned on for PC on the same network and local network. These options are like a tradeoff, but if you are on a network that has severe bandwidth restriction, it's always reasonable to opt-out.
If you have multiple computers at home, this will save you a lot of bandwidth. Once a computer is updated, other computers in the network can download the field from there. It is evident that only the required files will be copied, and some of them will still be downloaded from the Windows Update server.
Advanced Options for Delivery Optimization
Lastly, you can control bandwidth by going to the advanced options. By default, Windows will dynamically optimize the amount of bandwidth for Windows updates and app updates. If you feel they are exceeding, you can control
Download settings: Limit bandwidth, and percentage in the foreground.
Upload Settings:  Limit bandwidth,  and monthly update
The circular graph gives you a clear idea of how much data is consumed to send out and download updates.
Let us know if this helped you to speed up Windows Update.