First introduced with Windows 8, Sync Settings help you synchronize all your settings across devices you sign in with your Microsoft Account. Saved passwords, favorites, appearance options are a few settings amongst all the settings that Windows syncs with your Microsoft account. One can customize sync settings to include or prohibit your theme, regional preferences, saved passwords, OneDrive, and more. This post will guide you on How to Sync Settings in Windows 10 and fixes for the most common errors regarding the same.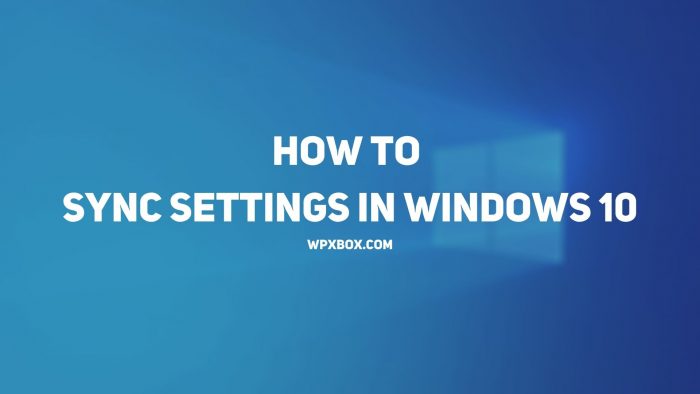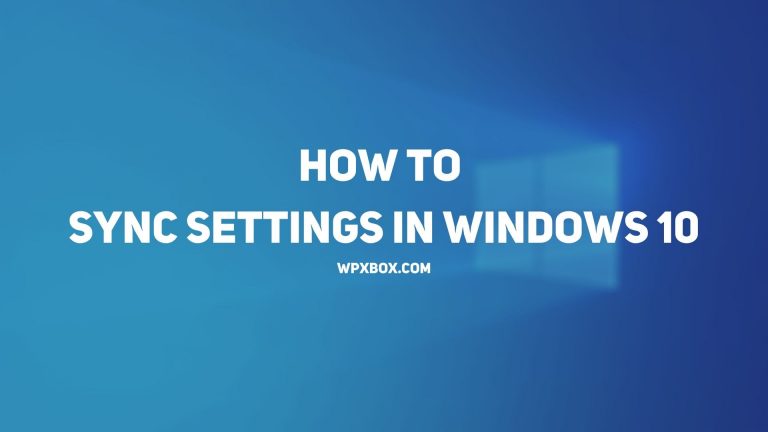 How to Sync Settings in Windows 10
It is always recommended to adjust these settings while setting up a new PC or starting with a fresh install of Windows. If you're a privacy freak, disabling Sync settings will let you restrict the information Microsoft stores on its servers
All one needs to do to take advantage of Syncing features in Windows 10 is to turn on a couple of options. Here's how to do so:
Open the Settings Panel in Windows 10 (Win+I)
Navigate to Accounts -> Sync your Settings
On this page, toggle the option for Sync my Settings off, to disable syncing, or toggle it on to Sync.
Further, you can find and turn on or off individual category wise options to sync with your Microsoft account, listed under Individual Sync Settings
Fix Common Errors with Sync in Windows 10
Microsoft's Sync feature doesn't work on all versions of Windows 10, and there are various errors users face while setting up Sync. Here's how to troubleshoot the most common errors occurring while setting up sync to Cloud:
1] Verify Microsoft Account
If you have an unverified Microsoft Account logged into your PC, this might be the reason why Sync is disabled or not working. Here's how to fix this:
Open the Settings Panel in Windows 10 (Win + I)
Navigate to Accounts -> Your Info
Here, under Manage your Microsoft Account, you'll find a link to verify your account on the PC.
Click on the link, log in with your Microsoft Account and verify it. Verification is usually through a text message sent to the connected mobile number.
2] School or Work Accounts
If you're on a PC managed by an administrator from work or school, Sync options are controlled via the organization. To enable sync, either log out from the or organizational account and use a personal one or request your administrator to grant permissions for the same.
3] Enable Sync via Registry Editor
If for some reason, even Windows isn't allowing you to turn on Sync directly via Settings, you could opt to enable it via the Registry Editor.
Open the Registry Editor by either searching for the same in the Start Search Box or typing regedit in the Run Dialog.
Next, navigate to the following path:
  HKEY_LOCAL_MACHINE\Software\Policies\Microsoft\Windows\SettingSync
Here, Create a new DWORD named DisableSettingsSync, right-click and modify the value to 2.
With this, Sync in Windows 10 should be back online. You could check for the same by visiting Sync options under Settings.
5] Enable Disable Sync via Group Policy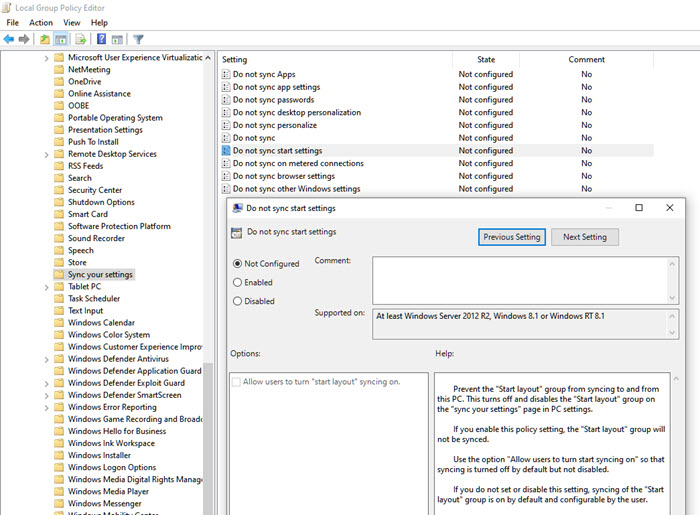 Computer Configuration\Administrative Templates\Windows Components\Sync your settings
Locate the policy "Do not sync", and double click to open it.
Make sure it is set to not configured or disabled.
4] Enable Sync from Azure Active Directory
If you're one of Microsoft Azure's users, the application might be interfering with the Sync Settings in Windows 10. Here's what an admin could do to solve the problem:
Log in with your credentials into the Azure AD Admin Center.
Next, select the active Azure Directory > then choose Devices > and toggle on Enterprise State Roaming.
With this option now turned on, users may sync settings and app data across devices.
That said, how often do you switch between Windows devices? Do let us know by dropping a comment down below.