Having trouble reading a Word document because it's in a foreign language? If you're using Word, you can translate your documents (or a specified text) without actually needing to exit the program. In this post, we'll discuss how to translate a Word document into various languages.
Translating a document involves starting with one language and moving on to another language while maintaining its primary goal and innovative elements. If you're a copywriter or a language professional or have some document your client has sent you from overseas in a foreign language, you can use Word's translation tool, aka Microsoft Document Translator, to help you quickly understand the contents.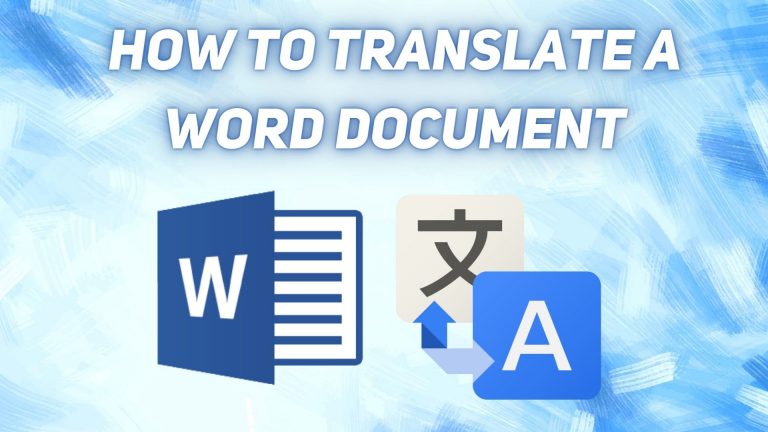 How to Translate a Word Document
There could be many different ways using which one can translate the contents of a word document. We've compiled a list of the most effective and hassle-free methods to help you accomplish the task.
How to Translate Selected Text in Word
How to Translate a Whole Document in Word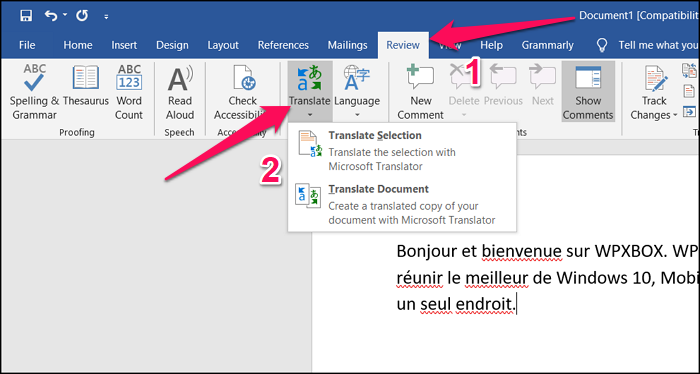 1] How to Translate Selected Text in Microsoft Word
Word offers a built-in option to translate only the selected sections of text or words in the document. The document will not be affected in any other way. Microsoft Word simplifies the translation process by allowing you to translate both short sentences and entire paragraphs quickly. Here's where you can find this tool and how you can use it.
Start by opening the document you'd like to have translated in a new Microsoft Word window.
Now, find and highlight the text you'd like to translate from your document.
Next, head over to the Review tab present at the top of your screen and find the Translate option under Language.
Choose the Translate Selection tool present under Translate. With this, you'll find a new pane with your highlighted text open on the right side of the screen. Word automatically detects and selects your source language, and next, all one needs to do is select the final output language.
You can add the translated text to your document by clicking Insert after it has been translated and you're happy with the result.
So if you need to translate a Word document to Spanish, all you need to do is set the language to Spanish and press the Translate button.
2] How to Translate a Complete Document in Microsoft Word
The program also offers the option to translate a complete document entirely into another language. Rather than selecting a specific section in your document, it takes the entire content and translates it for you. You can use this Word feature without having to overwrite your original document. While Word creates a new, translated document, your original document remains untouched.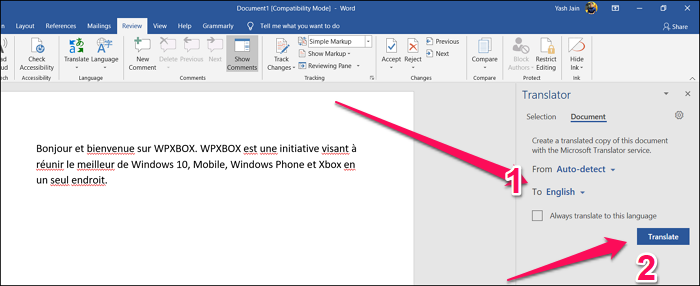 Open the document you want to in Microsoft Word.
Navigate to the Review tab, select Language, choose Translate, and finally click on Translate Document.
This will open up a new pane on the right. Here, select the source language (Word can detect it automatically for you) and target/output language for your document.
Finally, click on Translate to begin the process. As the output, Word will create a new document with the translated content.
So if you have Microsoft Office, you don't need to use any other free document translation software or even Google Translate. The built-in tool uses Bing translation which should work out in most cases. You can later choose to convert it to a PDF document so no one else can edit it further.
For Microsoft Office online users, this tool is available with Word online as well. Users can follow the same process to translate text. One can use Microsoft Word for generating professional-quality documents, letters, reports, and more. This ability to translate documents on the go might help you save a lot of time when you're in a hurry.