Here Maps was THE map app in Windows Phone 8.1, but after Microsoft acquired Nokia and Licensed Here Maps for its Windows, the Maps have not only gone through complete remake, it's actually useful now. Here is the list of features the Map offers in Windows 10 Mobile now:
Aerial or Road view
Shows traffic, incidents, and street side.
Offline Map Support.
Search, Directions, Favourites and 3D Settings.
One App for both finding a place, and  Turn by Turn direction to destination.
You can set default travel mode i.e Walk, Bus or Car. So if you walk a lot, you don't have to switch to it every time.
Speed Limit Warning can be manually adjusted.
Offline Maps.
Download Maps Offline:
This is the first thing you should do before you start using Maps. While this was available in earlier version, Windows 10 Mobile now allows you to download maps even over  Mobile Data.
Go to Settings > System > OfflIne Maps
Hit the Plus Icon under Maps and select the country or state map and it will start downloading.
The beauty of Offline Maps is that they work even when you don't have Mobile data. It can search for location, get you step by direction with complete details on local street name and landmarks. The features that don't work in offline map without data connection are Live traffic and Incidents.
Save & Download Maps to microSD Card:
It is also possible to change the storage location of maps to SD card which comes in handy when you have limited space on your primary storage. To do this, go to settings > offline maps and look for Storage Location option. You can choose to save maps directly on SD card instead of phone storage from the dropdown. If you already have offline maps on primary storage, and you change Storage Location to SD card later and all your data will be moved to microSD Card. Check the video below:
Using Maps Offline:
So how does it work without Internet? It uses the GPS & A GPS on your phone to detect your location, and with all the data offline, finding turn by turn direction is very easy.  The hamburger menu on the top left, gives you access to Search, Directions, Favourites and 3D Cities. For navigation purpose, lets concentrate on first three.
Search is when you just want to look for a place on your map.
Directions is a shortcut. Instead of first searching and then look for direction, this does the job in one go.
Favourites is when you want to use the same place again and again.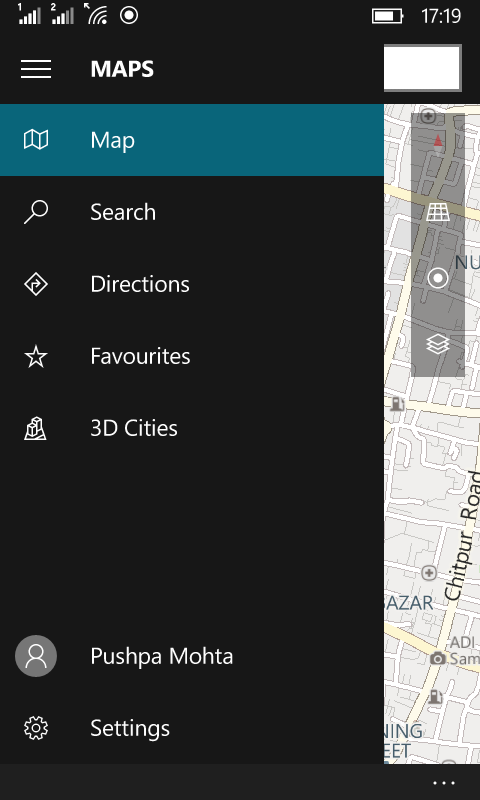 Search:
One thing that search does nicely is finding attractions around you. If you are looking for Hotels, Coffee, Restaurants, Shopping mall or Museums, it gets you instant result.  Tap on any of the result, and you get the full address along with its official website if any.
The next obvious step is Directions, but before you hit that, there are few more options:
Add it to your Favourite.
Share the location with somebody.
Pin to Start. << This is just fantastic.
There are few more tags as well. Like Eat & Drink, See and Do, Shop etc.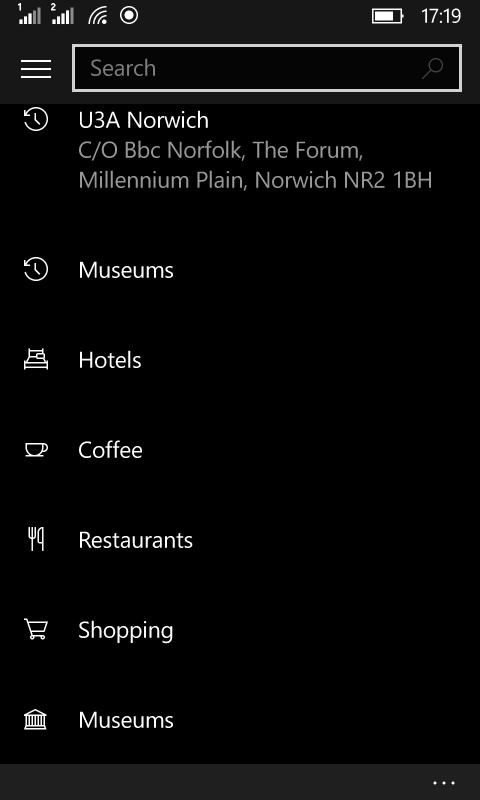 Directions:
Time to navigate now. Fill in the from and to options and it opens up details turn by turn navigation for you in a mini map and list as well. Hit Go and you are all set. Here is an interesting option you may find useful. This particular part can be printed and saved in PDF format directly to your printer if it's in the network.
During Navigation,  one thing that is noticeable is that during turn by turn navigation, the map shows two next direction points. The immediate next shows on top with black background, while the next to next stop shows in trim grey band. This is useful if you always switched to list mode to see whats next. You have other details like ETA, Time and distance along with it.
When I tried the maps on road, its was an excellent experience. I have always vouched for Here Maps, and this is almost it. The best part of using the new map is you don't need two separate apps now. It can be used for Maps and Turn by Turn direction on the move which makes more sense now.
Print a Route:
Windows 10 Mobile has a native print interface. It allows you to print Map Routes along with detailed navigation. Check out the video below: