Windows 10 offers some of the qualities that were usually found in smartphones, and one of them is the Battery Saver mode, which increases battery life and allows users to work extra even if the power backup is low. During the power saver mode, you can write emails, check social networks, and finish important work before the computer gets shut down. In this guide, we will show how you can effectively use battery save mode in Windows.
The feature is similar to the battery saver or Android devices and low power mode of the iPhone. When this mode gets activated, it makes a few changes in the settings of your operating system to extend the battery life further. It automatically reduces the brightness of the display, which is an effective way to reduce battery consumption in any device.
How to Use Windows 10 Battery Saver Mode
The battery saver mode gets enabled automatically when the battery of your laptop or tablet reaches a certain point, which is usually 20%. Still, users can also manually control the functionality of this feature and adjust the power plan. Though, battery saver mode doesn't get enabled if the laptop is connected to the power outlet through the charger. If it is active and you connect the charger, it will be deactivated itself automatically.
How to turn on battery saver
Manually configure battery saver settings
Battery saving during Video Playback
Force enable battery saver mode
Related: Tips to improve battery life in Windows 10
1] How to Turn on Battery Saver?
There are two places on the front screen of your computer from where you can find the battery saver mode and enable it.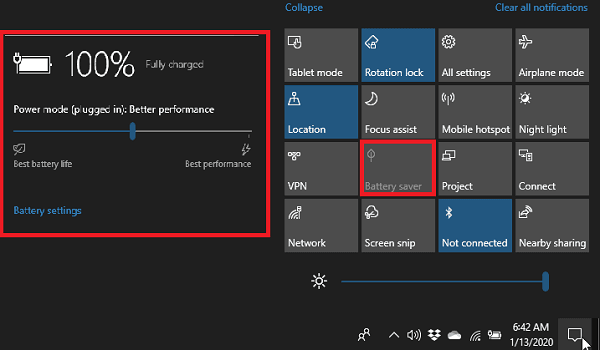 Click on Battery Icon, which is available n the right side of the taskbar. It will reveal a slider
If you push the slider to the left, it will enhance battery life, while when you drag it to the right, it will improve performance.
The extreme left on the slider displays an icon of a leaf. It signifies Battery Saver Mode.
Apart from the battery icon, you can also find Battery saver quick settings on Windows 10 Action Center
Click on Action Center icon on the system tray
Find Battery Saver on the list and click on it to enable
2] How can we manually configure Battery Saver?
Although Windows recommends the default power plan to be used, users can make changes and control battery saver mode as per their convenience from the Settings app. You can decide what the Battery Saver mode of your computer should do and when it should be activated.
Click on Start Menu > Settings >System 
Select Battery Saver which available on the list on the right side
Find the Battery Saver Settings section the bottom
From this screen, you can make changes. For instance, you can change the battery saver level by moving the slider, It determines at what percentage the battery saver mode should be enabled, by default is at 20%, but you can set it to 30% or 40% as per your wish. Remove the checkmark from 'Turn Battery Saver on automatically if my battery falls below' if you don't want the battery saver mode to be activated itself when the battery goes below a certain point.
You can also toggle other options on or off by checking or unchecking the other options like
Battery Saver status until next charge
Lower the screen brightness while in battery saver
This section also displays warnings about what could be consuming the battery.  For example, on my computer, I was told that sleep settings are set to never, and brightness is at 100%. Direct access to settings where you can change is made available.
3] Battery Saving Mode during Video Playback in Windows 10
Go to Settings > Apps > Video Playback > Battery Options
Here you can choose to optimize for better video quality or better battery life
You can also check the box which says "I prefer video to play at a lower resolution when on battery."
4] Force enable Battery Saver mode to stop background apps
When the laptop enters into battery saver mode, all background apps stop working. It applies to those apps which have been downloaded from the Microsoft Store. You can also force enable battery saver mode by going to Settings > System > Battery and toggle on the option
Battery Saver status until next charge
The Battery Saver mode in Windows 10 is a remarkable feature that helps the user to work longer and complete an essential task before the power of the device gets drained out. The feature also gives you extra time so that you can connect the charger before the shutdown and continue your work without any interruption.