Starting with iPhone 7, iPhone 7 Plus, iPhone 6s, and 6s Plus, iOS has introduced Live Photos feature in it. Live Pictures are a combination of still photos and movies. These Live Photos mean they are neither video nor a photo. Whenever you take pictures of any Live Images on the iPhone, the iOS converts them into JPEG or MOV files.
If you want to see those iPhone's Live Photos on your Windows 10 PC, then there are multiple options for that purpose. If you are wondering how to view iPhone Live Photos on Windows 10, keep reading this content to know them.
View iPhone Live Photos on Windows 10
Here are ways through which you can view live photos on your Windows 10.
Using iPhone App
View Live Photos in Windows 10
Convert iPhone Live Photos Into GIF Images
Use an Online Live Photos Converter
Go through the details below to know more.
1] Using Lively App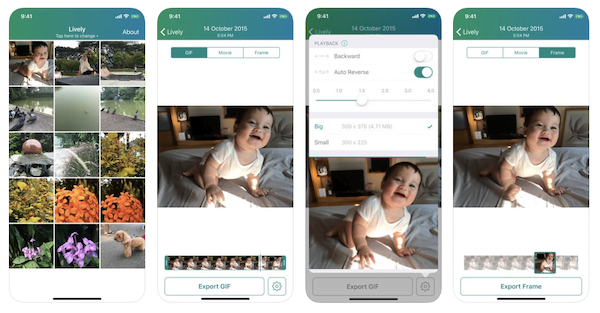 Several apps are there in the app market that helps transfer live pictures into GIF images. But the only sad news with these GIF converting applications, is most of the apps are either capable of supporting only a limited number of pictures or are paid apps. And the ones that support unlimited live images force a watermark logo added in it when you convert the live photos into GIF format.
We recommend using Lively App. It can make GIF and Movie from Live Photos. You can later share it with anybody. Do note, that the quality might degrade so try, and then decide if you want to keep using it.
2] View Live Photos in Windows 10 without a software
By now you must know that when you take snaps of any live photos, iPhone creates a JPEG file as well as a MOV file. The most effortless way to view the captured iPhone Live Photos on your Windows 10 PC is to play all those MOV files into your computer, without having to download any applications from outside. If you don't know how to do that, follow the steps below.
Connect the iPhone to your Windows PC
Now open File Explorer
Go to iPhone Internet Storage > DCIM folder
Double click on the video file from that folder
Play it via by default Films & TV app. 
We suggest using a player that can automatically play all the videos within the folder.  Players like GOM, VLC Players, works well.
Convert iPhone Live Photos Into GIF Images
Another way, by which you can convert live photos into GIF images and view them on your Windows 10, is there are some free utilities through which you can do this. Few such familiar programs that help in converting into GIF on Windows are:
While you can use any GIF converter, here is my recommended settings with the other software.
1] In the General Section > Keep Frame Rate 8, GIF Size > 300 x 225 pixels, Max Time > 7 secs
2] Under Advanced section > Click on Loop GIF Animation and Transparent Area Outside of Frame. You can also do the same to get the best quality GIF on your Windows.
Use an Online Live Photos Converter
If you are not willing to have any additional software to view Live Photos of iPhone on your Windows 10 PC, then you can go for an Online Converter to convert into GIF from Live Photos. One such web service is Make a Gif. There are several other online videos to GIF converter programs available.

Hope you are now able to enjoy iPhone Live Photos on your Windows 10 PC, after going through all the above options.