Sometime in September 2011 HTC pulled its app, "Sound Enhancer"  from the Windows Phone market place shortly after the Windows Phone Mango Update was rolled out  (Source: wpcentral.com).
The cause to remove the app was because,  many users complained, there were many unusual crashes of the Zune music player or even the entire OS on their HTC devices, especially HD7, which was pretty quickly tracked down to be caused by the equalizer app, Sound Enhancer. HTC decided to remove it from the marketplace and promised to re-release it once all bugs got fixed.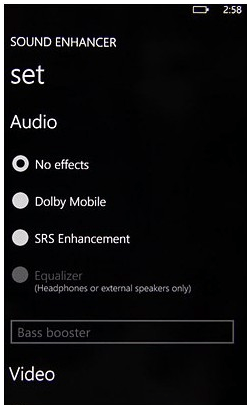 Well, almost half a year later, they proved to have kept their word. Sound Enhancer found its way back to the marketplace 2 days ago. Though it's called "Sound Optimization" now.
Besides the new name and the app now being part of the settings menu rather than being found in the app section of Windows Phone, there are no obvious changes. I can also confirm that even under excessive usage of my Zune player with altered sound settings my HD7 didn't crash once on me.
Thanks to Mark Tepper (@BinaerJongleur ) for sharing this with us and he is the one who write this article for us as we wanted to the right user to put his experience in word.