One of the biggest release for Windows Phone ever since Microsoft announced Windows Phone 8, has been the Windows Phone 8.1 update. This was announced at the BUILD conference and two new devices (Lumia 930 and Lumia 630) were announced running the latest OS. The biggest feature of Windows Phone 8.1 apart from having the notification center is the personal assistant Cortana.
Cortana is your personal assistant on your Windows Phone. She's there to make things easier for you and make sure you're always up to date on the things that matter most to you. We had covered on how to get it working on your Windows Phone. Now if you are using Cortana, here is a good representation of what the icons inside the Cortana app mean.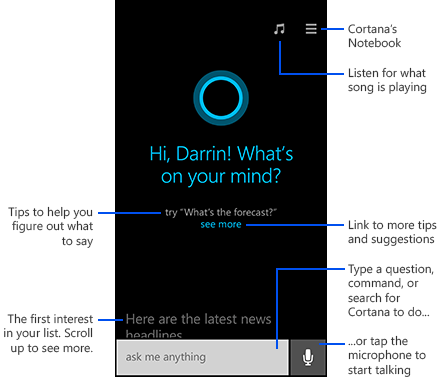 Here is a quick overview of what Cortana can do:
Create alarms, take notes
Make calls, send text and also see whats in your calendar.
Make appointments and reminder
Quiet hours and inner circle
Navigation assistance
Weather
Cortana's notebook and more
So next time you open Cortana, check out these features.