Installing Apps from a different MarketPlace when you are in a different country is absolutely possible but  before you can actually thing that it will be as easy as switching a Live ID, let's get some facts straight :
A Windows Phone is associated with one Windows Live ID. Even if you have multiple Windows live ID, It doesn't let you switch like we can do for Apple Store.
So if you want to install apps from US store into A Windows Phone which has an Indian Live ID, it will not work.
Zune always checks the Live ID to be same in both Windows Phone and Zune.
Nothing can be done about it but if you are ready to reset your phones almost every day, follow the steps below which worked for me. Do it at your own risk, in case something goes wrong, I wont be responsible so make sure you do have a backup which can be used to restore.
Table of Content :
Create a Windows Live ID
Getting Windows Phone Ready
Getting Zune Ready
Backup and Restore
Summary
Create an US or that country based Live ID :
Make sure your location is set to United States. I had an id which was 15 years old and was set to United States which I came to know only when I started Playing Xbox.
Setting up Windows Phone :
Windows Phone is always tied to a Live Id which becomes its primary id for communicating with Zune, Xbox Live and anything around Windows Live Service.
Reset your Windows Phone :
In case your phone is already set for a different location, back it up and make it ready to reset which will delete everything from your phone and bring to the day where  you turned on your Windows Phone for the first time.
Go to Settings > About and Scroll down to find option which says Reset Your Phone.
[styled_box title="Video Tutorial" color="black"]

[/styled_box]
Signin to the Windows Phone with US or that Country Based Live Id 
Make sure to use the right live id else you will have to reset again. Windows Phone as of now does not allows you to switch ID now and then.
Setting up Zune
Zune is set to work in country you are in and it picks up the settings from your computer. It also makes sure the Windows Live ID which you use to Signin to Zune is from the same country your computer regional settings are set for.
How to use Live ID of a Different Country in Zune
When you sign in to a Zune with a Windows Live ID which is other than the country setting in your computer, It will give an error.
The location setting for your Windows Live ID doesn't match the setting for your computer (India). To use this Windows Live ID, change your computer location in Regional and Language Options (see Control Panel, then  Location). Otherwise, sign in with or create a Windows Live ID for India.
[lightbox type="image" title="Zune Error for Live Id from different location" link="http://img.wpxbox.com/Zune-Error-for-Live-Id-from-different-location.jpg"]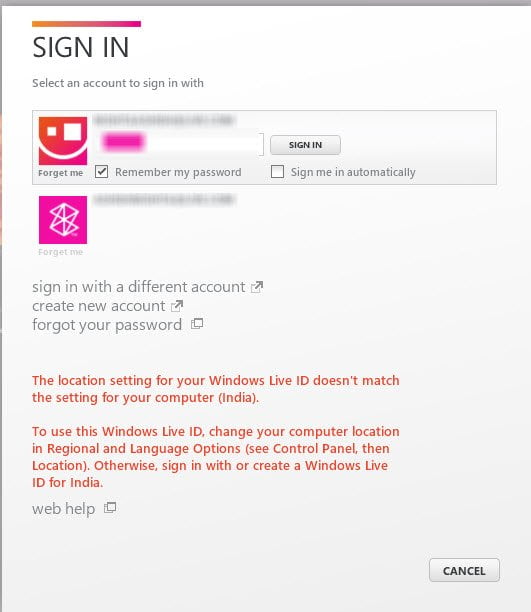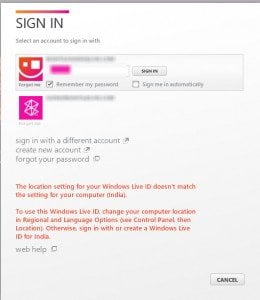 [/lightbox]
So you need to set your computers regional setting to the country of which the live id you need so signin.
Superfast Automatic :
Use the Locali Zune. Find detailed tutorial here. This software launches zune with setting of the country you wish for. This way you can skip the boring method below. So use this in case this does not work.
Launch LocaliZune and Select the country.
Next launch the Zune.Exe and you will be able to sign in using the same live id which we created above.
[styled_box title="Video Tutorial" color="black"]
[/styled_box]
Manual Way :
Now if you signin your Zune, You will get an error
In your computer Change Clock Settings > Time Zone
Control Panel > Regional Settings > Location
Exit Zune
In case Market Place is not available in your country,  Apply the Marketplace hack
Start Zune
If all the settings are in right place, You will be in Market Place of that country.
Sign in with other Zune ID which is registered in US
Installing Apps from the US or the set market :
If you are signed into Zune and Windows Phone using the same Windows Live ID you should be able to install the app without any issues.
For free apps this will work fine but In case of Paid Apps I have not tested if the Credit Card or any other payment method works which is out side of the country for which your Live Id is set for.
Restoring your Windows Phone back to your Country :
There are two ways to do it :
Either you can reset your phone and then signin using the Live Id which is set for the country you belong. You lose everything here.
Use the Zune Restore Method to restore. This will bring back all the data to your Phone. However the back up will restore data till date the backup was taken.
In case of apps that are installed using Zune, They will be synced back to your Zune but in case of Apps bought directly from Windows Phone Market Place App, you need to it manually. Make sure to
read our guide on it to get it easy.