Microsoft Edge is a multi-purpose browser with many built-in features and abilities, but it also offers extensions that allow you to expand and add on to what is already there. This article will walk you through the process of downloading and installing extensions in Microsoft Edge, along with the steps for uninstalling them, should you wish to do so.
How to Download and Install Extensions in Microsoft Edge
Microsoft Edge supports extensions from the Chrome extension store and the ones available at the Microsoft Extension store. That makes it easy for anyone who cannot find an extension can download it from the other or any third-party store.

Microsoft has thousands of extensions available in the Add-ons store.
Open the link to the extension you wish to download.
Click on the Get button, and then click on the Add Extension button from the prompt.
Once done, the extension will appear on the browser's top-left or next to the address bar.
Installing Extension from Chrome Extension Store
Chrome and Edge use the same Chromium engine. Hence it is possible to download any Chrome extension and install it on Microsoft Edge.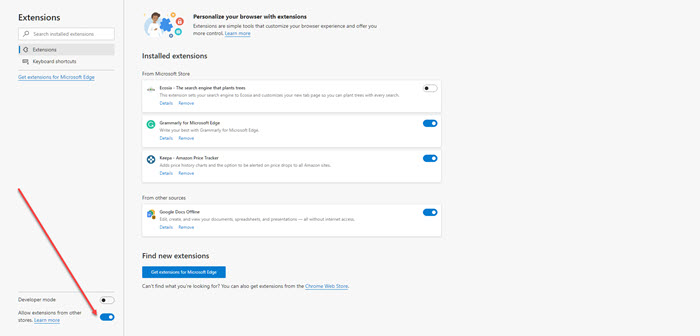 On the Edge browser, type edge://extensions/ and then press the Enter key.
At the bottom left, locate the toggle Allow extensions from other stores, and turn it on.
Go to Chrome Webstore
Search for the extension in the store, and then click on Add to Chrome
Once installed, it will appear next to the address bar of Edge.
How to use and manage the installed Extension
The installed extension usually show up next to the address bar as you visit websites, but they could be anywhere depending on their functionality and usage. For example, Bing Translate and RES show up right at the end of the address bar.
If the Extension offers the option, right-click on it, and select Extension Options. It will take you to the extension-specific settings, and you can change from the available option.
You can uninstall any of the extension by making a right-click and then choose to uninstall or Remove from Microsoft Edge. If the extension seems to be suspicious, you can submit a report about it as well.