When it comes to lock screen apps on Windows Phone, there are quite a lot of them available in the Windows phone store and we have covered many of them on this blog. Lock Pic is a new lock screen app for WP8/8.1 users which comes with good set of features along with great wallpaper sources.
The app that will automatically change your lock screen every 30 minutes to beautiful images from Bing, Flickr, Bing Image of the Day, NASA Astronomy Picture of the Day, and your photos.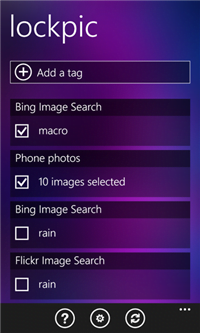 You can set the source of image as Bing, Flickr, Image of the day from Bing, NASA or else you can pick photos from your phone. The app can also blur the image and add an overlay to make it look even better which makes this app a lot better than other apps.
You can update the wallpaper 30 minutes, 1 hour, 2 hours, 12 hours, once per day which can be set in the app. The app has pretty good options and image sources.
The app is available free of cost and can be a great app if you love customizing your wallpapers.