Nokia recently releases Lumia 510 and took everyone with surprise as nobody was expecting another low end phone after 610. So we got our hands on it and after testing it for 2 weeks straight and completely over the mobile network, the results are impressive.
Now since most of you have already seen the unboxing and must have read the review all over the internet, in this post I am answering to the most asked question to us,  Which is a better phone and if you should buy a Lumia 510 or Lumia 610. I have done a 10 minutes video if you want to skip the post.
Both Lumia 510 and 610 have 95% the same hardware specs including the Camera and Screen resolution, so finding a difference that could make one phone better than other was difficult, but there are few key points which you need to consider.
Screen Size :
Even though, the size of both the phones is almost same, the actual screen size of Lumia 510 is bigger and broader when compared to 610. This not only makes the phone look bigger but makes watching video a pleasure and viewing picture a sweet job. I really loved the typing experience on 510 which kept me off from accidentally pressing wrong keys  which used to happen, many a times, on 610.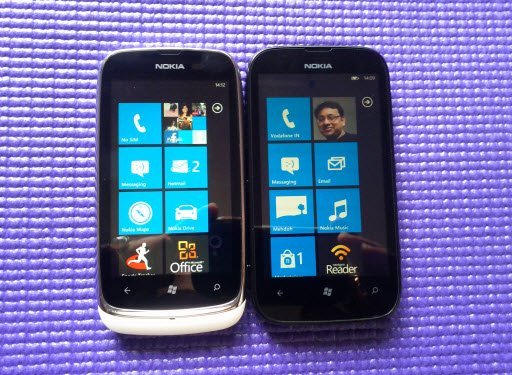 Display : 
Lumia 610 has richer display compared to 510 and its mostly because the build quality of 610 adds more impact here. Also, 610 comes with Gorilla Glass, which makes sure, that the phone does not get a lot of scratches if you have a habit to keep the phone, keys etc. All in one place.
Build Quality :
Even though, the build quality of Lumia 610 is better than 510, it does not mean 510 lags a lot in the race. What you will really love about 510 is the grip which is much better than 610.  Its more like a male and female phone. Most of the girls loved 610 because its smaller and feels great to touch, but the guys loved the grip and roughness of the phone.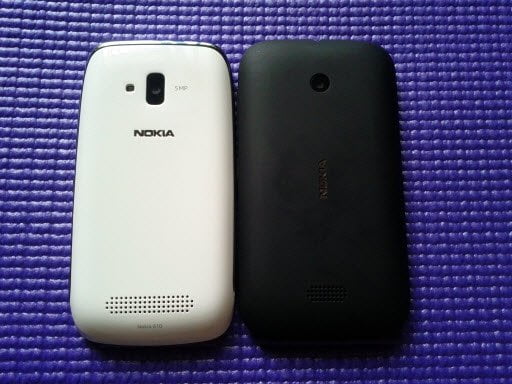 Battery Life :
Lumia 510 can beat 90% of the phone on similar price range. Even when used on mobile network, the phone was lasting for more than a day. It was mostly used for taking pictures, web browsing, feed reading, 6 email accounts configured, Twitter and Facebook.
It even lasted 9 hours of the train journey without discharging much of battery power which usually happens as the network keeps going on and off. 610 wasn't bad but still did not beat 510.
Storage Space :
This is the biggest drawback of Lumia 510. It comes with just 4GB of mass storage of which you get to use 2.8GB. Whereas, Lumia 610 comes with 6.2 Gb of storage of which you get to use 5GB of space.
Now if, you want to store moderate amount of Music, Pictures and Apps, Lumia 510 will be just enough, but if you are a total media person, Lumia 610 should be your choice.
Voice Quality :
Lumia 510 wins big time here. The voice was not only clear, but it was pretty loud compared to 610 and even my Samsung Focus.
Camera Quality :
Since the camera hardware is same for both the phones you will not find much difference here except that 610 has flash with it. I reached out my friend Kuntal (@cybercool10) and asked him to compare the pictures.  Below are his comments the pictures from both, Lumia 510 on left and 610 on right :
The Sensors of both Lumia 510 and 610 seems to be based off same hardware, same specs, and almost identical performance leads me to believe both have the same sensor, although there are few minor differences in quality, these changes are not always noticeable and mostly the difference in each case cannot be reproduced every time.
Anyways both Lumia 510 and 610 has a Sensor with lowest Sensitive ISO of 100 and an Optics (Lens) with the widest Aperture set at f/2.4 (Lesser the Aperture value, more light can enter the lens naturally, the better picture). Even the AI of the Camera and the settings it apply automatically are same.
As far as quality is concerned The Pictures differ a bit, Keeping both settings at Daylight , the 610 Churns out the image a bit warmer than 510, as well as 510's Default Saturation level is a bit low compared to 610's leading to dullish image at few points.

By Default the 510 shoots at higher contrast and lesser saturation levels than of 610.
When it comes to Low Light Shooting, the noise / grains are a bit of issue the Noise Processing is better of Lumia 610, as well as Color Noise reduction than of 510, not to mention that 610 has a flash to get over 510 when it comes to night time portrait capturing or closeups (As Builtin flash doesn't provide much range)
Apart from Noise Processing, all other differences can be tweaked and balanced by adjusting the settings as per user's requirement.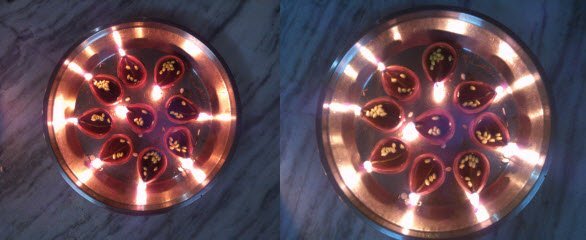 Game Performance :
Many of you asked if the phone lagged and the good news is that it does not lag except for few apps and games. So, its probably the games fault because others were not lagging. In fact, some of my friends reported exactly opposite for those apps, so its rather something else which was making the apps slow.  Below is the Lumia 510 and 610 gaming videos, which will help, you determine even further.
Lumia 510 Game Performance : Watch on YouTube
Lumia 610 Game Performance : Watch on YouTube
Nokia Exclusive Apps :
One of the primary reason why Nokia Lumia series is more impressive than any other Windows Phone or even with other phones on the same line is the list of apps which are made for them.
Nokia Music : You get 3 months of free subscription to download songs for free, which can sync, with your computer. This means you can use it on any other device i.e. DRM free songs.
Nokia Map & Drive : If you are looking around for places & turn by turn directions, nothing beats both of these apps. They are not only highly accurate, but they also come with voice enabled navigation making sure you don't take your hands off the wheels while driving.
Camera Extras : This feature adds extra ability to your phone so you can take Panorama,  Action Shot which takes multiple shot of a moving object, so you don't miss a moment, Smart Group shot so you don't miss any person etc.
Counters : This app can help you find the number of calls, messages and data consumed on your mobile.
Contacts Share & Transfer : Since you don't have a Bluetooth transfer, this app can help you transfer contacts over Bluetooth.
Play to : This app helps you stream your music, video and images over any DLNA supported device which could be your TV or your PC if you are using an app.
What's inside the box :
You get earphones which support calls, a data cable, a pretty long charger, a battery, phone and the usual manual for Lumia 510 while 610 has extra data cable missing and the charger comes in two parts which includes separable data cable and plug. Below is the unboxing video of 510.
Conclusion :
When it comes to low end phones, Nokia has done Lumia 510 and 610 just right enough to beat down the competition, but its only in their hand how well they promote it by collaborating it with retailers and sales person.  Due to high number of Android devices, Lumia 510 and 610 not only needs their own space of being advertised separately using large banners, but even the retailers should be trained enough to explain about the OS.
Said that, you can go ahead buy one which suits you well, but if you still have a question, let me know.