After Nokia announced Lumia 520 and 720 at MWC 2013, it was clear that they wanted a phone in every segment. Lumia 520 is a big example of this motive which is a decent phone for budget users who would love to start with a smart phone. Not only it does bring in the brand new Windows Phone 8 but also the goodness of Nokia Apps which is not available in any other platform. The review below is based on 5-6 days of extensive use of Nokia Lumia 520.
I have put up a detailed video review talking about the same if you prefer that. Post starts right after the video.
Display & Screen Quality:
This phone comes with IPS display which is superior in quality compared to Lumia 620 display. This is the reason screen sensitivity is high and colours look great even from wide viewing angles. Fingerprint Magnet: I am highly disappointed by the amount of dust, oil, and finger prints the screen collects. The experience of smooth display will be spoiled if you live in a country where there is a lot of sun and moisture.
Related Reading : Recommended Lumia 520 Cases
Sunlight Legibility: Also, the display of Lumia 520 is not clear black i.e. the technology which makes black look even more darker making readability in sunlight easy. This results in an uncomfortable reading experience in sunlight. I will be more specific by saying that it will possibly be your own reflection that will make things uncomfortable when you are typing something.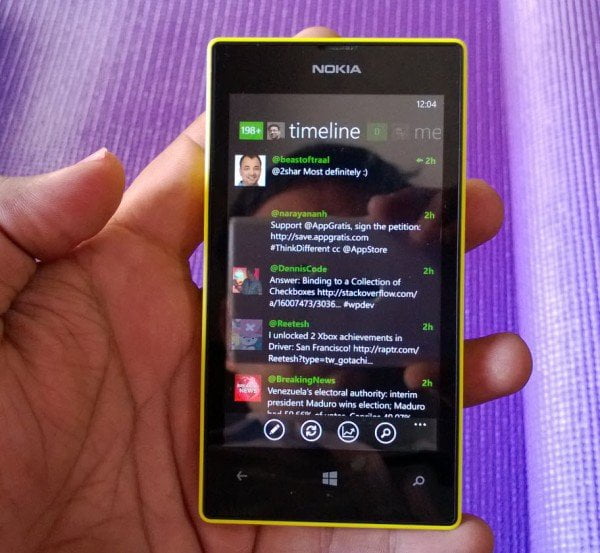 Build Quality:
Overall build quality of the phone is good. The only weak part of the phone is the back case. Lumia 520, like Lumia 620 and 820, has an exchangeable shell. The back case that comes in retail packaging is semi-hard plastic. As a matter of fact, you can bend it to levels which cannot be done to most casings.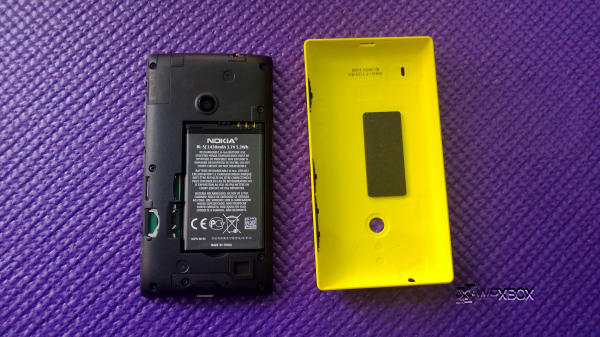 If you remove the case and look at the build quality, you wont find any cheapness there. The hardware is packed in a strong material. There are two slots. One is for Micro SIM while the other is for SD card. Interesting to note that they are perpendicular to each other contrary to other phones where these slots are parallel with each other.
Battery Life:
We thought of doing battery test even more precisely than our previous reviews. We made sure that we are using 3G and set dedicated time for different activities on heavy test. Overall I am satisfied with the performance of Lumia 520 and it runs for 10 hours on heavy usage and can reach 14 hours on regular usage. Lumia 520 comes with 1430 mAH battery power.
Case 1: Heavy Usage 
I used the phone for the following tasks :
1 hour of non stop game play ( Asphalt 7 Heat)
1 hour of music using earphones.
1 hr. of Call in parts.
1 hours I left the phone idle.
Constant Twitter, Facebook, Feeds, Email (3 accounts which get most of my emails), Browsing.
The phone lasted for 9 hrs. 30 minutes and switched to battery saver mode. I will make this 10 hours for 100% battery consumption.
Case 2: Regular Usage
My regular mobile usage includes emails, feeds, couple of calls, browsing. I even played Asphalt 7 Heat for 15 minutes. Used Nokia Drive Offline for 1 hour when driving. Phone idle time was 4 hours.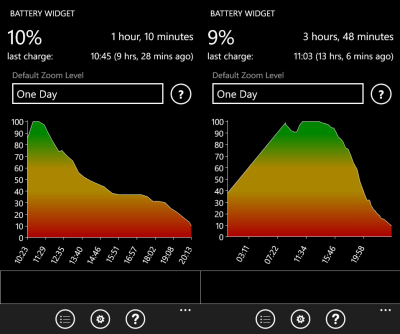 Call Quality:
Audio over calls are pretty loud. As a matter of fact I found it better than my Lumia 920. If you use in speaker mode, make sure to lower the audio and even when using the Bluetooth earphones, make sure to keep it at the preferred level which is 20.
Game Performance:
I was pretty impressed with game performance as I was with Lumia 620 when Asphalt 7 Heat was released. I had played for continuous 1 hour without any issues. There were no hiccups, glitches, hanging. In fact gaming felt better in 520 compared to 620 because of wide-screen. One thing I did notice here that the phone got hot after 20 minutes of game play. This problem is very similar to the problem I saw on Lumia 920 where the amount of heat generated was much more than Lumia 520. However, this did not cause any issue with game performance.
Below is the video of Lumia 520 playing Asphalt 7 Heat
I would highly recommend this as gaming phone but the restriction remains—the game developers have to make their games compatible to work on 512 MB RAM.
Camera (Photos + Video)
Photo: Since the camera does not have flash, let me make it clear that talking about low light photography does not make sense. It's even worse than 620 with a bit of light. Also the camera software seems to have some bug with daylight images. We tried taking photographs with Auto Mode and Individual Modes i.e. Macro, Backlight among others. The individual modes worked far better than Auto mode
Daylight Picture Gallery:
Camera Modes: Lowlight, Macro & Backlit
Video: The highest quality of video you can record is of 720p. Though the regular video in ample of light turned out to be good but the on motion videos wasn't convincing.  The camera is not good enough to capture sharp videos, specially if the objects are bit far away. As the camera tries to gain focus continuously, it really needs a stable environment.
If you are the kind of person who just wants to capture video for fun, you can pick this phone but if you want high quality videos this phone is not for you.
Music Quality:
Lumia 520 has good speakers and audio quality is good to my ears. When I compare it with Lumia 620 Audio, it felt louder to me and when I take it to full volume, I can hear the audio quality deteriorating a little. However, the gaming experience wasn't spoiled at full volume and being louder means you might get a lot of attention in public.
When used along with earphones the quality was pretty nice even with the packaged earphones which are of low quality. If you switch to any other earphones of Lumia 820 or 620, you can feel the audio to be much more soothing with them.
Below is a video to help you decide on music quality of speakers.
Hardware & Benchmarking:
We at WPXBOX don't talk much about technical details about hardware. We rather focus on consumer perspective like phone performance, build quality, camera, audio quality, battery life, etc. So instead of throwing all fancy specifications towards you here is a simpler version:
Lumia 520 is the most affordable Windows Phone 8 device which runs on a 1GHz Snapdragon Processor with 512 MB RAM. It comes with 8 GB of internal storage and up to 64GB is supported using microSD cards. The battery power is 1430 mAh.  There is no flash and front end camera but it comes with a 5 MP rear camera. The screen display is IPS which gives a smooth touch experience.
For geeks, starting with this review, we are now including benchmarking details. The AnTuTu benchmark tool is available in the store.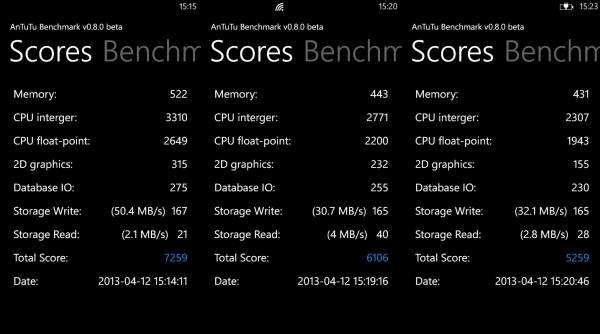 App Market:
If you are new to Windows Phone and will be trying it out for the first time, Windows Phone market has most of the apps now. Whatsapp, Facebook, Twitter, Gaana, etc. Also, the phone supports most of the apps except a few which require 1GB of RAM. These apps are mostly games but if they get ported, like Asphalt 7 Heat was ported, they will also work nicely.
However, if you want to ask about any of the apps you been looking for, ask us in comments and we will help you answer that. You can also try out  our App Switcher Post which helps you find apps equivalent of iOS and Android.
What is Missing in Nokia Lumia 520?
This is a very important section because when you pay less, it is understood that something goes missing or is low in quality.
No flash
No compass. This means apps like Here City lens will not work.
Quality earphones. The earphones which comes with packaging not only hurt the ear when used for a long time but they also lack good audio quality. They are OK at best and loud.
Back case is not very strong.
The USB cable is quite short. If you plan to use it with a desktop PC which do not have front USB port, it's going to be a bit problematic.
Why buy a Nokia Lumia 520?
The last question has to be answered after you have read all of the above. A lot of features in Lumia 520 don't look good except battery life and overall performance. The camera is not perfect, there is no flash, back shell is flimsy, etc.
IMO I would suggest Lumia 520 to two kinds of persons. 
First, those who want to try Windows Phone 8 from Nokia but do not want to spend a lot of money on it. Even though the drawbacks are there, this phone is perfect for knowing about the excellent features of the OS & Nokia Apps. Here Maps, Nokia Music, Here Drive worked perfectly. Overall performance was pretty good (with no lags) and games work perfectly.
Second, if you are really tight on budget and want to buy a smartphone for the first time. You will find a lot of phones in this range which can be equal to Lumia 520 but if you want to try a device with better stability with all the goodness of Nokia Apps ( not available in other platforms or dumb phones), this is a great pickup.
[wp-review]