When Microsoft announced the Lumia 535, we really loved that fact that phone had the right hardware combination we had expected in a Windows Phone at this price segment from a very long time. There is no limitation on amount of RAM, Storage, sensors and even processing power.  Check out our detailed review to find out all the answers for your questions.
Video Review
Display & Screen:
The display is a 5 inch IPS LCD screen with qHD resolution i.e 960 X 540 and pixel density of 220 PPI. Overall there is no complaint about the display. Its looks rich and sharp and bright. The phone supports 3 column of tiles which means it looks even better.
When it comes to protection, the phone comes with solid performing Gorilla Glass 3 which makes sure you get less scratches. I have kept my phone with keys, and no scratches yet. The phone does not have any Colour Profile to change the colour profile.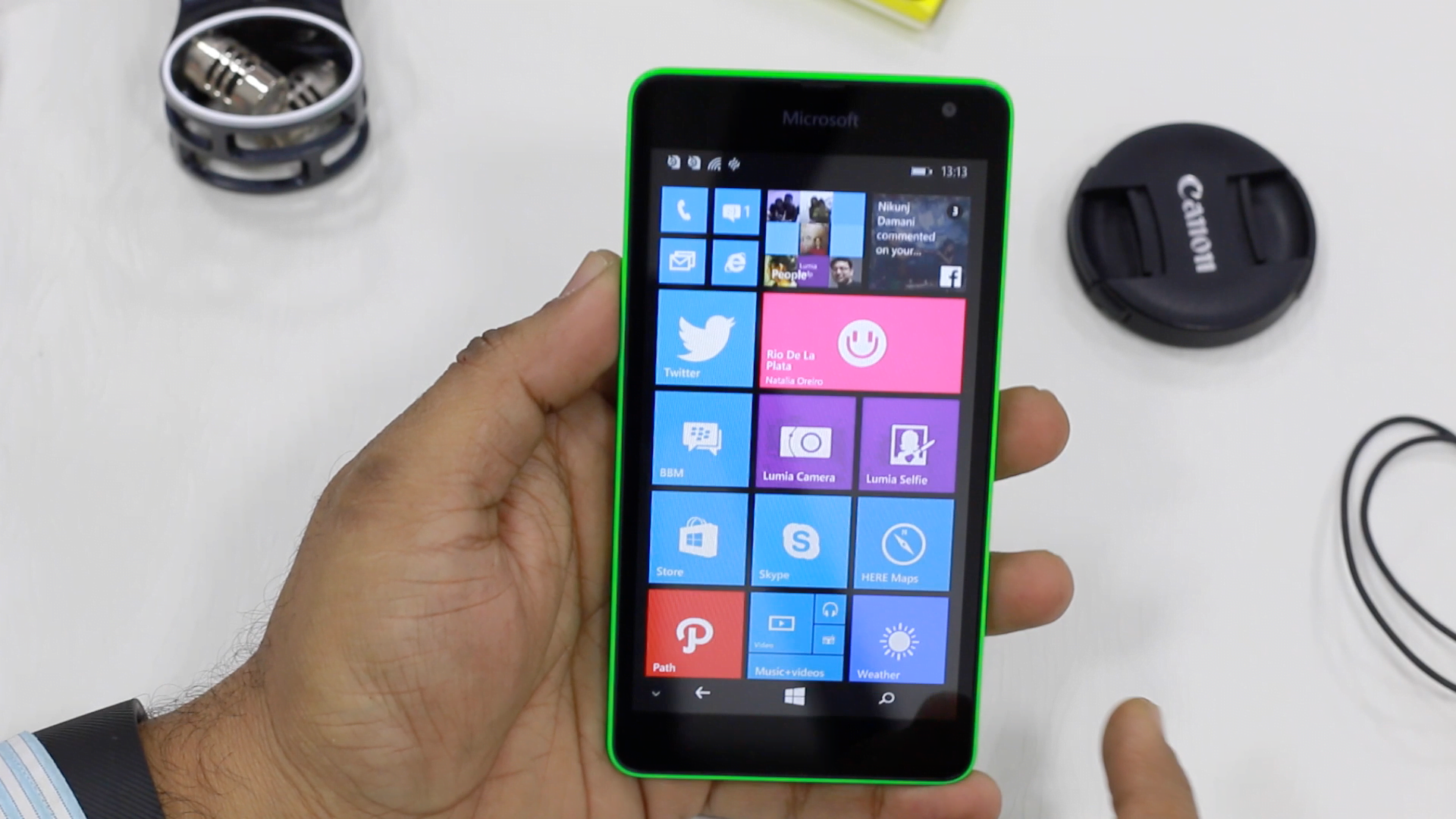 Day Light or the Sunlight Readability: Its decent enough, but you need to enable one display settings to make it better. Microsoft should have this turned on by default. Go to Settings  > Display > Turn on Sunlight Readability. If this doesn't help, switch the brightness to  medium or high. The default auto settings don't work really well, and with that you will end up seeing your reflections more. Make sure to keep it medium with sunlight readability on if you are on the move all the time.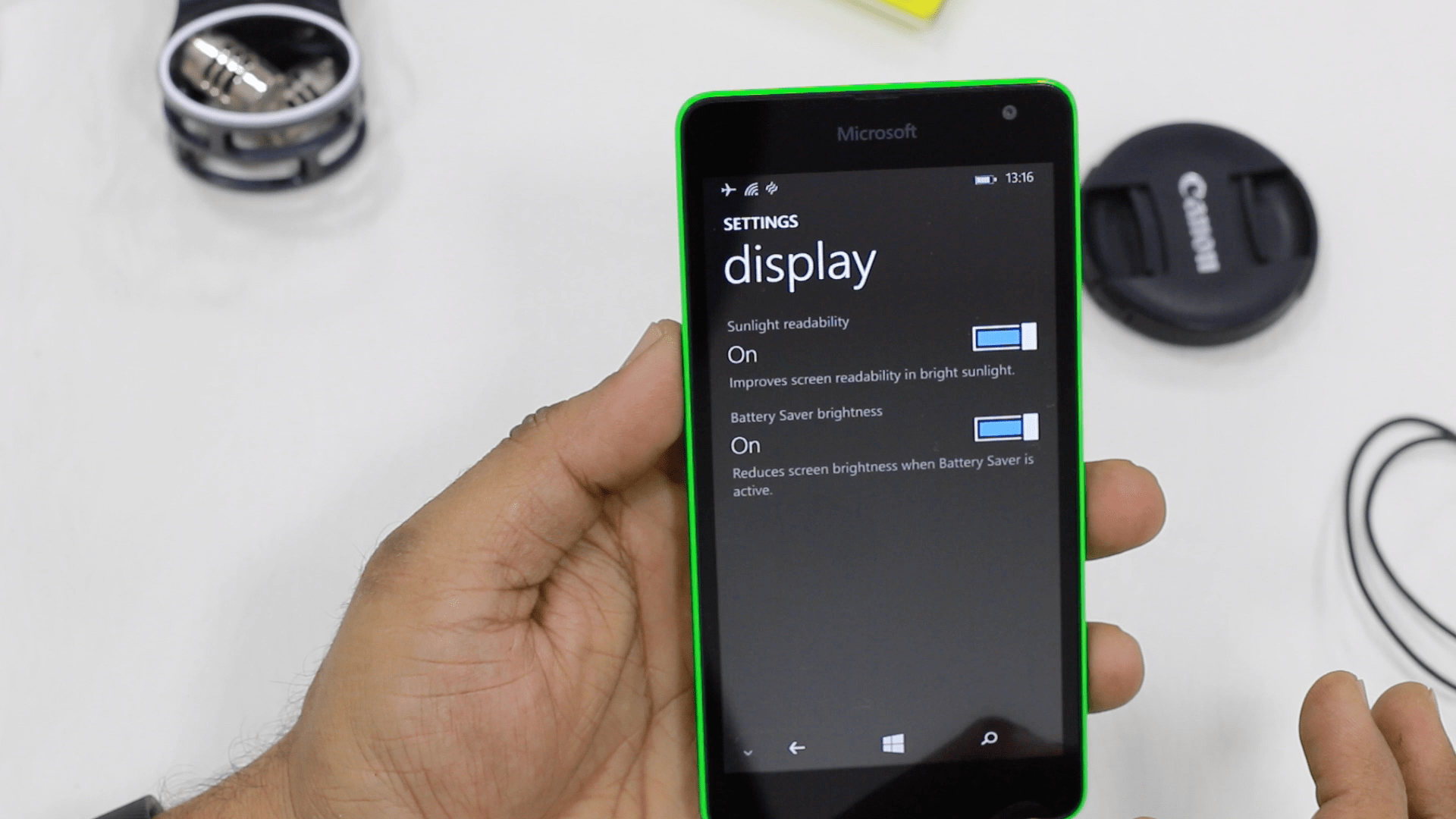 Touch Experience:  The touch experience is excellent at most of the places. You can swipe, tap and flick all the time without getting stuck somewhere. I have played games, and used a lot of apps and there is nothing much to worry about. However, there is a small issue where tap doesn't respond. This is getting fixed and it should not stop you from buying the phone.
Swipe Experience: Surprisingly, swiping is not a problem at all. I can swipe really fast without getting stuck. The screen is of good quality, and easy to swipe. While the screen is a big finger magnet,  the dust did not catch up with screen for good.
Build & Design
How does it feel in the hand:  Those who crave for a big phone, it's an awesome phone to have at this price range. The screen is huge, the curved corners and edges gets you a great grip as well. You will be able to handle the phone nicely, but may take time to adjust if this is the size you never used.
Rear : The rear case is smooth finish, which is slippery. This has its advantage of a clean surface with just one swipe, but attracts a lot of fingerprints.
Button Experience: These are responsive and easy to click.  No complaints here.
Camera (Picture and Video Quality)
The front camera is a 5 MP,  f/2.4, auto Focus camera which does an extremely decent job in taking pictures. You can use the Lumia Camera which gives you full control on the settings part and captures images in 16:9 aspect ratio. There is an LED flash which is strong enough for low light conditions.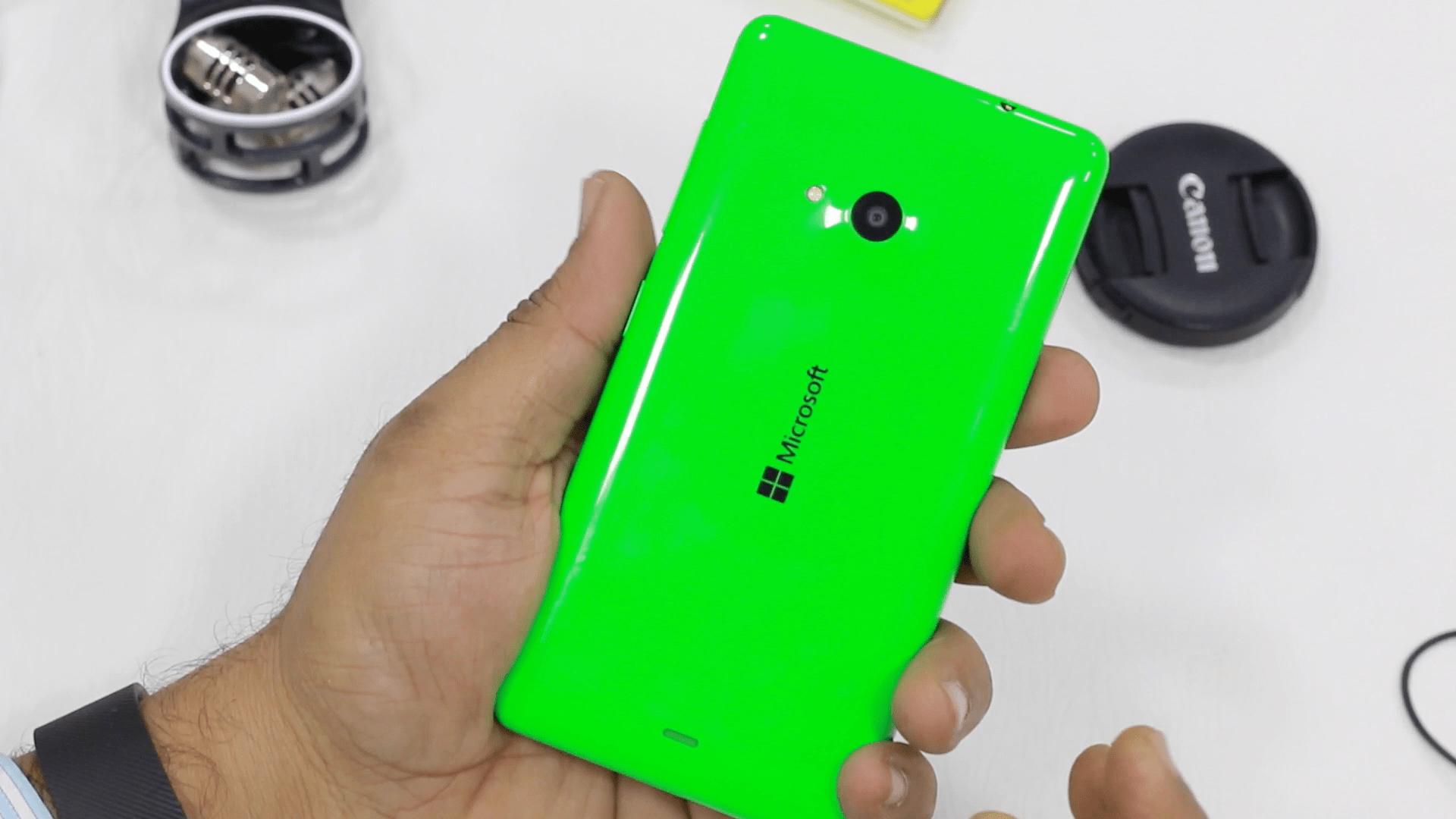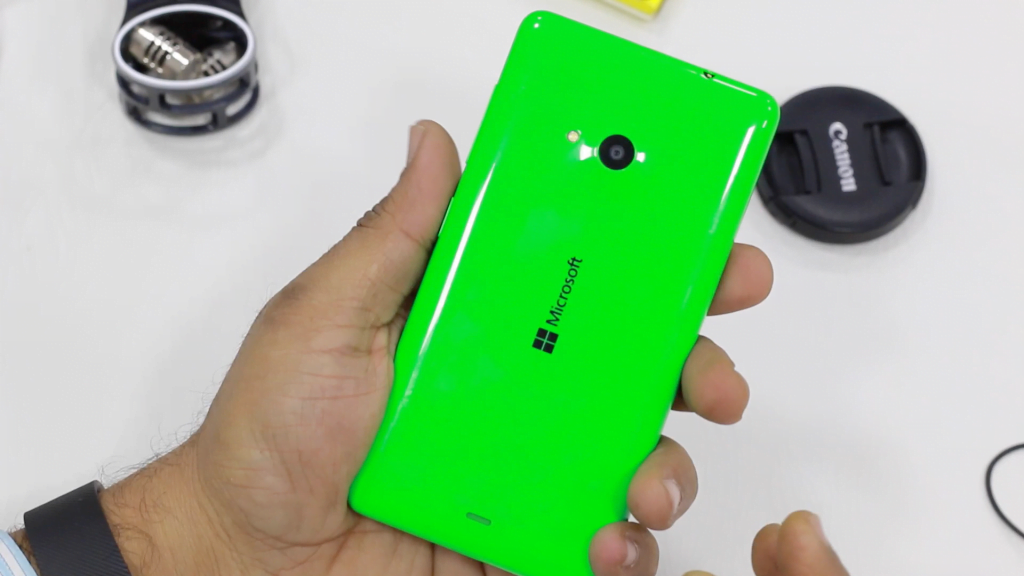 Main / Rear Camera:
Daylight
Lowlight / Night:
Macros:
Video Recording: Tha maximum resolution for recording video is FWVGA which is 848 X 480 in resolution. It's decent to capture daily videos. The video recorder comes with Audio Bass Filter which lets you record clear video when noise is high. You can even filter out engine noise to a great limit by setting audio bass filter to 200 Hz.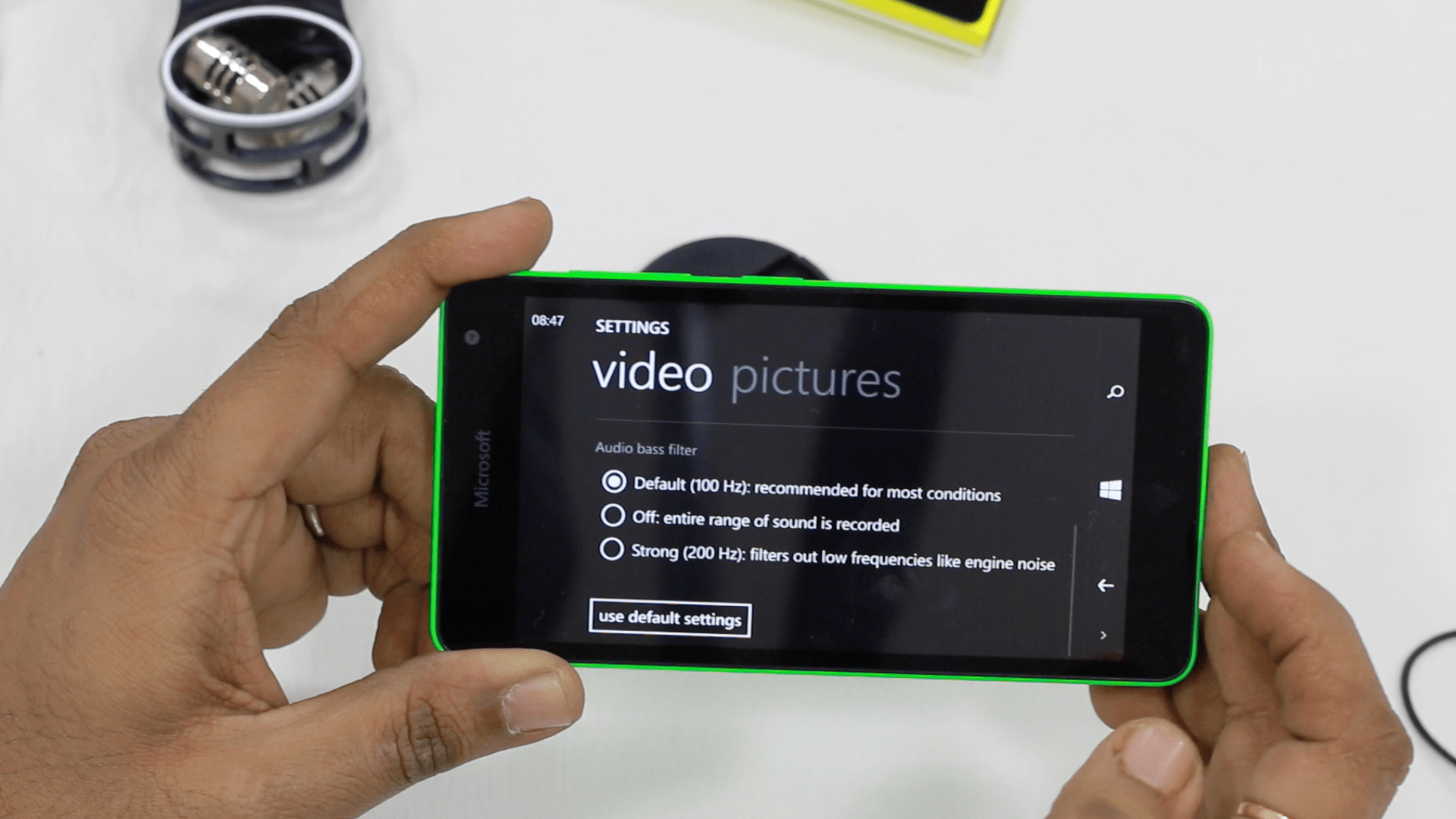 Front Camera:
This who love to take selfies, the phone comes with 5 MP Wide angle camera and aperture f/2.4 . It's perfect for family moments when you on tour and want everybody to come in one single capture. Use the Lumia Selfie app for some amazing results.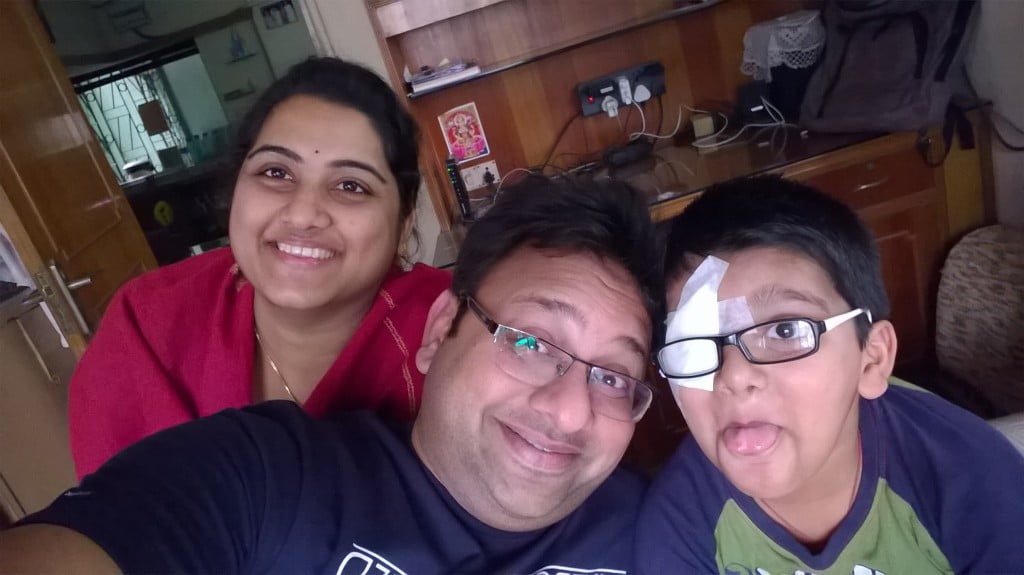 Video Sample:
Application Performance
Powered with Snapdragon 200 Quadcore Processor, the phone houses 1GB of RAM with 8 GB internal storage. This combination gives enough hardware power for apps to run smoothly. Windows Phone as an OS never had an issue even with 512 MB, but with 1GB its more than enough.  If you look back past one year, the overall specs of the device is bumped up in this price range.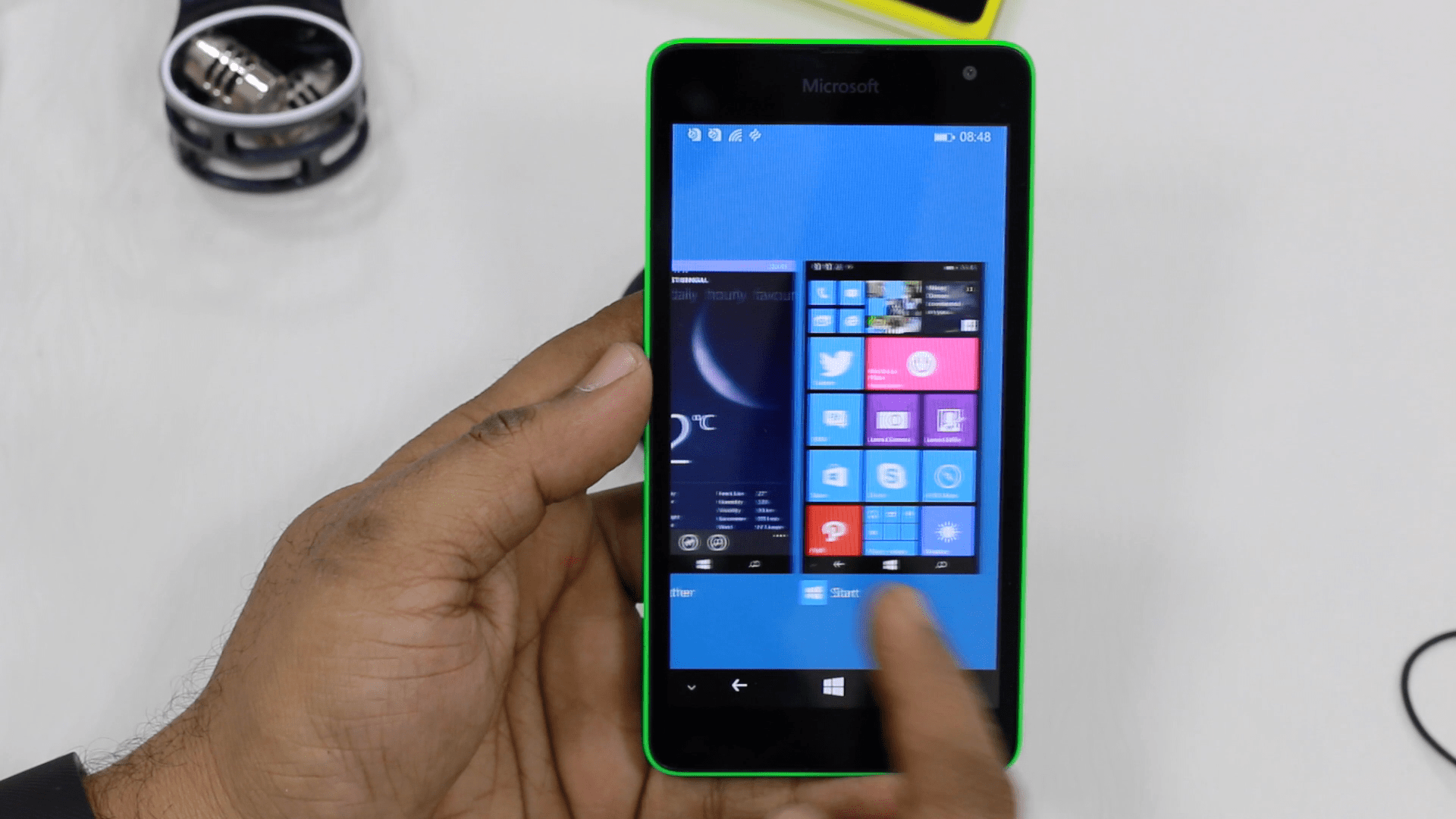 The phone can run 8 applications together with one active at a time, and rest can be resumed back using the back button. You can switch between apps very quickly except for few games where it takes a bit to resume back.
Video Playback:
This is one issue which I had faced on all Windows Phone with Snapdragon 200 Processor. Even though the processor says it supports 720P video playback, but not all videos can be played well. There are only particular codecs at specific farm rates that works well, not all  So consumers who watch HD movies a lot, might not like the overall result You may try, but it will be choppy and half of the video will not be visible.
That said, the only option out is to sync videos using the desktop application. If you are using Windows, you will have option to convert which takes care of the whole thing. I synced a 1080P video which was converted. The overall quality was good and it worked nicely.
Game Performance with Asphalt 8 : Airborne
Overall the game plays has no issues with most of the games. We had tried with Asphalt 8, Temple Run 2 and similar games, they all work fine. The phone is powered with Adreno 302 along with 1 GB of RAM which is more than enough to run the games, and still get multitasking done.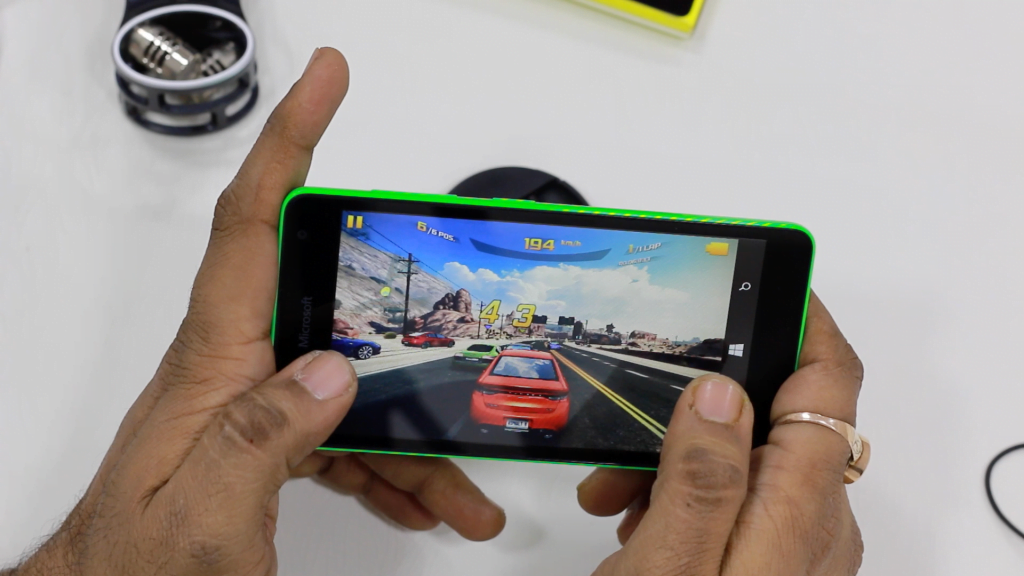 HD Display : The screen is not HD and the game settings are on medium for sure. That said, the graphics are still good and details out all the game aspects nicely. You won't be disappointed
Lag: Absolutely no lag anywhere while playing the game. The game loads up little slow when resumed back, but nothing after that. I have wrecked cars multiple times, player for at least an hour, and even my son plays it along. No issues whatsoever.
Heating Issues : Surprise Surprise.  After a long time I am experiencing a Lumia which doesn't heat up during gaming, using navigation and any GPS apps. One hour of game play, without lags.
Battery:
I have tested the phone mostly on the move this time. It gave me a real idea on how much exactly it will last. I am pretty sure that's how the normal consumer will use the battery. I had used WhatsApp, Facebook, Twitter, Photo upload, MixRadio, Gaming, Camera and what not. Here is what it averages out to:
On 3G : 15 to 17 hours.
On WIFI : 22-23 hours
On 3G and WIFI : 19 to 20 hours.
Remember this is heavy testing for a battery of 1905 mAh.
Storage:
Finally Microsoft understood that putting a 4GB of internal storage is of no use when it will make a consumer spend at least Rs 1000 ($25) on Micro-SD. Lumia 535 comes with 8 GB of internal storage at this price point, something which consumers should always get. You get around 5 GB (a couple of preinstalled apps) of free space which will get you a long way.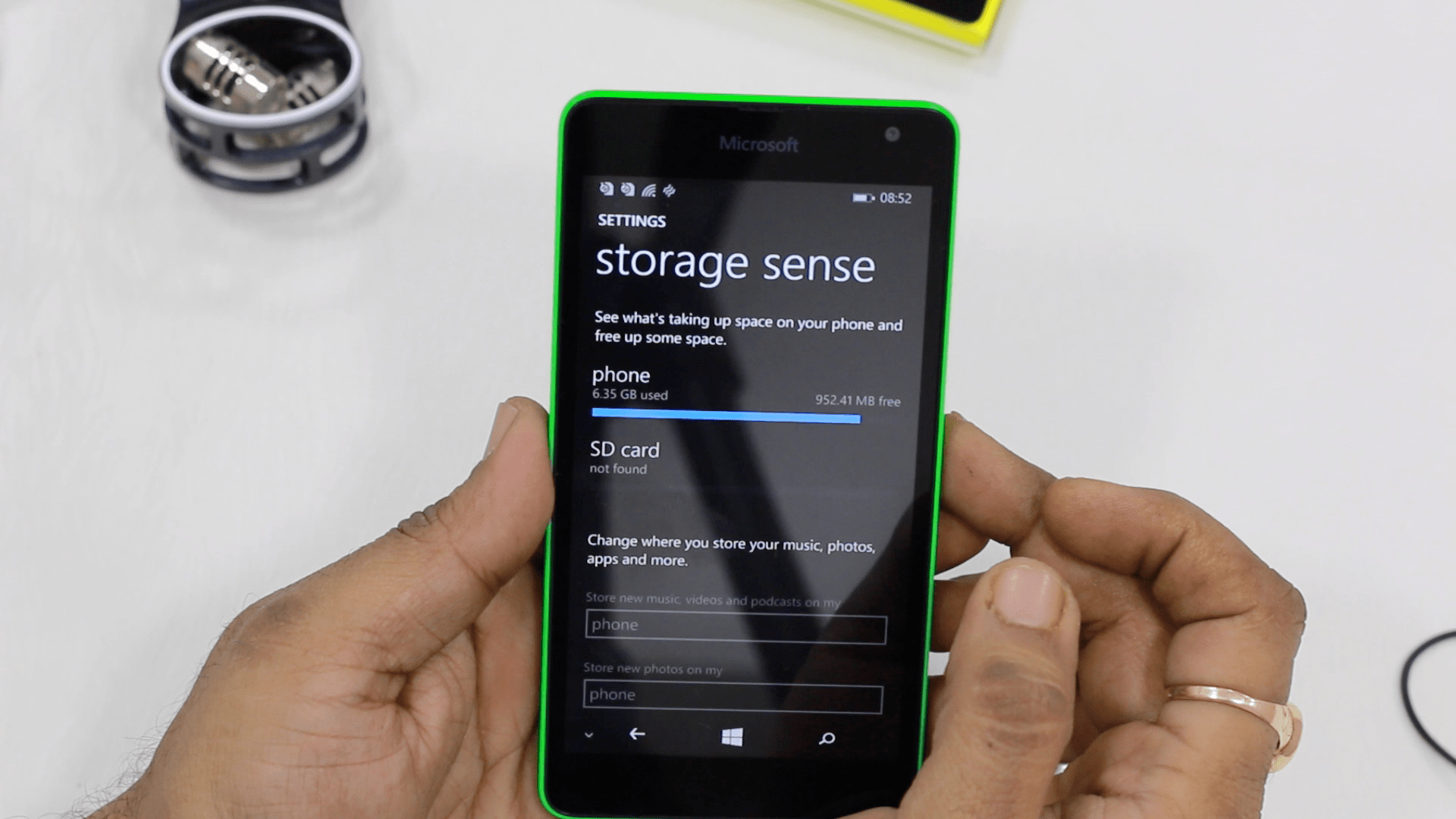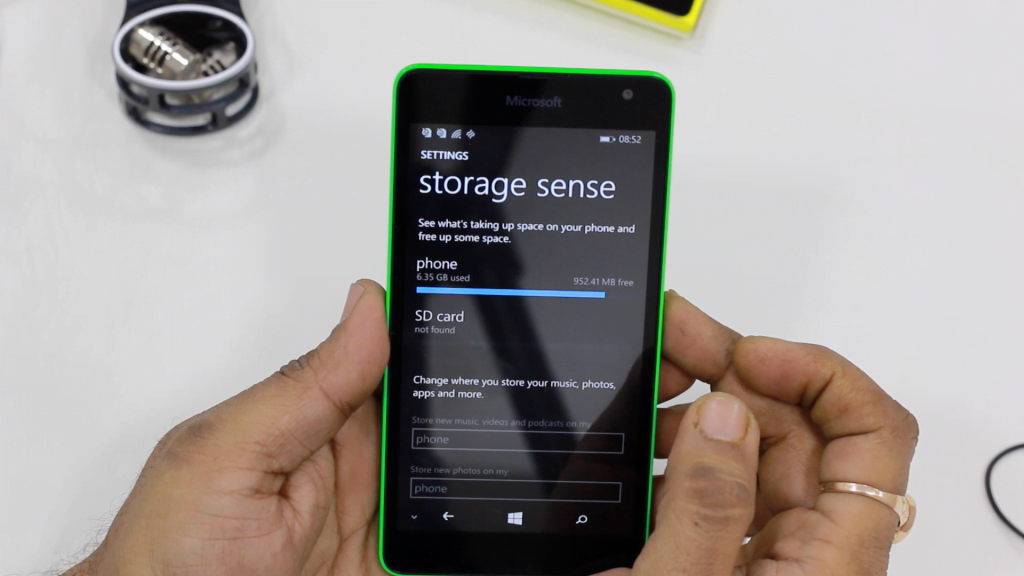 Now, those who are heavy video, music loves, you need to grab yourself a 32 GB of microSD card anyways. I will suggest for 128GB which is what the phone supports, and a class 10 if you want to keep apps on the SD card and save space on main phone memory.
Good thing is that Microsoft does allow to install apps, games and update them right over to SD card. While it works on Class 4, you better grab a class 10.
Audio Quality
The good part of the Lumia 535 and devices like the Lumia 730, that you can use equalizer with Speakers. Most of the consumer would want to listen to the music on the go or just casually when on break. This is where it becomes handy.  Go to Settings > Audio, and check if you can change the audio setting by tapping on the drop down or on the graphics equalizer.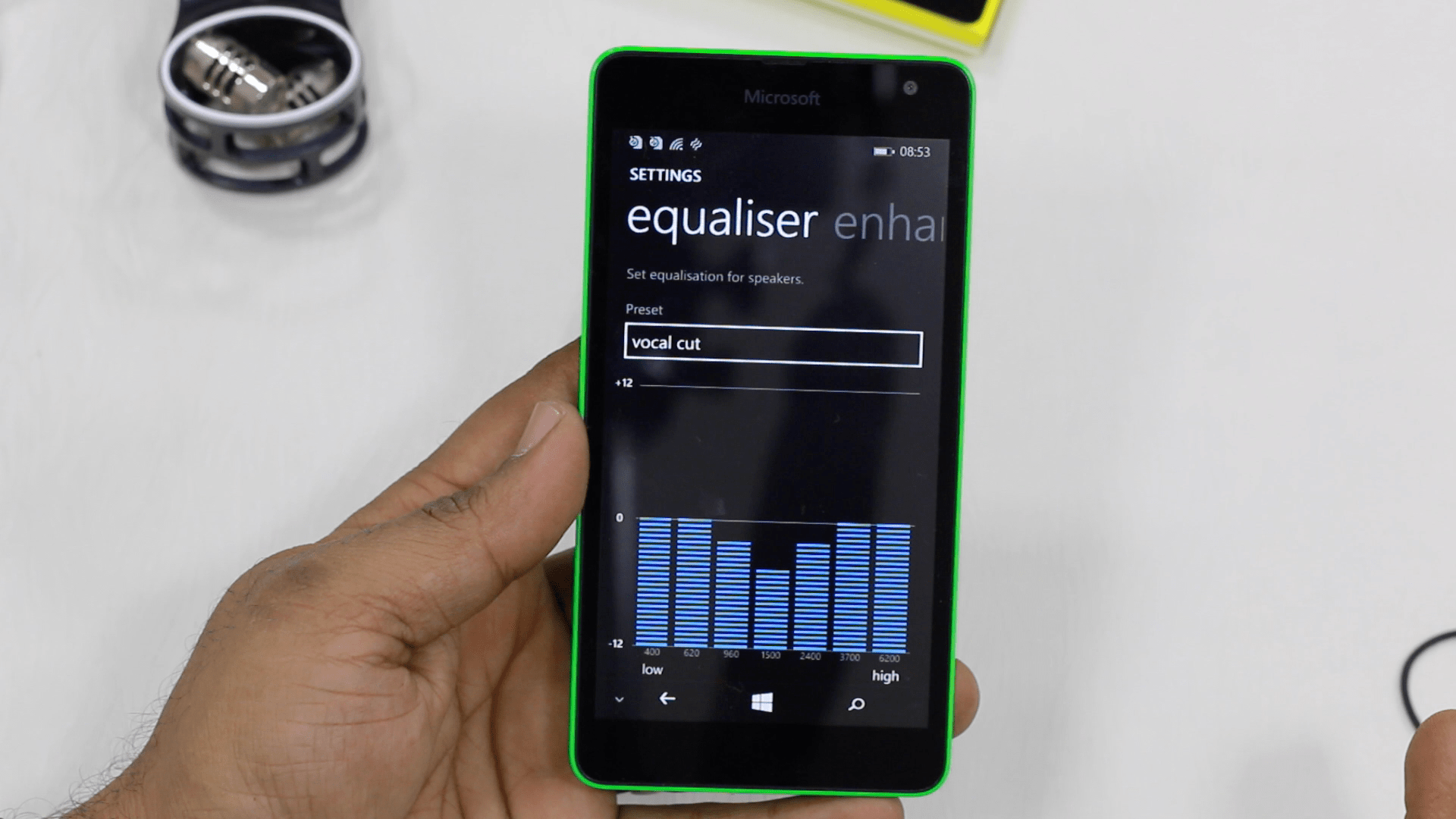 I had used MixRadio for testing music, along with couple of offline music from my collection. The streaming is pretty good, and you can have offline mixes for best experience.
On Speaker:  Like all the Lumias the speakers are powerful and clear on speakers, even on high volume. I would still recommend you to keep the level 25 for best experience.  Use the equalizer for best experience.
Using Earphones:  This totally depends on what kind and quality of earphones you use, but it does sound good even on normal earphones. The audio engine of the Lumias are good and you can trust them on this.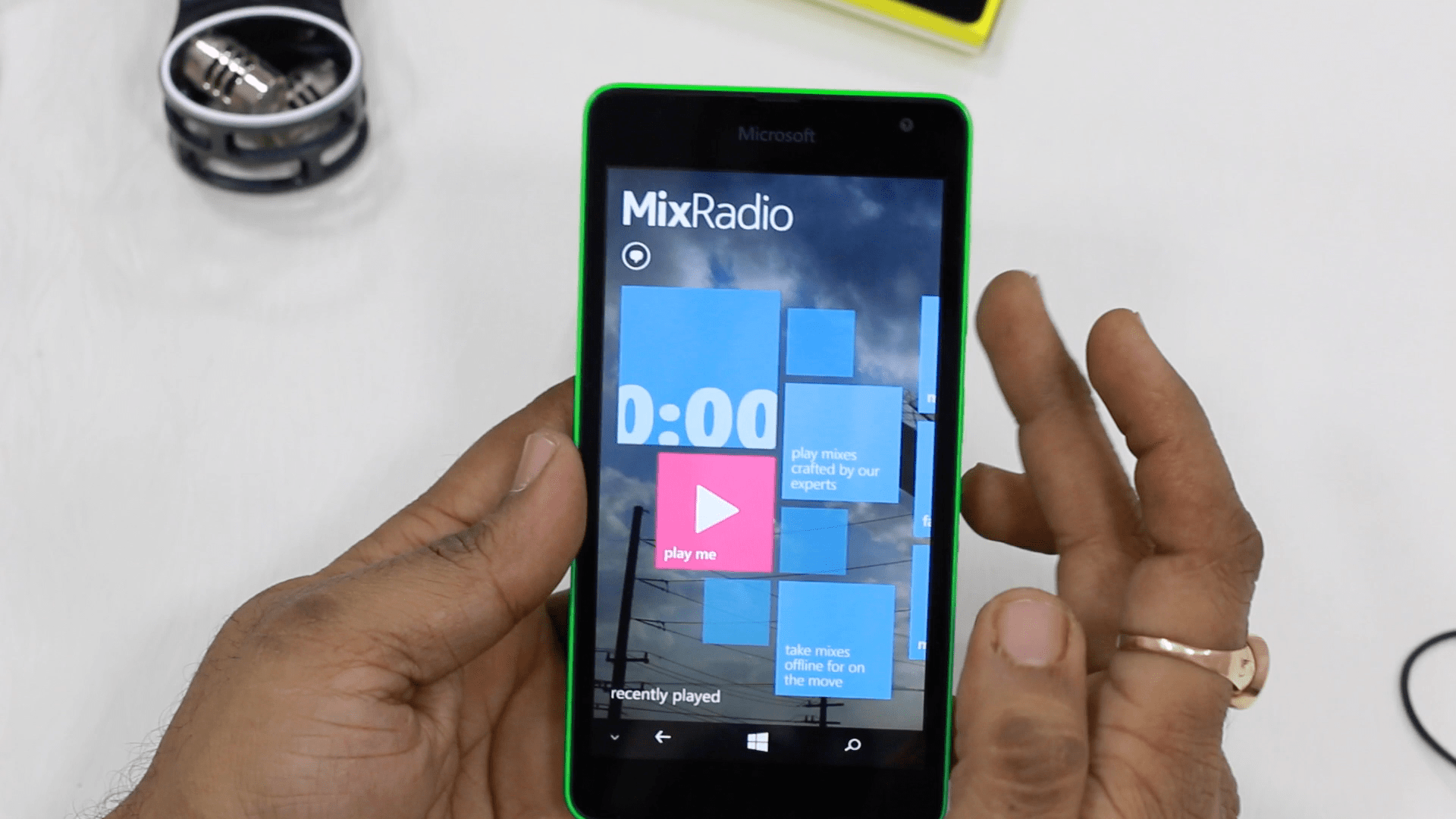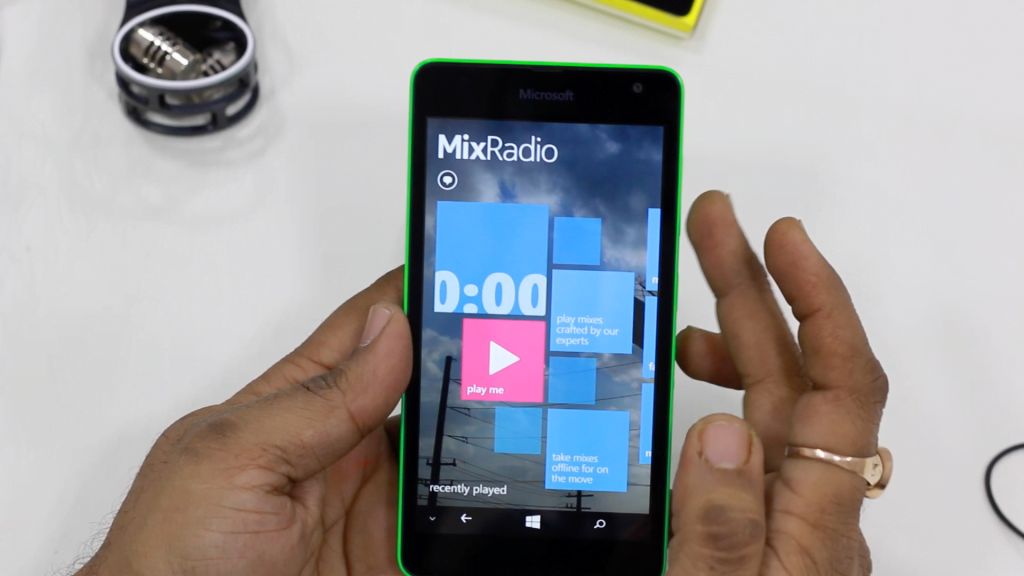 In-call Audio: You still need to use your phone as a phone and receive and make calls. The audio is pretty loud, and works well. Those who are pretty particular about it, don't worry.
Dual Sim Features:
You can manage both the SIM, their settings from one central dealers. Its smart and does a good job for those who want to mange two SIM together.  I have done a detailed post on Dual SIM Features which you should read. 
Verdict
[wp-review]