Countries like India have huge demand for Dual SIM Phone, specially in the lower segment, and it only made sense for Nokia to come with a dual SIM Windows Phone to boost the sales further. I know people who always craved for dual SIM once they used the Lumia 520.
In this post we take on the Lumia 630 to find out if its offering something more to both Windows Phone users and new comers, specially from Dual SIM perspective. I love to call it, the Lumia 520 of the Dual SIM series.
Video Review:
Design and Build:
I never had a doubt about it with Nokia Phones. The build quality is more than value for money at this price. Let me break it up for you:
Style: Lumia 630 reminds of Nokia X and XL when it comes to form factor. It 's sleek, fits every hand perfectly and light weight. If you are a design lover, you should not fail to notice that the front is broader than the rear, thanks to the slant tapering. This really adds to the style because when you look at it from sideways, it looks beautiful compared to other Lumia phones.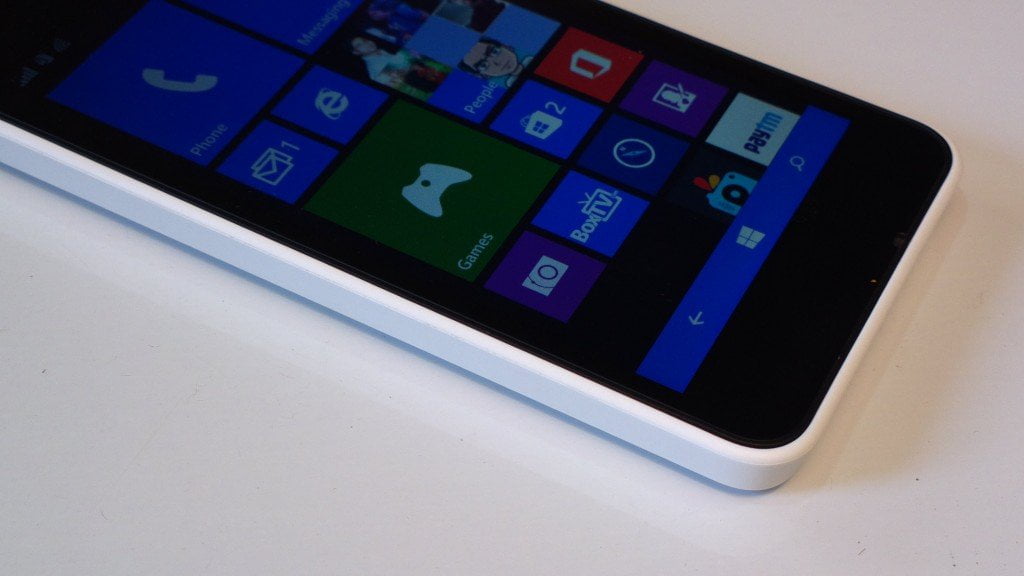 Buttons : There are two buttons. The volume knocker and the power/lock. They are thin, so it mixes will with the looks. When it comes to operating the buttons, you will have to get used to it. The primary reason is the design as its tapered.
I compared it with my 1020 where pressing a button is easier than with the 630. One solid advantage you get of this is that accidental unlocks or volume operations, while in your pocket, wont happen.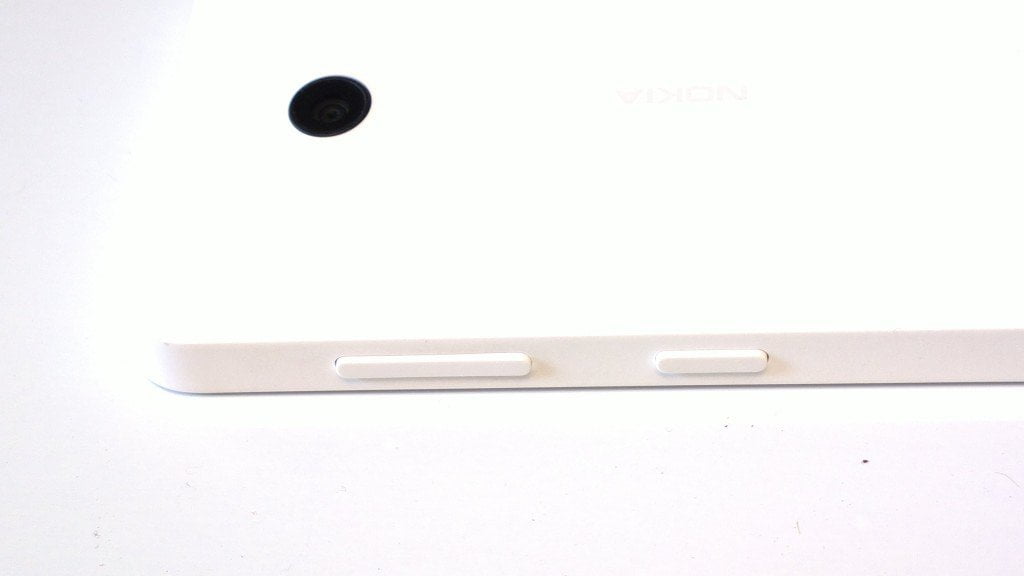 Grip: The tapering sides of the phone gives you the right grip. The rear side is dominated by the matt finished removable cover which adds on to this. The case not that strong when taken off the phone, but once its on, it fits so well that you wont feel it as a separate part. The case is matt finished and it attracts mark and dirt. I have a white unit and its even more visible.
The Smart Dual SIM Dialer:
The dual SIM version of 630 includes a smart dialer which makes it easy for anybody to use two numbers in the phone. The benefit lies in the UX making it easy to switch numbers. Here is the feature list:
Phone App: You can merge or link both the phone tiles to make it a single app. When you do that, you get a smart switcher which allows you to switch SIM. The switcher also remembers which number you use often to call a particular contact.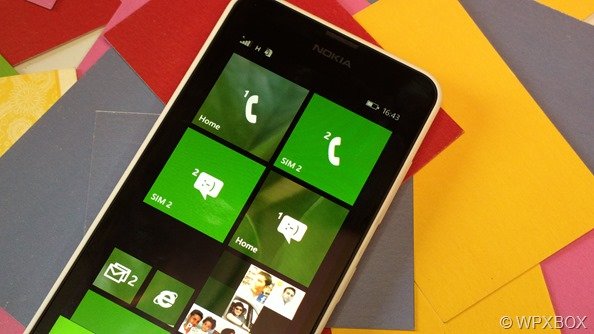 Message App: The same goes for the messaging app. the benefit you get when the SIM's are linked is ability to switch SIM and still continue to use the same message thread.
Check out More details on Dual SIM Feature
Display
When I first saw 630 at the Nokia even from far and with white background, the rich and sharp display reminded me of 1520 for some reason. 630 is not even HD but it looks pretty stunning. There are two core reasons for this. One that the pixel density is 221 PPI and second it comes with Clear Black Display tech. The later makes bright light reading possible.
When I played Asphalt 8 Airborne, I could see how beautiful the colors were reproduced on the screen.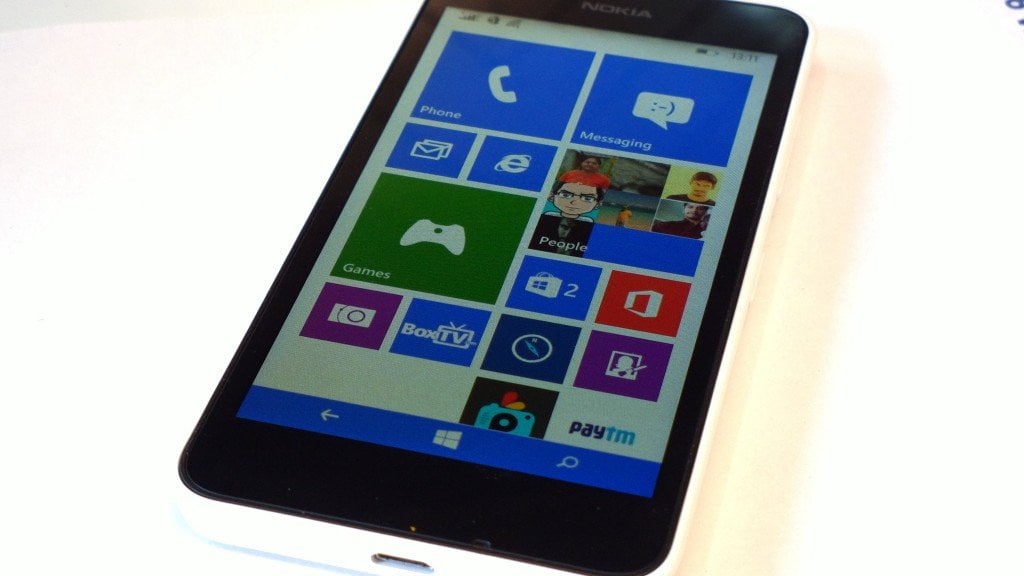 Screen Quality:
The screen is built of IPS LCD (854 x 480) and protected by Gorilla Glass 3 which is damage-resistance from keys and other sharp object. Now this doesn't make it full proof but overall it will be much less. So you can stay away from using a screen guard if you wish. I have used this since 5 days with keys in the pocket and I don't see any visible marks.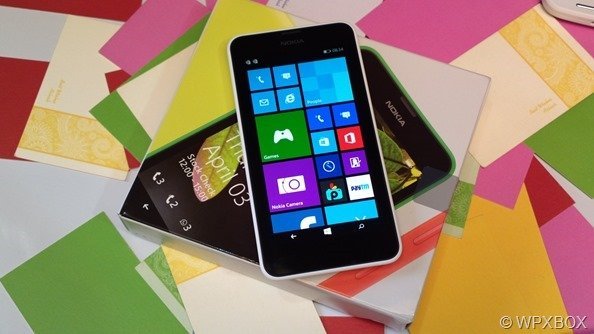 The phone attracts a lot of fingerprints and sweat which is annoying and it's not the only Lumia phone to have this. However they don't come in your way of reading anything on the phone but looks real bad when the phone display is off.
Performance:
The overall performance is great and it exceeds my expectations. It's in fact better than what I have experienced on the Lumia 520 and bit more than the 525 as well. Thanks to the Snapdragon 400 Quad core processor and optimized Windows Phone 8.1.
I use loads of apps. Right from heavy games like the Asphalt 8 to twitter clients like Mehodh, to fitness and weather apps. Still after 5 days of experience, the device doesn't lag anywhere. And I can bet on my past experiences with Lumias the device will not disappoint you anywhere.
The popular apps like WhatsApp, Line, Facebook, Twitter work just great. If you have any app you want me to check out, ping me up.
Those who know a bit how apps are developed. In Windows Phone 8.1, the apps are not 30% faster than earlier version so the experience will be even better.
Gaming:
630 just zips off anybody wining for its 512 MB RAM with its gaming performance. I played Asphalt 8 : Airborne and Temple Run 2 and both performed brilliantly. Though the stats of Asphalt 8 is what you should be considering.
No Frame drops.
No Lag.
Fast Loading time.
Recovery from Wreck is quick and without any drops.
No Heating issue even after an hour of gaming.
Below is the video which speaks for itself.
The games are optimized for 512 MB RAM and thanks to graphics processor of Snapdragon 400, which delivers.
Camera:
Lumia 630 comes with a 5 MP camera which takes pretty pictures in day time. So if your camera usage doesn't involve much of low light usage or you aren't keen, this will work out for you. Take a look at the pictures below as I elaborate more.
The low light or dim light pictures are artificially sampled to look brighter and the colors look artificial as well. However the lack of flash makes it a need to make your pictures look little better.  I would highly recommend you to use the Nokia Camera when taking pictures. The algorithm and tech will get you better result than the default camera.
Battery Life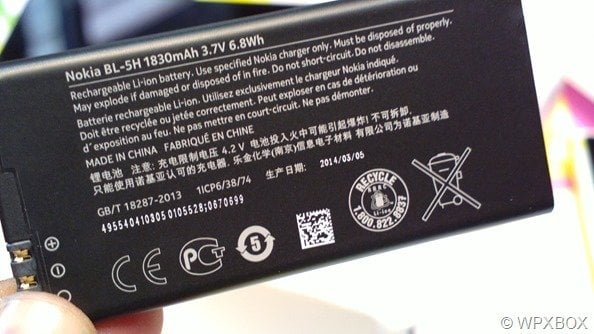 Day 1 : On 3G and WFI
The phone survived for 20 hours before hitting the low battery mark. Then it lasted for all night until shutdown in the morning.with over. This proves that battery drain overnight is pretty low.
I played music for 30 minutes over speakers and an hour over earphones.
Moderate calls, around 30 minutes
1 hour of Gaming with Asphalt 8 heat, Airborne
Twitter all day long.
Day 2: On 3G : This lasted for 12 to 14 hours with usage like music, gaming, Mehdoh and so on. The overnight drain was bit high compared to when it was over 3G and WIFI.
Day 3: On Wi-Fi : It lasted for 24 hours straight.
Taking all these into consideration, expect around 14 hrs of battery life on Lumia 630. I am guessing this will improve over time/.
Motion Sensor
630 has inbuilt motion sensor which can track your daily steps, calories burnt and act as true pedometer without getting heavy on the battery and work in the background.
It uses the Nokia's Sensor SDK and any app or service like Fitbit, Endomondo  who wants to get the data can use the API and collect the data anytime they want.
Speakers :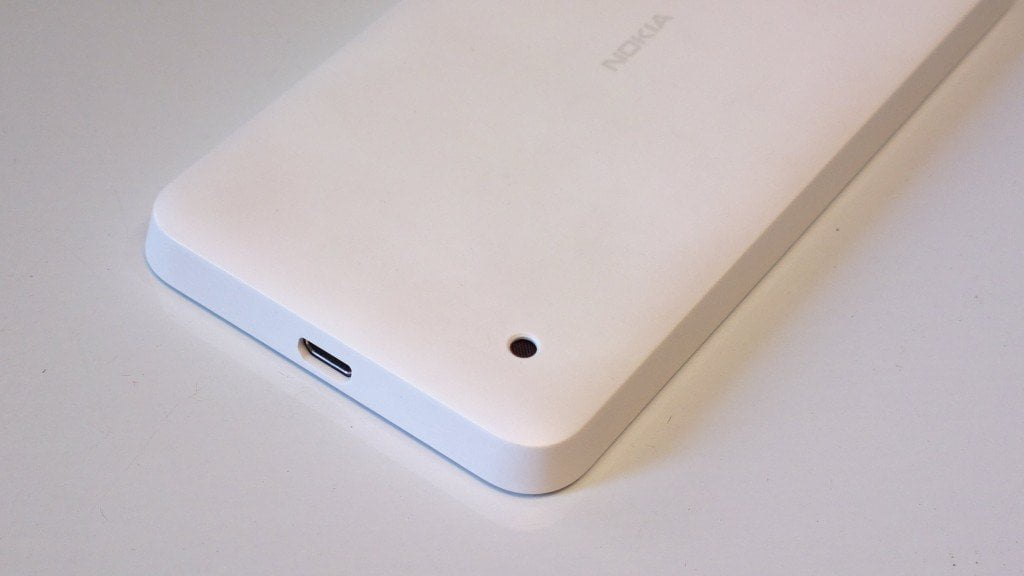 The audio is pretty amazing when you use your headphones with 630. The audio is clear, sharp and loud. Those who are keen on equalizer, its missing on the Lumia 630. The music audio over headphones can also be controlled separately.
When it comes to listening music over external speakers, I was little disappointed for two reasons. One the speakers bass is really bad as the audio at high volume just creaks out and second when kept down with face up, the audio get cut off.
The OS : Windows Phone 8.1
Lumia 630 is the first phone that has hit the market with Windows Phone 8.1. and Nokia's CYAN update. There are many new features and improvements. You can read more about the update on our Windows Phone 8.1 coverage. I am listing some which you would quickly want to know:
It supports Bluetooth 4.0 which will let you connect to many devices which need low energy profile. Expect more fitness device to connect. As an example my Fitbit connects but doesn't know what to do.
Moving Apps to SD Card
Supports Internet Sharing.
You can change Start Screen Background
You can set ringtones for emails, sms and contacts.
Notification Center is available.
Supports VPN and Workplace to connect with your company apps.
Sync Settings across devices.
Missing Sensors:
One of the biggest drawbacks for the Lumia 630 are the missing proximity and ambient sensors.
Proximity sensor comes in handy to turn off any touch reaction to the screen when you are in a call holding it close to your years.So with that missing, every time you make a call make sure to lock your phone else you will either be ending up the call or hit a button. Ambient Sensor helps you save battery by controlling the brightness of the phone according to the ambience light.
However, it also lets you control the level of brightness using the display settings. So if you feel the levels are just not enough, go ahead and change it as per your need.
Value for Money:
To my experience, the phone is perfect if Windows Phone and DUAL SIM is your choice. While Windows Phone 8.1 has bridged the gap by rolling out all the missing features, the Smart Dual SIM feature makes sure you can use both the numbers without any confusion. Not to forget, the smart call forwarding doesn't let you miss any call and further lets you personalize who can pass through and who gets a busy tone.
Priced at Rs 11,500 for Dual SIM and 10,500 Single SIM, it's totally worth your money.  However, I would still put up few things which are missing before you give it a final go. The phone does not have Flash but day light photos are great. It misses the Ambient sensor but then the OS allows you to change the brightness levels to your choice.
If you are planning to buy it online, check out the listing on Flipkart where you may find additional discounts. If you are looking for offline deal, check out the stores around you.
[wp-review]