There was a time when computer devices used to take 4 to 5 minutes for booting entirely, but now the situation has changed.  Windows 10 can boot up in few seconds on decent hardware. However, many users still complain about the slow booting process of their PCs, which is annoying. Here are our tips to Boot Windows 10 faster.
How to Boot Windows 10 faster
In this guide, we would discuss various factors that are responsible for the slow boot process of Windows 10 system. We will also provide straightforward solutions that can help you to get the welcome screen faster than ever without any complication. So, without further adieu, have a look at some of the easiest ways to boot Windows 10 PC faster than ever.
Disable irrelevant services.
Turn on Fast Startup
Uninstall unwanted applications
Clean Registry and System
1] Disable Irrelevant Services
We are talking about those services that load automatically when the system boots up. If they are more in number, they can inevitably affect speed. That's why it is essential to find out and disable any service which is not required all the time.
Hold the Windows Key and press R to get the Run box or right-click on the Start Button and select Run from the list.
Type msconfig and hit enter
You will get the System Configuration Utility Window; click on the Services tab at the top.
Check the box that says 'Hide all Microsoft Services'
Now only other services will appear; you can either select some of them or click on 'Disable All' at the bottom.
Click on Apply, then Ok, and reboot the computer to see the effect.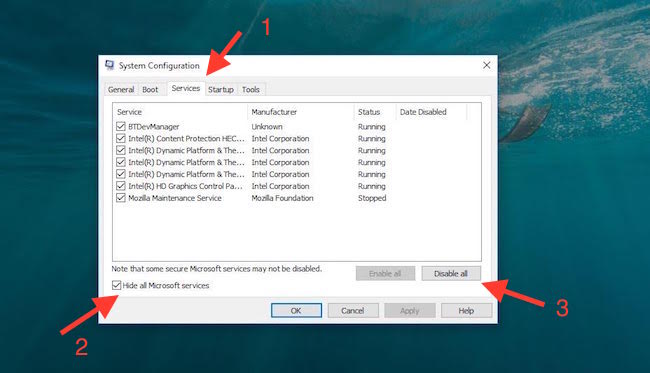 Few people don't use Windows Media Center to remove these services from the list of Microsoft services.
Windows Media Center Receiver
Windows Media Center Scheduler Service
You can also disable start-up items from the Windows task manager. To open the task manager, you need to select it from the list. You can always enable start-up services back.
2] Switch on Fast Start-up to boot Windows 10 faster
As we said earlier, Windows 10 includes a remarkable feature that boosts the startup process as well as the shutdown time of your PC. Let's see how to switch/turn it on.
Right-click on the Start Button and select Control Panel from the list
Head to System and Security > Power Options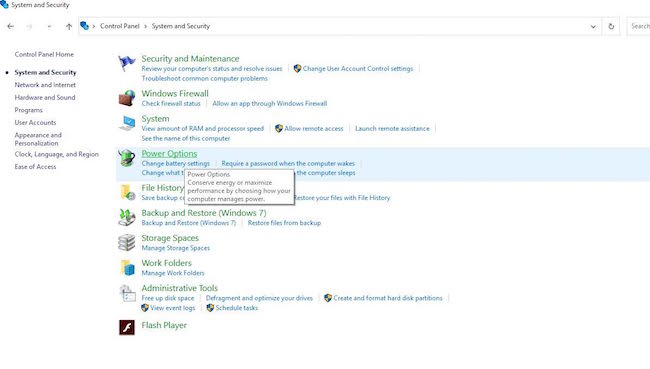 On the left side of that screen, you will find the option 'Choose what the power buttons do,' click on it.

Click on 'Change settings that are currently unavailable.'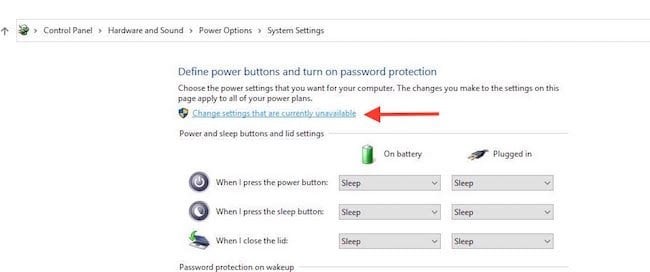 On the next screen, under the Shutdown Settings, you will find an option Turn on fast startup (recommended). Put a checkmark next to it.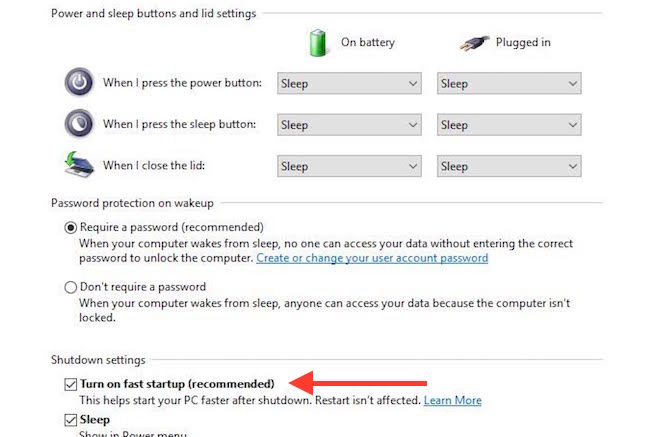 Click on Save Changes.
If the option to turn on fast start-up doesn't appear then, you need to enable Hibernate first, which also look at the same place under the Shutdown Settings, put a checkmark on it first, and sane changes. You can also turn on Hibernate in Windows 10 through the command prompt.
Right Click on Start Button and choose Command prompt (admin) from the list.
Type powercfg /hibernate on in the command prompt and hit Enter.
Related: How to improve MacBook's Performance
3] Uninstall Unwanted Applications
Many software gets installed in the system during net surfing, and users don't even come to know about it. At times we also install some heavy applications for temporary use and later on stop using them. Such unnecessary items don't just occupy extra space on your computer's hard drive but also slow down the device's performance. So, it is advisable to remove that software that is not required anymore.
Go to Control Panel > Programs.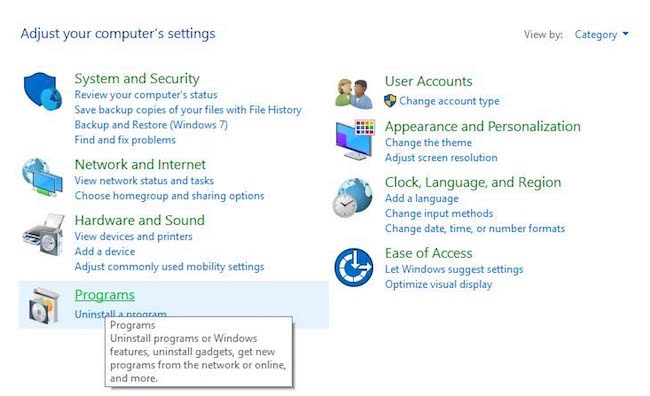 Select Programs and features

Now you will get a list of all the installed applications in your system; go through it.
To remove a program from the list, click on it.
At the top option to Uninstall will appear; click on it and confirm the removal after that.

Reboot the system to see the effect.
Few applications do not get uninstalled easily. You can take the help of any 3rd party uninstaller/removal tool for them.
4] Clean Registry and System
We do not advise customers to manually change the registry if they are not a technical expert. Instead, use well-recognized PC cleanup utilities like Piriform's Ccleaner. They can automatically scan the computer and removes clutter from the various sections as well as the registry. There are tools available to fix registry errors and delete cookies, log files, and index files, which eventually reduce the booting time.
Verdict
Usually, Windows 10 boots fast than previous versions, but in case your PC doesn't show the welcome screen within a few seconds, then you can try these steps.
Those who have proper technical knowledge can also configure BIOS. You can disable those devices that do not require checks up by the firmware of the system. It may reduce the time by a few seconds. Increasing Memory can also affect the overall speed of the computer.
We hope that these steps will help you make Windows 10 PC Boot Faster without any problems.