Edge is going to be the new browser starting with Windows 10. While there is no learning curve here, but if you are just starting with it, here are few tips from my side.  All the points which I am going to share are in settings. It can be accessed using the menu bar. It is on top right, and then choose settings.
Where is the Address Bar ?
Like Chrome, Microsoft edge has their address bar positioned like s search box where you can type in your address or start a search. If you are new to this, and have trouble finding the address bar every time, just hit the area where the home, reload, back and forward buttons are set. It will instantly open the address bar for you.
Pin Edge Settings: 
Since you will be playing around with settings a lot, for now, suggest you pin it right away. This will dock the settings on the right of the browser. This way you don't need to open it again and again. Look for a pin icon on top right of the settings. Click and it will dock.
Switch to Dark Theme: 
This came in by popular demand. If you love Black themes everywhere, you can have it on your Edge as well. Go to Settings, and the first option lets you switch to black theme. There is no need to restart the browser.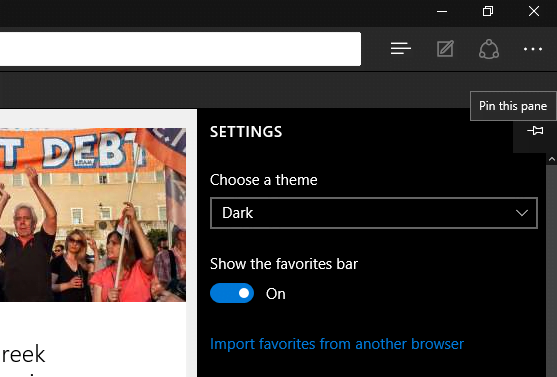 Turn on Favourites Bar:
This is right below the theme option. You can turn it on, and it will add another section right below the address bar.
Import Favorites & Bookmarks:
If you moving from one browser to another, Edge supports importing favourites/bookmarks from other browsers. The link is right below the favourites bar option.
Open New Tab with:
You can now choose to either see top sites, and suggested content or just top sites. You will see this every-time you click new tab. The best is to choose about:blank.
Advanced Settings
This is available at the end of the settings page.
Enable Home Button: 
Home button on browsers is widely used to open either a default blank page, or a page you would like to visit often.  To enable this on Edge, go to  Settings > Advanced Settings and turn on "Show the home button". You can open with Start Page, New Tab Page, Previous page, or a specific page or pages.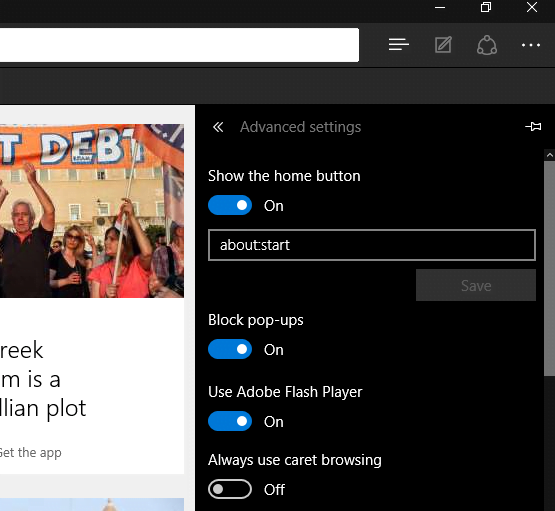 Password & Form Fill Support:
Microsoft has added password manager, and form-fill support. The option is enabled by default, and you can manage it by going to advance settings and choose Manage passwords. Once saved, the passwords are not revealed even when one gets into the password manager.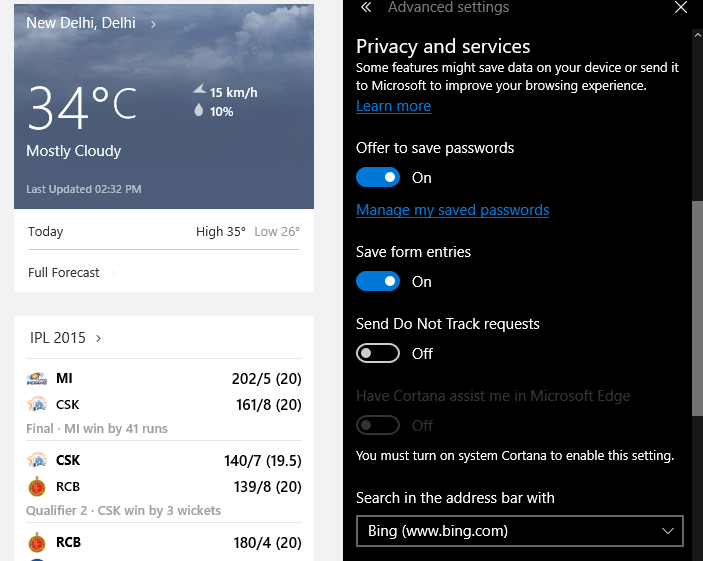 Change Search Engine:
In advance settings,  scroll a bit to find "Search in address bar with". As of now Bing is default, and if you want to change, click the drop down and select <Add New>. Then you can add your preferred search engine.