While Chrome has been dominating Microsoft's browser Edge big time, Microsoft is taking advantage of this by rolling out Windows Defender Chrome Extension which is based on the Windows Defender Security System. The core goal is to make sure to protect against online threats, like phishing and malicious websites, with real-time protection from Microsoft.
The extension works on any computer running Chrome as it only offers you protection against suspicious and malicious websites. You can use it on MacBook or Windows 10. When running on Windows machine, it is independent of Windows Defender Security System that is available on the computer. Also, there is no need to sign-in with your Microsoft account.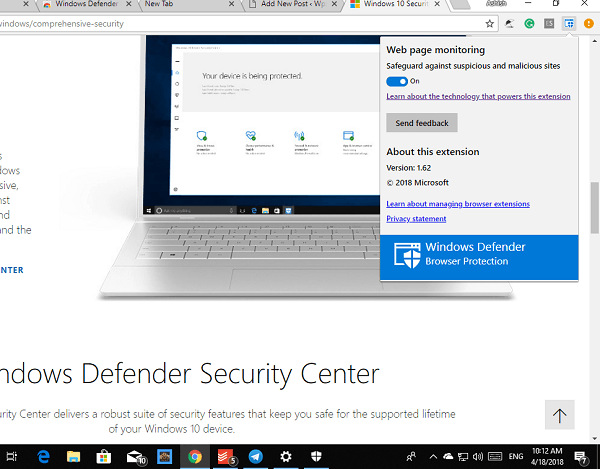 How does Windows Defender Chrome Extension work?
If you click a malicious link in an email or navigate to a site designed to trick you into disclosing financial, personal or other sensitive information, or a website that hosts malware, Windows Defender Browser Protection will check it against a constantly updated list of malicious URLs known to Microsoft.
If the malicious link matches one on the list, Windows Defender Browser Protection will show a red warning screen letting you know that the web page you are about to visit is known to be harmful, giving you a clear path back to safety with one click. It also includes a real-time indicator of harmful sites and website status
Anytime you want to disable it, you can use the toggle option in the extension.
You can install the extension from here