Microsoft started rolling out Free Windows 10 Upgrade sometimes back, and there had been a lot of noise about the way its being done. Many customers have accidentally upgraded to Windows 10 while they were not ready, and has resulted in lawsuits as well. As a result of this aggressive marketing, and hiccups, Microsoft is not rolling  out a better upgrade prompt which gives clear option for the free upgrade.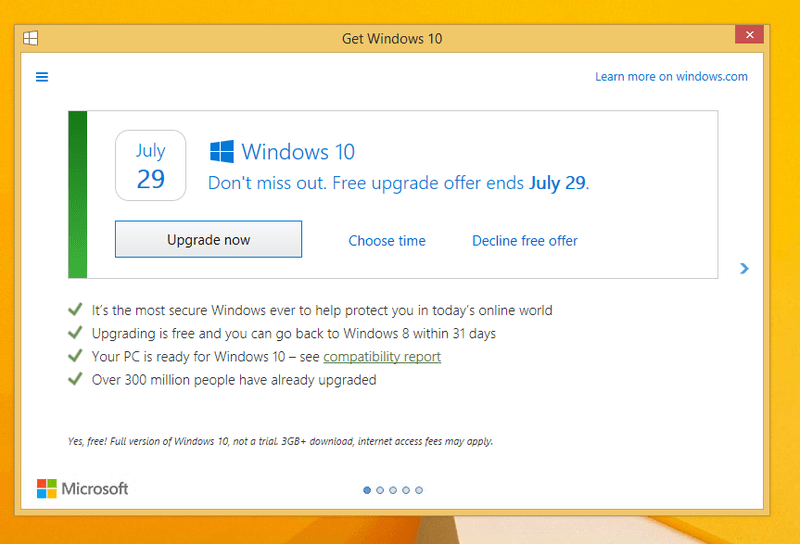 After getting a lot of feedback from Windows Insiders, this is all set to change. Terry Myerson released a statement on the matter to The Verge:
"Since we introduced a new upgrade experience for Windows 10, we've received feedback that some of our valued customers found it confusing. We've been working hard to incorporate their feedback and this week, we'll roll out a new upgrade experience with clear options to upgrade now, schedule a time, or decline the free offer."
Lee you can see in the screenshot above, you have not clear option to Instantly Upgrade, Choose time to upgrade and even decline the free offer which is ending by this July, as per the books. Its pretty clear now, that this will definitely earn Microsoft some points.  Those who are still on Windows 7, and Windows 8.1 and managed to "Not Accidentally Upgrade" will be able to make a quit if that whats your need is.
If many of Tech Guys wondering why people are still not upgrading, then there is a simple answer to that. Not Everyone have a clear idea if Windows 10 is better, and once people are used to a system, they don't want to upgrade unless and until they are forced to, and there is lot many people like this.
I have a real case scenario where a person only upgrade to Windows 8.1 when the browsers stopped supporting Windows 7, and many other things started falling apart. The same happens for business consumers as well who don't want they apps to crash down, and result in extra hours of work which the company need to pay for.  So yeah, the world is still not that tech savvy, and we all are still humans.