Microsoft Garage project team has cooked up a new alarm clock app for Android users. Clearly being a new way to make the users wake up. AI powers the Mimicker. What's most interesting about Mimicker Alarm is not what it makes people do, but how it uses Artificial Intelligence to determine the actions.
With the new efforts of sadists in the Microsoft Garage team, no snoozing is allowed for the Mimicker alarm app users and AI powers it.
Like any alarm, the Mimicker Alarm lets users choose the exact time they want to be awakened. It supports daily and one-time alarms and includes several alert sounds and tones.
Microsoft's new alarm clock app for Android devices goes the extra mile to make sure you're wide awake. Rather than rely on the switch to turn it off, it can only be silenced if the user plays a simple game that Microsoft calls a Mimic. Artificial Intelligence powers the game.
The Mimic Game – The Awesome part!!
That's where the similarities end. Few alarms work the way Mimicker does. To dismiss your alarm, you must mimic the action given. The Mimicker might be asked to snap a selfie, speak a phrase, or even get out of bed. The actions include matching expressions, capturing colors, and completing tongue twisters to silence the alarm.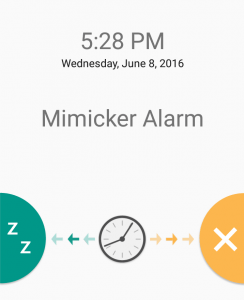 Ahh….SNAP!!!
The Mimics require you to be alert, smart, and use you and your surroundings, so be ready to move. Moving is typically the last thing sleepers wish to do early in the morning. What's worse, the response is timed. Mimicker assumes users who don't complete the game quickly enough have fallen back asleep, so the alarm will go off again, which could be annoying sometimes.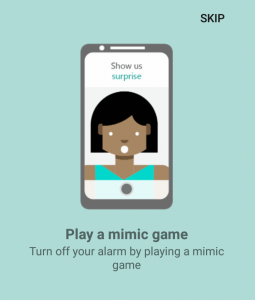 A little more…
More Mimicker lets its user do because it gives the user the chance to share the results with friends. This way, everyone can get a glimpse of that nasty case of bed head. Apparently, Microsoft wants everyone to share the worst versions of themselves for a good laugh.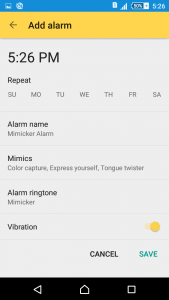 The wind-up.
Overall the Mimicker alarm app is one of that unusual apps that never lets you down and prepares you for your best day also stubborn and funny when it comes to sharing your bedhead selfies with your friends. It is a simple app with great use. You can download this free app from Google Play Store and prepare yourself to head start your day.
It is an excellent way to start your day. Give it a try!!