Microsoft is rumored to be working on a Foldable Type of devices which is also expected to be in form of tablet+ mobile form factor running Windows 10 ARM, Andromeda, and well…what not.
Now, two more patents have shown up, which revealed some really interesting feature when it comes to the camera. This was first spotted by WalkingCat. 
When you have a foldable device, where do you put the camera sensor? It's a challenge because the folds fall on each other. This is also an opportunity because when you have two screens, you can do more. Microsoft had tried to answer these in their patients:
The images show that each of the screens has a separate image sensor or the camera. One that is capable of the Wide field of view, while other can do narrow FOVs. Depending on how they are aligned, and how the hinges are. There are few cases:
They can be exactly on top of each other, and work as one single lens.
They can be set side by side, a bit distanced, but on top of each other, like a folded book, and capture things differently.
They can be used separately when the device is not folded.
The second image sensor could be anything. Right from a regular image sensor which can be used for depth sensing to the infrared sensor to do facial recognition even at night.
The second image sensor can also be used to shoot whats in the rear.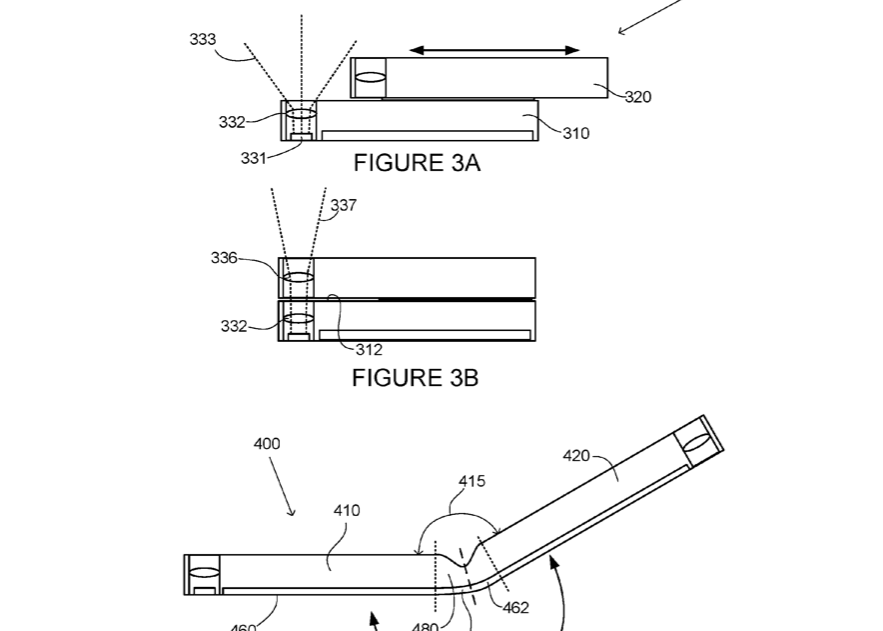 Further ahead, the images also show that one can also hold 4 camera sensors together in different positions.
Its pretty interspersing to see how many combinations one can use when you have a foldable device. It also gets rids of the idea of what a front camera sensor, and a rear camera sensor because anything can be used now.
Microsoft is experimenting with the different types of foldable devices:
That said, last time we saw the patents of Dual Screen phone from Microsoft it was for the legendary "Courier" named the device,  which looked big, but then Microsoft and Mobile never go along.
The difference which we see here is in terms of size, design, and hinge. The previous one had hinge as well, but this seems to be inspired by the Surface Book. We will never know which design Microsoft rolls out, unless they do, but looks like Microsoft will be experimenting with an at least 2-3 design which will include Mobile and Tablet form factor.
There is an image of a foldable device which doesn't have a hinge, but instead looks like flexible display, but then its just an idea.
While not related, Microsoft has patents for their foldable devices which featuresHolographic Capabilities of the device which is also called as "Floating Image Display" which has following features:
It can produce both static, and dynamic image.
The image source includes a stitched display image formed by optically combining output from two or more displays.
Floating image can be a three-dimensional image or a two-dimensional image
While it is expected that Microsoft will come up with foldable devices next year end, the idea will take time to mature by 2019. Though I am pretty sure that companies will start experimenting with 4 camera sensors, and foldable design start mid of next year.