Dropbox and Windows Phone is yet to open up their score and there are plenty of third-party apps in the marketplace already in the marketplace. Yet not everyone has left us impressed. Apps like Cloudybox and CloudSix are my favourites of the list.
That said, today we have yet another app and it's the best Dropbox App for Windows Phone we have seen till date. Not only the app impressed us with its functionality but it's very close to the UI that gets close to web interface of the Dropbox.
After you connect with your account, the app lists 4 sections.
The first displays all the folders and files in your Dropbox account
Second displays your favourite files
Third displays list of files for camera upload.
The last section displays settings where you can set password lock, camera upload, favourites and so on.
Features of MyBox
One of the best features of MyBox app is caching. Once the file is downloaded you don't have to do it again but then it also increases storage space on phone or SD card as well. This comes in handy for the favourites section. Also, the cache can be deleted from settings.
You will be able to manage files and folders right from the app. Press on the arrow down to get access to menus–Favourites, Share, Rename, Delete and Move. Worth noticing that the developer did give a thought on usability. So if you are moving a file to another location, you have an option to create new folder in the same place and then move into it.
When viewing photos, you can keep swiping left to see all of them as it downloads them one by one. During this, each of the photos has quick action to add to favourites, share, delete and download.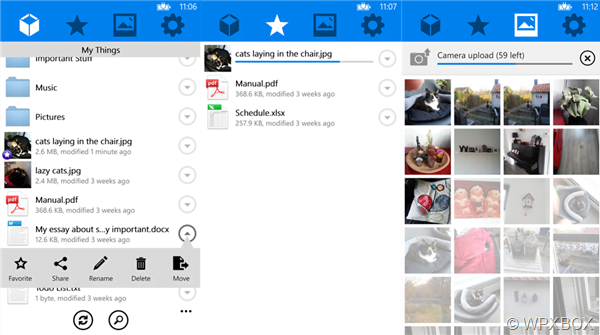 The app gives you options to control on upload. You can configure to upload and download over WiFi and AC power.
There is one feature missing in the app though, you cannot multi-select files and folders. This is important at least on file level where you want to delete multiple images or documents.
The app is free to download but comes with advertisement which you can get rid of for 0.99 USD.