We been testing Nextgen Reader for Windows Phone 8 from its beta and we are happy to share that its going live today!! In fact I already see the update in India for Windows Phone 8 but not yet for Windows Phone 7 yet. Seems like WP8 update went pretty fast.
Below is a quick video of some of the features:
New Themes:
We already talked about the new features in our last post with snapshots. One thing we did not share was two new themes.
Paper Theme : This theme really makes you feel like reading on a newspaper kind of background and found pretty comfortable using it.
Teal Theme : If you don't like dark background and hate the lighter ones at the same time, teal theme brings you in mix.
Apart from the themes, some of my favourite features are :
Pinning Groups to Start Screen.
Fast App Resume
Full Article mode which makes sure that you can read articles which are restricted by "Read more" or After Jump Section.
Customizable list views to either make it pretty with image thumbnail or keep it on strict text mode.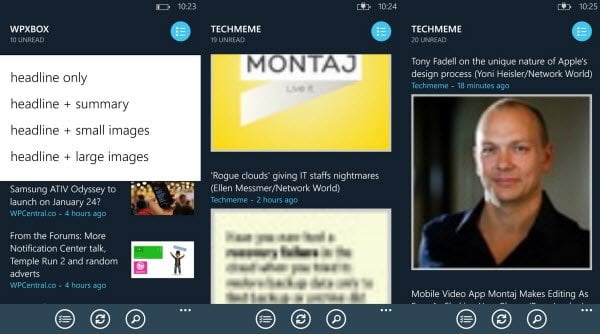 NextGen Reader Gallery :
This slideshow requires JavaScript.
Download NextGen Reader for Windows Phone
You both have trail mode and paid for the app. Download it now!!