A few months back, Google announced that they would be shutting down the popular web-based RSS feed reader. While there was no official Google Reader app for Windows Phone, there were many third-party tools like Nextgen Reader, which was able to bring Google Reader items to Windows Phone. But with the closing down of Reader, it was tough for these apps to survive. Another third-party web service from Feedly was launched a few days back, and now Nextgen Reader has been updated to support Feedly. This means that if you have moved your feeds to Feedly cloud service, you will access them on Windows Phone using Nextgen Reader.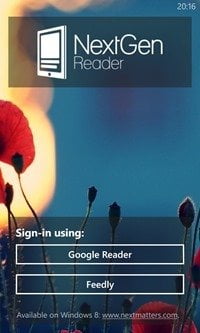 Nextgen Reader is probably the fastest RSS reader app for Windows Phone 8 and one of the best. With support for Feedly, this has now become even better. If you have not backed up your Google Reader items, you can do it from Google Takeout, but if you have set up a Feedly account, it will be automatically migrated.
With Nextgen Reader, you now have the option to log in with Google Reader or Feedly.
Features of Nextgen Reader;
Clean, beautiful & simple design, inspired by Windows Phone with offline mode, multiple live tiles, image caching, and many more.
Dynamic subscriptions hub with featured section to find latest and popular feeds.
Always read full articles without clutter (powered by Readability, Instapaper, or Google mobilizer).
Watch YouTube videos, share to social networks like Twitter, Facebook, etc.
Easily save articles to Instapaper, Read It Later & Readability for offline reading.
In case you are using Nextgen reader, you need to update to the latest version to get this feature, and if you have not yet installed this app, we highly recommend you to try it out for all RSS feeds.