Although NFC tags haven't caught up much other than being used by geeks or at events like MWC, they are still cool to try out if you have an NFC-supported phone and a couple of tags available. The best part of these tags is that they can be used in many ways. You can initiate a call, start the music, Spotify tags, business card, and what not.
That said, NFC is still a reading and writing business, and there is nothing else you can do. Tap & Tap, and it's all done. What if you can find out what is inside the tag before anybody plays a prank with you? What if you can store a couple of tags that you found creative and re-use them? What if you can send NFC tags' detail over email?
Luckily Windows Phone 8 users have an excellent app in place which does this job — NFC Interactor. This tag is a one-stop app for doing almost every with NFC you can imagine. To start, it supports 21 Tags when it comes to reading & writing. Right from Spotify Tags to Business Card (vCard), everything is here.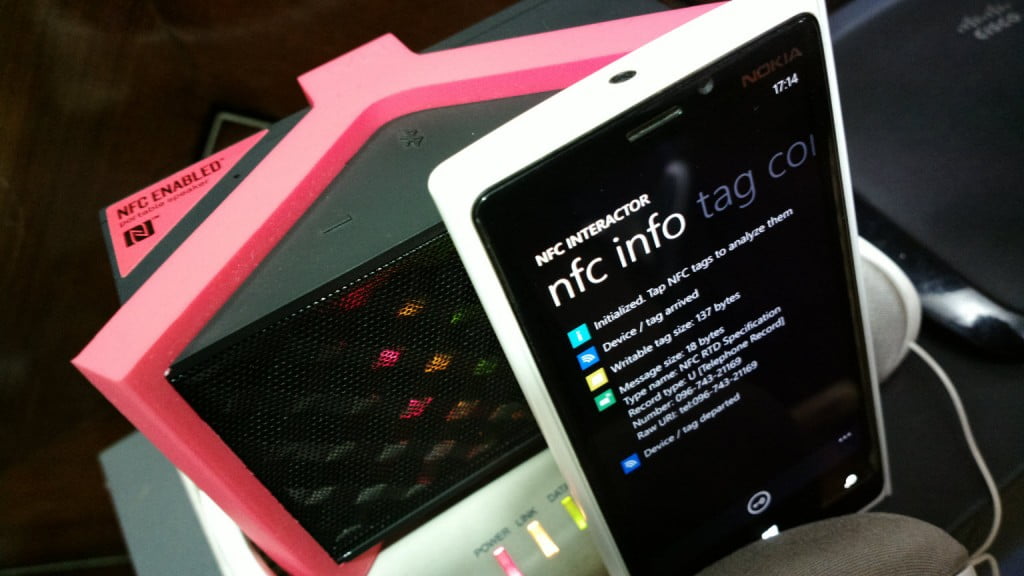 How to use it?
Make sure Tap+Send is turned on on your phone.
Next, Launch the NFC Interactor app.
Now tap over an NFC tag, and the application will intercept and decode the message.
Features:
Reading:
List of individual details in the tag, including size and fields.
It can read business cards, Smart Poster, URI, text, SMS, telephony, mail-to, LaunchApp, Android Application Record, WP8 Settings, NearSpeak, and Nokia Accessories records.
The tag is automatically copied to your phone clipboard. Optionally, you can long-press and copy the content.
Can read the NDEF message if you have the raw value in HEX.
Clone NFC tags instantly and writes them.
If you get NFC or NDEF file as an attachment over email, you can open this in the tag editor.
Launch Windows Phone Apps
Writing:
Create multi-record NDEF messages.
Calculates the message size of the tag.
Create a vCard with additional details after importing contacts from your contact book.
Link to social networks like Facebook, Twitter, Foursquare, etc.
Location Information. Supports Bing Maps, Here Maps, and more.
Create tags for Windows Phone 8 Settings, Apps and even launch third-party apps.
If you plan to write tags to launch Android Apps, you can do that by specifying the package name. Supports Android 4.0+
Supports Nokia Accessories tag, which can be used instead of default ones. Supports Nokia Wireless Charging Station or the Nokia Wireless Car Charger Holder, etc.
It can even write blank tags, which is useful if you want to wipe off a tag's record completely.
Turn your phone into NFC Tag by sending messages from one device to another.
Other supported tags are Nokia Music Mix Radio, Spotify, SMS, Mailto, Call, Near Speak,  Smart Posters, URI, Text, and custom. Some tags could be missing, which I am sure is coming in a couple of updates. If you find something missing, do let the developer know about it.
Developers:
If you are a developer, you will be glad to know that his project is Open Source which you can use in your own development or parse it further. Check out at https://ndef.codeplex.com/.