Most of the high end Windows Phones like Nokia Lumia 1520, Lumia 1020, Lumia 925, etc. comes with NFC support. Near field communication  or NFC is a set of standards for smartphones and similar devices to establish radio communication with each other by touching them together or bringing them into proximity, usually no more than a few inches. We have covered many apps which has support for NFC like writing and reading from NFC tags like NFC Interactor and also Nokia NFC Writer.
Now we have a new NFC app, called NFC toolkit. But unlike normal NFC apps, this is not just a NFC reader and writer. This app allows you to create profiles and then activate the profile by NFC tags.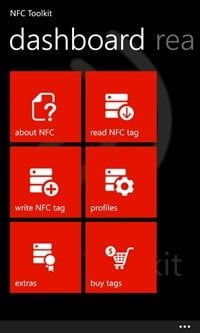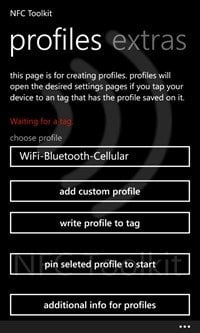 For example, when you are travelling to work, you want to switch off the Wi-Fi connection and then activate 3G or 4G on the phone and also activate Bluetooth for pairing with your car. Similarly when you reach office, you might want to switch back Wi-Fi and deactivate 3G. So you can create a profile and use tags to activate it using the app. The app also has some extras like a car dashboard or a shopping list that you can save on a NFC tag.
Creating profiles is one of the best features of this app which is probably missing in other apps in the store. Enabling or disabling multiple settings in single tap is really useful in many instances.
If you use NFC tags with your Windows Phone, then this is the app you should be getting. The app is priced at $1.49 in the store and we would say it is totally worth the money. The app also offers a free trial which is limited to 10 days, so you can test the app with your MFC tags before buying it.