We reviewed both Nokia 108 and Nokia 107 recently, and while both the mobile phones are almost the same, there are some substantial differences which you should know when choosing between them. Before I start with details, the price difference between the devices is just 300 Rs in Indian currency, and I would be ready to pay that 300 extra to grab a Nokia 108 compared to Nokia 107.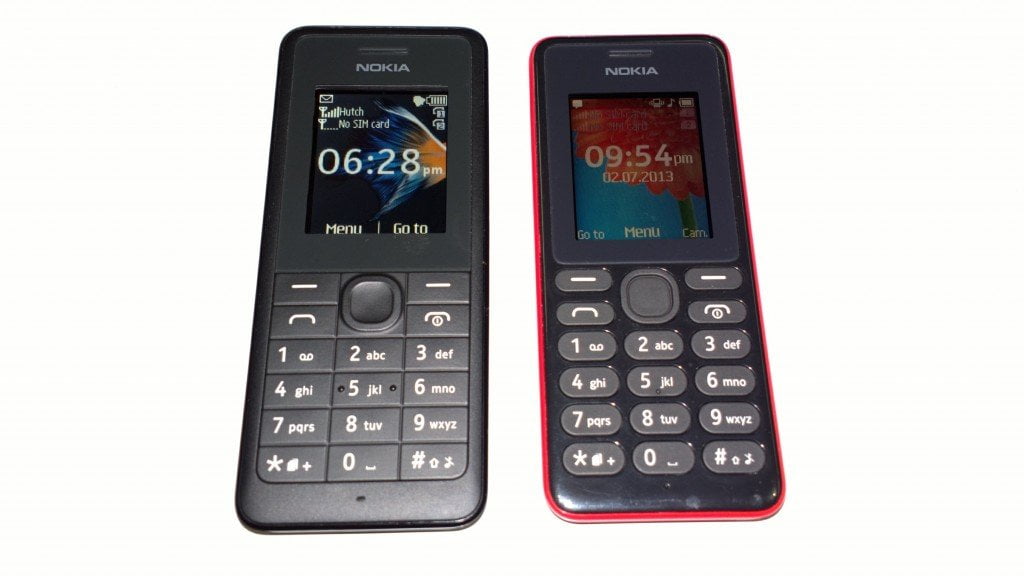 Difference by Specification:
| Category | Nokia 108 | Nokia 107 | Impact |
| --- | --- | --- | --- |
| Display | – | RGB Stripe | Text looks crisper |
| Camera | 0.3 MP | | Useful if it's your primary phone |
| Bluetooth | File Sharing via SLAM | — | Sharing pictures and video is easy. |
| Storage | 32 Gb Storage | 16 GB | Want more space? Pick the Nokia 108. Again for Primary users |
Video Comparison:
So while Nokia 108 and 107 both have the same screen size, Nokia 107 supports RGB Stripe, making text crisper compared to 108. Though you may not find a substantial difference, but the text does make a bit of difference because of this.
When it comes to file sharing,  Nokia 107 stays stranded because of the missing Bluetooth. Nokia 108, like the Nokia 301, has Bluetooth sharing using Nokia's own Bluetooth slam tech, which works almost like NFC. Though both of them does support SD card, Sharing via Bluetooth is one feature used a lot in India.
A 0.3MP camera hardly makes any difference, but if you take this as your primary phone, there is no point in picking up 107. Plus, you get 32GB SD card support, which lets you store more data and space for the camera.
When it comes to the software interface, Nokia 108 has a better interface compared to 107. Many of you might call it minor, but a feature like FM recording is important.
So if you should be buying a Nokia 107 or Nokia 108?
If you are looking for a feature phone at low cost but as a primary phone, pick up a Nokia 108, which has a camera, Bluetooth, 32 GB SD card support, and so on, while if you are looking for a low-cost secondary phone, Nokia 107 is a better choice as you won't be able to drain the battery by any means except by talking longer on the phone.
Where to Buy?
You can straight away place your order at Flipkart. For Nokia 107, follow this link, while for Nokia 108, click here.