A lot many users including me complained about Nokia Lumia 920 consuming more battery than it should because the battery power of the device grew bigger with the device. This issue was then remarked and confirmed by Nokia that it was happening for some users because Nokia Drive was running in the background.
Since Windows Phone 8 has better multitasking and allows more freedom to apps,  the only possible solution was to keep Nokia Drive blocked in the background task.
Good news is that Nokia did rolled in lot of app updates today, for Windows Phone 8, of which one was for Nokia Drive + beta and it has brought in a BATTERY SAVER  feature.
This feature when turned on saves battery power between charges with the battery saver.  When you switch it on, the app runs in the background and you will hear navigation instruction when being guided along a route. In other cases GPS will be switched off to reduce power consumption.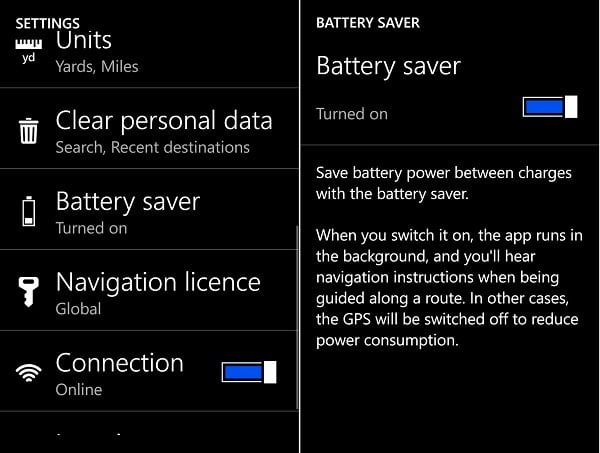 In simple words it means that the
First, GPS bug is fixed and the app dos not run in the background.
Secondly if you just want to hear the navigation instruction and have no interest in viewing the map, the app can run in the background with voice enabled.
Lastly, When you turn on the Windows Phone Battery Saver, this is automatically turned on to save battery..
What do you think of this new feature ? Share your experience and battery life improvements in the comments.